New Democrat Andrew Cash wants to know why Heritage Minister James Moore and other Harper Conservatives are so terrified.. of librarians.
The Toronto MP rose in Question Period on Monday afternoon to shine a light on a controversial new code of conduct at Library and Archives Canada that some fear will muzzle federal librarians.
"According to the Conservatives, there is a new threat: librarians," he said to some laughs. "And their 'high risk activities.' Activities like teaching and conferences."
Cash says the code of conduct even requires "duty of loyalty" to the Conservative government.
"Now I have always suspected that facts and science stirs the fear in the hearts of some members opposite," Cash said. "But why is the minister so afraid of librarians?"
Moore tried to downplay the question with some humour.
"Yes, frightening," he said, jokingly throwing his hands up. "Very frightened of librarians."
Moore told Cash that he should direct his questions to Daniel Caron, head of Library and Archives Canada.
"The member should know as well that Library and Archives Canada operates at arm's-length," he said. "We were not consulted on the code of conduct."
But while Moore may not think the code of conduct is such a big deal, some librarians and archivists beg to differ.
"It is very disturbing and disconcerting to have included speaking at conferences and teaching as so-called 'high risk' activities," she said.
Of course, this isn't the first time the Harper Conservatives have been accused of "muzzling" thinkers.
American oceanographer Andrea Muenchow, who collaborates with Canadian federal scientists on Arctic research, posted a scathing critique on his personal blog last month.
"I believe this is disturbing political climate change," he said. "I feel that it threatens my academic freedom and potentially muzzles my ability to publish data and interpretation and talk timely on science issues of potential public interest without government interference."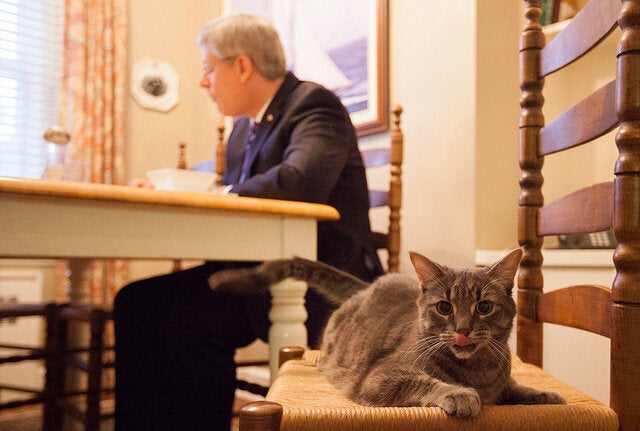 Day In The Life Of Stephen Harper
Popular in the Community