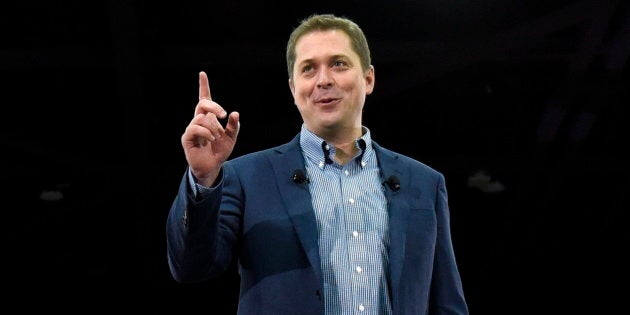 OTTAWA — Conservative Leader Andrew Scheer has dropped some breadcrumbs for what his eventual climate plan will look like, saying he believes Canada can reduce global emissions rather than domestic — and without a carbon tax.
Scheer took shots at the Liberal government's plan to impose a carbon price on recalcitrant provinces during an interview with CBC Radio's Michael Enright on Sunday, framing the environmental policy proposal as a tax issue.
"Don't tell Canadians that you've got an environmental plan and that's it's really just in fact a new taxation tool," Scheer said.
The Conservative leader also dismissed the work of Yale professor William Nordhaus, whose research shows a carbon tax to be an effective means of lowering emissions.
"There's no correlation between reductions of emissions and what the Liberals are proposing," Scheer said.
Nordhaus was awarded the Nobel Prize for economics this month for his work on carbon pricing.
Scheer and his MPs have maintained a price on carbon would stifle Canadian industries and make businesses less competitive with international-based competitors operating in jurisdictions without an equivalent tax.
"Are we better off if we displace jobs and investments to other countries and global emissions go up? I say no," Scheer said. "Let's bring that production here and have less emissions globally because we can make things more efficiently and cleaner."
Scheer did not commit to support the Paris Agreement, the international climate pledge signed by 194 countries in 2016 to limit global warming, even though Tories voted in 2017 to implement the accord. The Conservative plan is still being finalized and "all will become clear" in the future, he said.
'I don't know what that means'
Shy of explicit details, the Conservative leader has previously stated in vague terms that the party's alternative to the government's climate plan would be more internationally minded.
"It will speak to Canada's targets," Scheer said of his draft climate plan. The answer prompted host Enright to quip, "I don't know what that means."
The Conservative leader didn't offer a substantial answer and shifted the focus to knocking the Liberal government's plan for failing to meet Paris targets. The party's policy will be "well-documented and comprehensive," Scheer said.
Also on Sunday, Prime Minister Justin Trudeau appeared on popular Quebec program "Tout Le Monde En Parle" and criticized the opposition for failing to share their environmental plan to curb carbon emissions.
Even if Canada stopped everything tomorrow, and the other countries didn't have any solutions, it wouldn't make a big difference.Prime Minister Justin Trudeau on 'Tour Le Monde En Parle"
Trudeau has been grilled by the NDP for failing to raise emissions targets previously set by the Conservative government under Stephen Harper. The prime minister told the studio audience in Montreal that bumping targets would make a negligible difference.
"Even if Canada stopped everything tomorrow, and the other countries didn't have any solutions, it wouldn't make a big difference," he said in French. Trudeau contrasted the Liberals against the Conservatives, suggesting a price on pollution is better than offering no ideas on the environment.
One party has a plan to counter climate change, and another party has no interest, he said, adding he hopes Canadians will make the right choice come election time.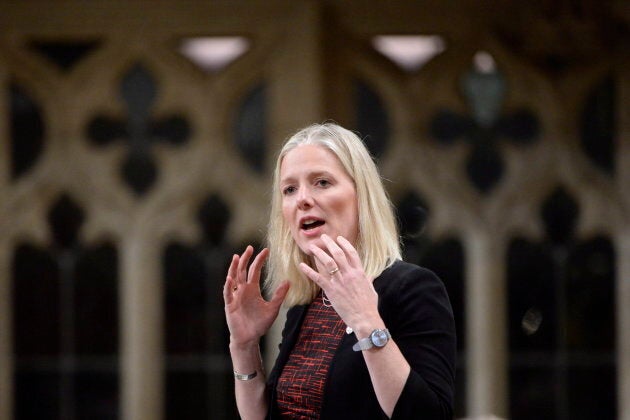 Canada's emissions account for approximately 1.6 per cent of total global emissions, which is significant considering the country's relatively small population (less than 0.5 per cent of the world's 7.6 billion people). Canada ranks near the bottom among the top 10 emitters.
Despite the report's alarming findings, Environment and Climate Change Minister Catherine McKenna told HuffPost Canada that the government has no plans to increase its emissions reduction targets before December's United Nations climate talks in Poland.
Listen to McKenna's full interview on 'Follow-Up':
The prime minister's climate change comments found their way into question period Monday, with NDP parliamentary leader Guy Caron asking why the government is failing to reduce its greenhouse gas emissions.
Canada's emissions were 704 megatonnes in 2016, according to Statistics Canada. Targets set by the Paris accord ask countries to scale total greenhouse gas emissions to 517 megatonnes by 2030.
Trudeau shot back that "once again" the opposition parties are portraying the subject of climate change as a binary choice between the environment and the economy.
"The NDP refuse to accept that growing the economy in responsible ways is also a way of ensuring that we meet our targets," Trudeau said, adding the Tories don't have a plan at all.
Caron accused the prime minister of "skating" around the issue. Trudeau responded by listing environmental projects under the Liberals, including a $1.5-billion oceans protections plan and "record" green energy investments.
With files from Althia Raj