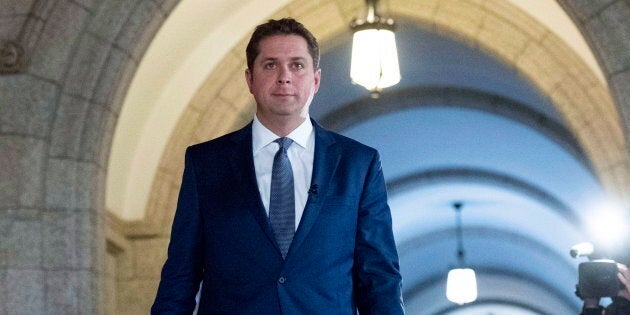 As international experts sound the alarm for urgent action on climate change, the federal Conservative leader says Canadians should stay tuned to learn how he'd tackle the problem as prime minister.
And in a remark that the federal environment minister has dubbed "hugely ironic," Andrew Scheer is bemoaning that too much of the domestic debate has centred on the carbon tax that his party vociferously opposes.
Scheer is in India this week to beef up his international credentials with a federal election almost a year away. The Tory leader said he promoted Canadian oil during a meeting with Indian Prime Minister Narendra Modi.
Earlier: Scheer says carbon tax is 'bad for absolutely everyone'
The IPCC report, released Monday, calls for major cuts to greenhouse gas emissions to try to keep global warming to 1.5 degrees C — a level expected to be hit between 2030 and 2052 — rather than the target of 2 C spelled out in the Paris climate accord.
At 2 C, everything from melting sea ice to famines will be significantly worse than at 1.5 C, the report states. Canada would need to slash its emissions almost in half over the next 12 years to meet those tougher targets.
Asked by host Catherine Cullen if he was concerned about what is becoming a "life or death situation," Scheer said he's "always concerned about environmental issues" and that Tories take the matter seriously.
In 2017, Tory MPs voted in favour of Canada implementing the Paris climate accord. Scheer has pledged to meet those targets without forcing a carbon tax on Canadians.
"We're going to be coming out with our comprehensive plan to reduce CO2 without imposing a carbon tax that has been shown to raise costs without actually reducing emissions," he said.
Scheer said Canadians can expect to see his party's plan "very soon," but chuckled when Cullen pressed if he would release a plan before the end of 2018.
"Our plan will be unveiled in a way that voters will have the time to go through it and evaluate it," he said, adding his party is focused on holding Liberals to account during the last phases of this Parliament.
Cullen noted the IPCC has called for unprecedented steps to avoid disaster.
"Can you name one major step, an unprecedented step a Conservative government would be willing to take to address this life or death issue?" she asked.
'Frustrated' by focus on carbon tax?
"Well, I know you're trying to get a sneak peek of our plan, Catherine. I don't blame you for that," Scheer replied with a smile. "As I said, we'll be unveiling that as it comes forward."
Asked if he feels a sense of urgency on the issue, Scheer said he agrees there is a need for action.
"That's one of the reasons why we're frustrated that, on the federal level, this entire conversation has been consumed with the carbon tax and whether you're for it or against," he said. "The Liberals are trying to frame that... as you're either committed to the issue or not. I reject that."
Conservative MPs consistently hammer the Liberals on their plan to impose a carbon tax on provinces and territories without a suitable system to price emissions. The pricing would start at $20 per tonne in 2019 and rise $10 per year until 2022. Tories argue the scheme will raise costs for Canadians and kill jobs.
In his speech to Tory delegates at the party's policy convention in August, Scheer said there is a "carbon tax revolt" brewing in the country and pledged that dismantling the Liberal plan would be his first act as PM.
Environment Minister Catherine McKenna tweeted that it was "hugely ironic" Scheer was complaining about the focus on a carbon tax, saying that "opposing pricing pollution" is the only Tory talking point.
"Canadians deserve to know: What's the plan?" she wrote.
But McKenna is also facing pressure in the wake of the IPCC report. The minister called the study a wake-up call but has already confirmed Canada won't increase its targets to cut emissions until the plan laid out in 2016 is fulfilled.
Appearing on CTV's "Power Play" Tuesday, McKenna defended the Liberal carbon pricing plan and blasted "Conservative politicians" at the federal and provincial level who are lining up against it.
"The emperor has no clothes. It's not just they don't want to recognize that there's a cost to pollution, they'd like to make pollution free," she said. "They have no plan for the environment, but they also have no plan for the economy."
Conservative provincial leaders in Saskatchewan, Ontario, and Manitoba are pledging to fight the imposition of Ottawa's carbon tax. They may soon be joined by New Brunswick, if Progressive Conservatives form government in that province.
Alberta's NDP government brought in a carbon tax but now says it won't raise the price beyond $30 per tonne, as the federal plan demands.
McKenna told CTV's Don Martin she was disappointed by the "coalition of Conservative politicians who don't want to act on climate change" and who aren't "serious about the future of kids today." But she maintained the federal government will press on.
Most Canadians support acting on climate change, she said, adding those in attendance were being "sold a bill of goods."
Prime Minister Justin Trudeau said much the same at an event in Windsor, Ont. Friday where he took on "Conservative politicians" who he says think pollution should be free.
"I think people need to ask folks who are refusing to fight climate change, refusing to put a real plan on the board, why they aren't thinking about future generations," Trudeau said. "Why they aren't committed to being part of one of the most important economic and social challenges ... of our time."
With files from The Canadian Press
Watch: Suzuki calls on McKenna to quit