Conservative Leader Andrew Scheer has revealed a climate plan that he says would not tax big polluters but would force those companies to invest in green technology as a penalty.
"Climate change is real and it represents a serious threat to not only Canada but to the entire planet," Scheer said, in a much-anticipated speech in Chelsea, Que., Wednesday.
"We owe it to our children, who will inherit from us this great and beautiful country, to preserve the environment they will be entrusted to protect."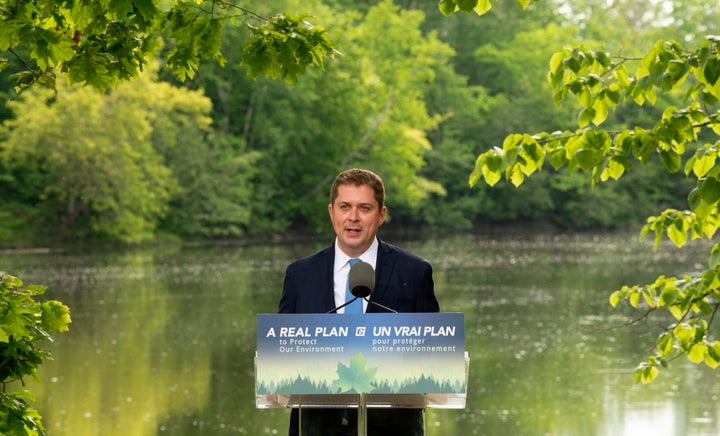 The Tory leader boasted that his strategy represents Canada's best shot at meeting the targets spelled out in the Paris climate agreement, a 30 per cent cut in emissions from 2005 levels by 2030. Targets, he noted, that were set by the previous Conservative government.
Yet the strategy, dubbed "A Real Plan to Protect Our Environment," lacks specifics on how each proposal will reduce greenhouse gas emissions.
Scheer's plan includes:
So-called "green investment standards" that will require companies that produce at least 40 kilotonnes of emissions per year to invest in a fund to support green technology;

A "green patent credit" that will cut the corporate tax rate from 15 per cent to five per cent for companies developing and patenting green technology in Canada;

A two-year "green homes tax credit" for Canadians who make green improvements to their homes;

A focus on promoting Canadian resources and tech to help other countries reduce emissions.
Speaking in the backyard of a private home, Scheer bashed the Liberal government's price on carbon pollution — $20 per tonne and rising to $50 by 2022 — and reiterated that he'll scrap the system if he becomes prime minister.
The "carbon tax" is a "betrayal of trust" that punishes Canadians for gassing up their cars or heating their homes, and pads government coffers, he charged.
Scheer did not mention that the Liberal government is promising to give back 90 per cent of the revenues from the pricing system to affected Canadians, in the form of rebates.
Scheer said the current Liberal plan does not have Canada on pace to hit Paris targets, something Environment Commissioner Julie Gelfand concluded in a spring report.
He also highlighted how the independent Parliamentary Budget Officer suggested last week that the federal government might need to eventually hike the carbon price to meet those thresholds. The agency suggested a price of $102 per tonne might be needed in 2030. The PBO report, citing government estimates, said Canada's existing climate plan leaves the country 79 million tonnes shy of its Paris targets in 2030.
Watch: Catherine McKenna says Liberals won't raise carbon price after 2022
"As an environmental policy, the carbon tax is, by every possible measure and projection, a failure of epic proportions," Scheer said. "It makes virtually no contribution to the global fight against climate change."
The Conservative leader said his "green investment standards" will require polluters whose emissions exceed the 40 kilotonne limit to "invest in emissions-reduction technology specific to their industry," such as in clean tech companies or university researchers.
"That's 10 kilotonnes stricter than the Liberals' output-based system," he said. "Under the Conservative plan, it will not be free to pollute and unlike the Liberal scheme, there will be no sweetheart deals for anybody."
Perhaps road-testing a slogan for the campaign trail, Scheer said several times that the focus should be on "technology, not taxes."
The big corporate tax break in the "green patent credit" will encourage innovators and entrepreneurs to create new emissions-reducing technologies, Scheer said. The party projects that the move will cost $20 million per year.
Scheer's proposed tax credit for homeowners looking to make energy-efficient upgrades harkens back to a popular retrofit program the previous Conservative government cancelled in 2012. Canadians would be eligible to receive a 20 per cent refundable credit worth as much as $2,850 for doing things such as installing solar panels or high-efficiency furnaces. Tories expect that policy to cost $900 million per year.
"We cannot tackle climate change without making our buildings greener," he said.
The Tory plan also suggests Canada's pathway to meeting the Paris targets would include using Canadian products to reduce emissions in other countries. By expanding liquified natural gas capacity, Scheer said, countries like China will "transition away from coal" and dramatically cut global emissions.
When asked later if cuts in emissions in other countries should count towards Canada's own targets, Scheer sidestepped the question.
Environmental stewardship a 'core conservative principle,' Tory leader says
"Greenhouse gas emissions do not recognize borders. Nor are the impacts of climate change proportional to any one country's emissions," he said. "Whether emissions are reduced in Canada or in China, the scientific impact on global climate change is the exact same."
Scheer called environmental stewardship a "core conservative principle," noting that John A. Macdonald laid the groundwork for national parks and Brian Mulroney negotiated an acid rain treaty with the United States.
"This plan is the most comprehensive environmental platform ever put forward by a political party in Canada – far surpassing anything Justin Trudeau put out before the 2015 election," the Tory leader said.
Environment Minister Catherine McKenna released a statement calling out Scheer for waiting until the final days before Parliament rises for the summer to release his strategy.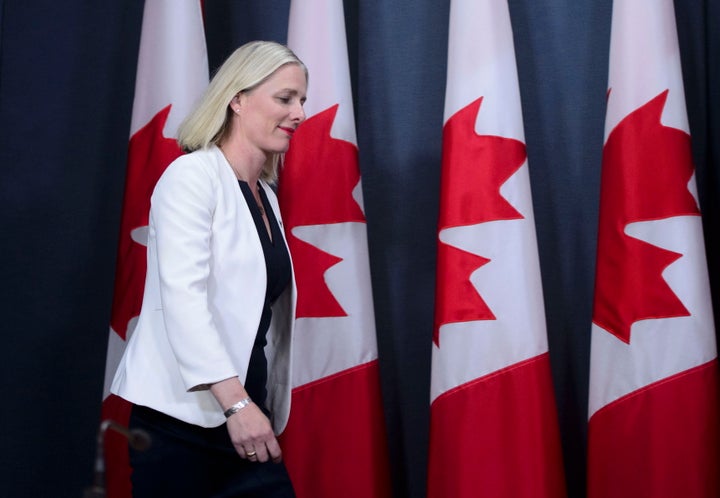 "Canadians want an ambitious and sensible climate plan that keeps a healthy economy growing while tackling emissions at home and with partners around the world," McKenna said.
"Not a return to the failed policies of the past, written by fringe oil lobbyists who want to have unlimited pipelines and to gut environmental protections and shut down public input. Unfortunately, that is what the Conservatives want Canadians to accept."
Other climate activists and stakeholders were also quick to dump on Scheer's offering.
Tzeporah Berman, the international program director at Stand.earth, said in a statement that Scheer's announcement is "full of meaningless rhetoric" and doesn't deserve to be called a climate plan.
"A good climate plan reduces emissions from all sectors though a price on carbon or regulations, creates a plan for renewable energy and electrification scale up, and sets targets and timelines for emissions reductions from buildings, vehicles, and industry," Berman said.
Keith Stewart of Greenpeace Canada Climate called it a plan that only an oil lobbyist could love.
"It checks all the key boxes on the Canadian Association of Petroleum Producers' wish list and if it ever became federal policy it would deepen the climate crisis," he said, in a statement.
With files from The Canadian Press and Zi-Ann Lum
Popular in the Community