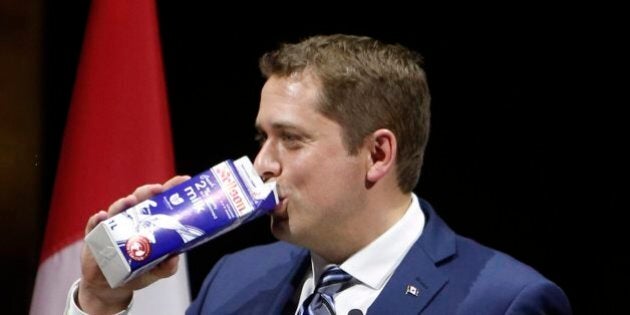 Just a week after he was chosen as the Conservative party's new leader, Andrew Scheer has done something remarkable: he has successfully cracked a somewhat funny joke about the dairy industry.
Scheer appeared at the Parliamentary Press Gallery Dinner — Canada's version of the White House Correspondents' Dinner, just with infinitely less media attention and viral moments — in Gatineau, Que. on Saturday night to roast both politicians and members of the media.
Scheer said he was a little bit annoyed at something he had seen mentioned about him in the news: that he was "beholden" to a certain segment of the Conservative party.
"I can tell you I made deals with nobody," Scheer told the audience.
"I certainly do not owe my leadership victory to anybody in the Conservative.." he added, before stopping to pick up a milk carton under his podium and taking a swig.
(Yes, that is a joke about Scheer defeating the Tory leadership race's then-frontrunner Maxime Bernier, who promised to gradually phase out the supply management system for Canada's dairy industry.)
Scheer later took aim at another criticism he said he's faced: that he "smiles too much."
"I admit, I do do that a lot, it's kind of a resting pleasant face," he said to loud laughs from the audience. But he then offered members of the media some help to differentiate between his different moods:
Watch the video below to see his...scheer range of emotions: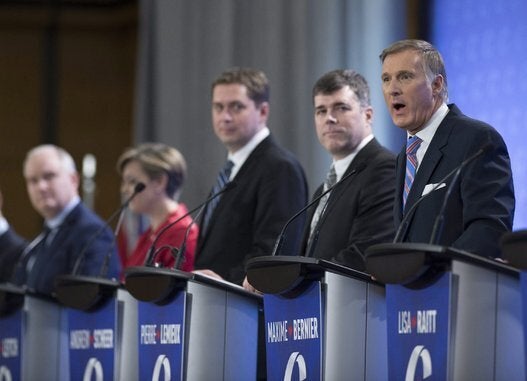 Conservative Leadership Candidates