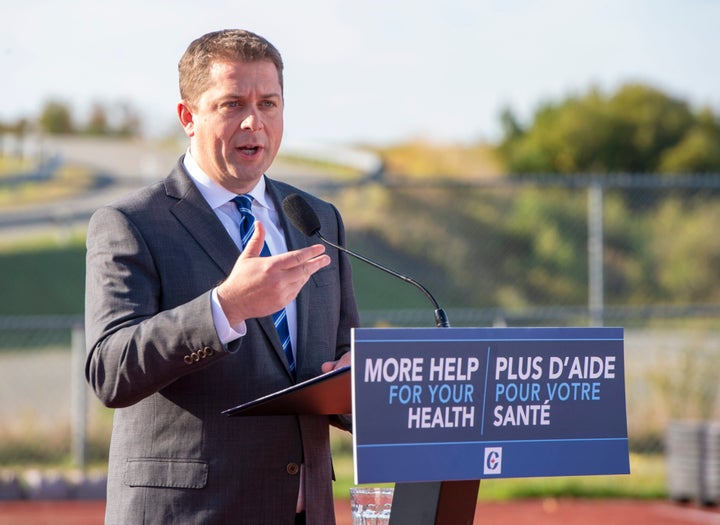 OTTAWA — Conservative Leader Andrew Scheer accused the Liberals of wanting to decriminalize all illicit drugs Sunday — something the Grits say they have no plans to do.
Green Party Leader Elizabeth May announced last week that her party would increase funding to help community organizations test drugs to ensure people have access to a screened supply, as well as the medical support required to combat their addiction.
Watch: Scheer promises better supports for veterans. Story continues after story.
She called the number of opioid-related deaths a "national health emergency" and said drug addiction has to stop being treated as a criminal issue.
"It's hard to stand up as a national party leader and say it's time to decriminalize all illicit drugs," she said this weekend on the campaign trail. "[But] it's what we have to do. We have to take emergency steps in an emergency situation. ...
"If it is decriminalized, people won't be afraid to go get help."
Scheer said he doesn't think that is the solution. "I believe that focus should be on getting people off of drugs, harmful drugs, addictive drugs … ensuring that the programs and services are in place," he said.
Then, he added: "I know decriminalization is something that the Liberals are pursuing and contemplating. I can assure you that our party is not."
The Liberal party says it is neither pursuing nor contemplating decriminalizing all illicit drugs.
"That is not in our plans," spokeswoman Eleanore Catenaro told HuffPost Canada.
The Tories pointed to a policy proposal that was supported by grassroot Liberals and caucus members at the Grits' 2018 policy convention. But Trudeau said then what Catenaro repeated Sunday.
Conservative spokesman Simon Jefferies also pointed to a June report by NDP and Liberal MPs on the Commons' health committee who recommended Ottawa evaluate Portugal's approach to decriminalization and how it could be applied to Canada, as further evidence for Scheer's statement.
The report, which is non-binding, also recommended that the federal government work with provinces, territories, municipalities, Indigenous communities, and law enforcement to decriminalize simple possession of small quantities of illicit substances.
Conservative members on the committee said they also disagreed with the idea of expanding safe injection sites, of giving addicts free drugs, and argued that Canada doesn't have the expansive health services that a Portugal model required.
Catenaro said the Liberals are treating the opioid crisis as a national public health emergency by focusing on treatment, harm reduction, and fighting stigma. She noted that the Liberal government approved 40 new supervised consumption sites, committed $30 million to expand access to a safe supply of prescription opioids and harm-reduction services in underserved communities, made naloxone kits available without a prescription, expanded access, and funded naloxone training.
NDP says addiction shouldn't be criminalized
The Liberals also passed the Good Samaritan Drug Overdose Act to encourage those experiencing or witnessing an overdose to call 911, she said, and they invested in public health data to help develop new strategies to address the crisis.
NDP spokeswoman Mélanie Richer said her party believes addiction should not be criminalized and suggested an announcement is forthcoming.
In its commitments document, the party states that an NDP government would work with "all levels of government, experts, and Canadians to end the criminalization and stigma of drug addiction, so that people struggling with addiction can get the help they need without fear of arrest, while getting tough on the real criminals — those who traffic in and profit from illegal drugs."
The NDP said it would also investigate the role of drug companies in fuelling the opioid crisis, and seek "meaningful financial compensation from them for the public costs of this crisis."