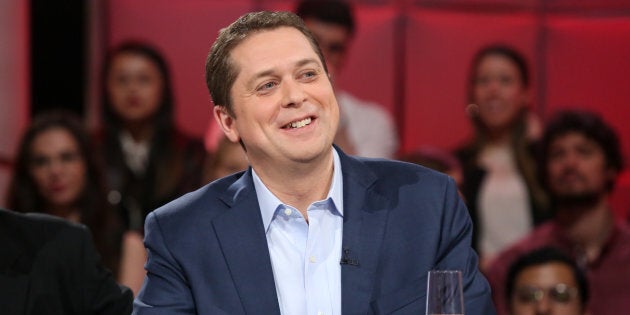 In case you were wondering, Conservative Leader Andrew Scheer smoked marijuana when he was younger.
"I hope my father isn't watching this show," Scheer joked Sunday after he made the admission on Radio-Canada's "Tout le Monde en Parle," a hugely popular French talk show in the battleground province of Quebec.
The Tory leader was asked by co-host Guy A. Lepage if he would celebrate the expected legalization of pot in a few months by firing up a joint. When a sheepish-looking Scheer said he wouldn't, another host, Dany Turcotte, asked if he had ever smoked pot.
Watch the moment at around the 8:10 mark below:
"So..." Scheer replied with a smile, sparking some laughs by taking a sip of wine.
Despite the advice from fellow panellist Quebec City Mayor Régis Labeaume that he "just lie," Scheer said: "When I was young, yes."
"You're still young though!" Turcotte interjected.
Asked if Conservatives could undo legalization, Scheer said he would look at the consequences after the bill passes.
Tories have a lot of concerns with the Liberal bill to legalize marijuana this summer, he said, citing health specialists and police who say "they're not ready." He also charged that Liberals chose the initial target date of July 1 for political reasons.
"But it's Canada Day," Turcotte interjected.
"OK, so maybe it's a reason for certain people," Scheer replied.
Later, Turcotte invited Scheer to attend the Montreal Pride Parade. The Tory leader, who skipped Pride parades last summer, laughed but didn't say one way or the other if he would attend.
Scheer voted against the Liberal government's bill to legalize marijuana and was accused of pushing Tory senators to delay its passage. Veteran Conservative MP Scott Reid, who long argued in favour of ending pot prohibition, was the only Tory to support the bill.
But before he was elected Tory leader last spring, Scheer suggested it would be unrealistic for a future Tory government to reverse legalization.
Scheer's remarks represent a break from his predecessor, Stephen Harper, who told reporters he never tried pot.
The former prime minister said asthma had prevented him from "smoking anything" from the time he was a child.
NDP Leader Jagmeet Singh said during a HuffPost Canada debate last September that he hadn't tried marijuana either.
"I would love to give a trailblazing answer right now but I just don't do any drugs. I haven't drank or smoked in my life," Singh said at the time.
Before he became prime minister, Justin Trudeau told HuffPost that he smoked pot after he was elected MP in 2008. The admission spurred Conservative attacks, particularly after Trudeau announced he would seek to legalize cannabis.
Trudeau's past use of the drug has also been referenced by New Democrats who have criticized Liberals for not first decriminalizing pot before moving to legalization. NDP MPs say it is hypocritical that Trudeau has allowed Canadians to continue to receive criminal records for pot possession when he faced no consequences.
With files from Catherine Lévesque