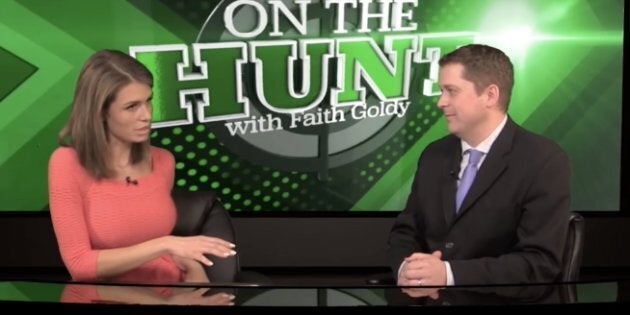 Conservative Leader Andrew Scheer is distancing himself from The Rebel, announcing he will no longer do interviews with the controversial right-wing website until it changes its editorial direction.
But the Tory leader has stopped short of explicitly denouncing The Rebel, which is under heightened scrutiny in light of the protests in Charlottesville, Va.
"I am disgusted by the vile comments made by hate groups this past weekend. I believe there is fine line between reporting the facts and giving those groups a platform," Scheer told HuffPost Canada in a statement.
"I have a positive vision for Canada and I want to share that vision with Canadians and talk about issues that unite us all. Until the editorial directions of the Rebel Media changes, I will not grant interviews to the outlet."
Scheer granted interviews to the outlet during the Tory leadership race, as did other contenders. But he has faced pressure in recent days to denounce the website over coverage that was seen as sympathetic to organizers of the white nationalist rally in Charlottesville.
Tory leader pressured to denounce website
"Mr. Scheer, will you denounce Rebel Media for their controversial coverage of what's happening in Charlottesville?" asks a woman, identified as Leadnow organizer Logan McIntosh.
"I saw one of their broadcasts and, you know, anything that gives a platform to those types of obnoxious groups is certainly worthy of condemnation for sure," Scheer says before walking away.
McIntosh issued a release Thursday calling on Scheer to "issue a formal statement denouncing the hateful site, and commit to refuse all future interview requests from them."
The Rebel and it's so-called "commander" Ezra Levant have revelled in controversy since the site was launched in 2015. The outlet stepped into the spotlight even more when it started loudly championing opposition to an anti-Islamophobia motion passed by the House of Commons in March.
Journalist Brian Lilley, who co-founded the site, quit this week over concerns about the "harsh tone" The Rebel has taken and what he called a lack of editorial judgement. He released a statement questioning why a Rebel contributor was at an "anti-Semitic white power rally" dedicated to protecting a statue of Confederate general Robert E. Lee.
Heather Heyer, 32, was killed and 19 people were injured after a car plowed into a crowd protesting the white nationalists.
Rebel contributors Barbara Kay and John Robson also quit the site after the weekend's events.
Conservative MP Michael Chong, who ran against Scheer for his party's leadership, told Press Progress he would no longer grant interviews to The Rebel, citing a change in editorial direction that included the "promotion of anti-Semitism, white supremacy, and calling for a democratically-elected premier to be locked up."
Chong was referring to a Rebel-organized protest against Alberta Premier Rachel Notley last December, which featured chants of "lock her up." Chong spoke out against the event at the time.
Global News revealed shortly after Scheer's victory in May that his campaign manager, Hamish Marshall, was listed as a director on The Rebel's federal incorporation records. Levant told The Canadian Press that Marshall, now the campaign manager for Brian Jean's bid to lead Alberta's United Conservative party, is no longer on the board.
Scheer has appeared on The Rebel several times since 2015, including a sit-down in February with Faith Goldy — the reporter whose Charlottesville coverage has sparked so much criticism. The two agreed to go duck hunting this summer around Canada Day.
With files from The Canadian Press
Popular in the Community