Things are not going the way Andrew Scheer envisioned.
The 38-year-old Tory leadership contender had hoped the field of 13 Conservative candidates would have thinned out by now. But save for celebrity businessman Kevin O'Leary bowing out, none of the no-hope contestants has been willing to throw in the towel.
That hasn't helped Scheer, who believes this weekend's contest is a choice between him and Quebec MP Maxime Bernier. "I would have liked for there to have been fewer candidates this late into the race," he notes.
The crowded field has meant less scrutiny given to the perceived front-runners, he says, "less opportunity to provide that contrast," and not enough attention on candidates who don't court controversy.
"You know, if I said something extreme or if I said something poorly worded or not well thought-out, I could guarantee myself a headline," Scheer tells HuffPost Canada over coffee at the Farmteam Cookhouse & Cellar, two blocks from Parliament Hill.
In a series of interviews, the four-time MP from Regina–Qu'Appelle noted how, hoping to earn their endorsements, he approached some of the candidates who hadn't attracted much fundraising support.
"I just said, look, if you are thinking of backing out, if it is not there for you, I'd love to have a shot. I'd love to pitch you as to why I think I can take the best of what you are advocating for and be the best spokesperson for those things."
"It's not deal-making," he adds, it was just "reaching out."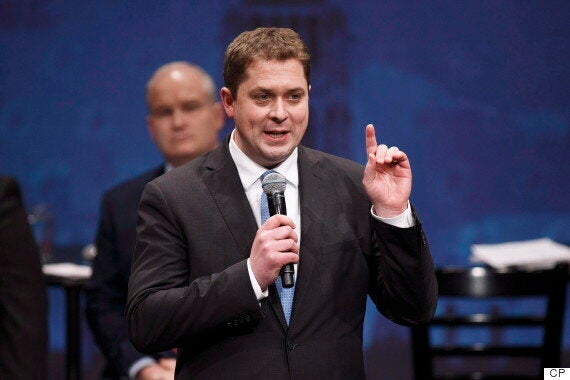 Scheer is baffled as to why Quebec MP Steven Blaney, who shares his position on supply management, hasn't endorsed him. "I don't know why Chris Alexander or Rick Peterson [haven't]. I don't know. I look at the metrics on this and, by any way you judge it, whether its internal polls, or fundraising, or caucus endorsements, or what we hear on the ground, you know there are some candidates with a path to victory and there are some candidates that don't."
But none of the other candidates bit.
"It continues to puzzle me why so many of them are in so long, and each one of them, you know, will have to answer why they stayed in."
Scheer sounds less optimistic this Monday (May 22) than when we previously spoke in mid-April. His campaign manager, Hamish Marshall, says the dynamics of the race have shifted.
"By-mid April, we were pushing ahead of Max in polls and it was just going to be Andrew versus O'Leary, and O'Leary had a very, very high number of people who said they would never vote for him. O'Leary was much more polarizing. So that was a path to victory that was easier if it was Andrew vs. O'Leary."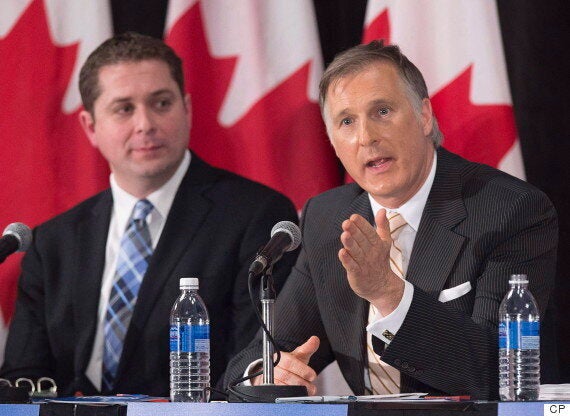 But Bernier is a different story. "He is running a strong campaign and he will be difficult to beat," Marshall predicts. "It's going to be tight."
O'Leary's withdrawal and endorsement of Bernier gave the Quebec MP a sense of momentum. Scheer says the TV celebrity also spoke to him the night before he dropped out of the contest, but he seemed to have "already made the deal with Bernier."
"There were feelers sent out by his camp, and we connected," Scheer recalls. "He made it clear to me that he was seriously considering dropping out.… I pointed to him that … although I didn't have the endorsement of other leadership candidates, I am very confident that I have a lot of their second-ballot choices."
Scheer says it's of little consequence to him that O'Leary backed Bernier: "I don't believe that he can deliver his supporters."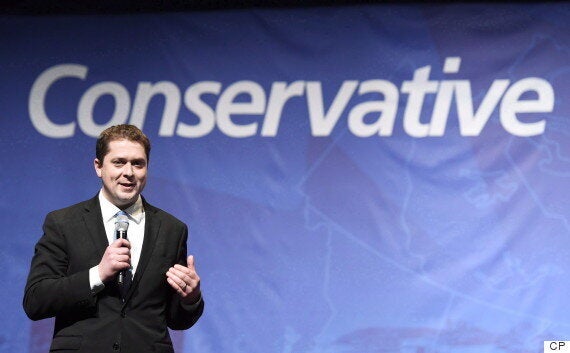 Scheer predicts many members are upset at the way the venture capitalist left the race. Still, he's hired several of O'Leary's Quebec organizers, hoping they can help shore up support in the province.
"I think O'Leary had a polarizing approach, and I think Maxime Bernier on issues, also has a polarizing approach, and I think someone like myself that has the ability to find that common ground, has the ability to get second ballot and third-ballot support and ultimately win."
A number of dairy farmers in Bernier's riding upset by the local MP's call to end supply management have endorsed Scheer, who has pledged to keep the current system intact.
With no "anybody-but-Bernier" campaign emerging and no organized push to declare one particular contender the consensus candidate, the result of Saturday's weighted proportional ballot is anyone's guess.
Scheer has spent the last eight months trying to position himself as that consensus candidate. When he launched his campaign last September, he promised to be a positive and optimistic leader, someone who could appeal to a broader group of Canadians with a less polarizing message, while still keeping the party united and on a path charted by former prime minister Stephen Harper.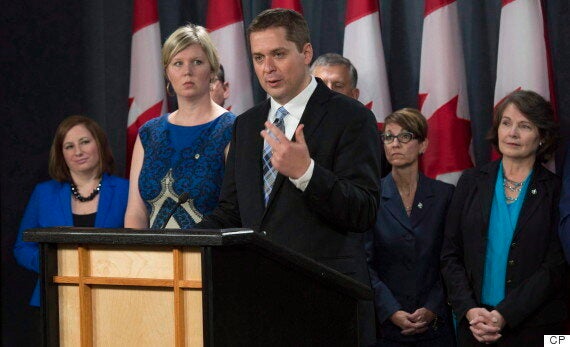 "Real Conservative. Real Leader," his campaign literature stated.
At the time, Scheer announced that he had the backing of 20 caucus MPs and senators. That number has since mushroomed to 32 — three fewer than Ontario MP Erin O'Toole, another candidate trying to position himself in a similar fashion, and who is currently third in public opinion polls.
Scheer thinks he has "a bit of an edge" on O'Toole with more Quebec support and an early entry into the contest.
A practicing Roman Catholic and a well-known social conservative, the Saskatchewan MP has been walking a tightrope during this contest. Rivals on his right — proud social conservatives Pierre Lemieux and Brad Trost — suggest Scheer won't push their agenda forward strongly enough. In a debate hosted by ARPA Canada, a political action group for Reformed Christians, Trost said Scheer would be painted by the press as having a "hidden agenda" while not doing enough to inspire the movement's base.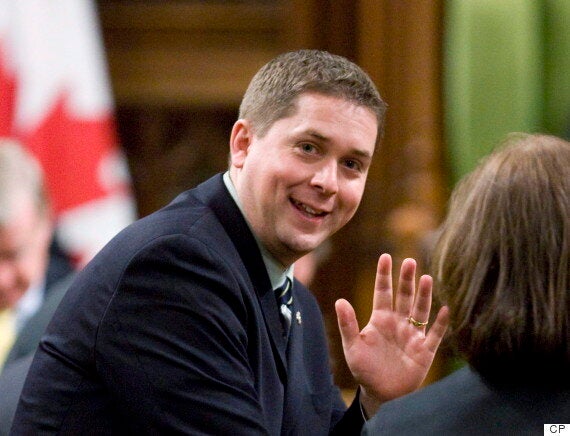 Scheer dismisses Trost's attacks. "I've been very clear that I'm not going to reopen these things, and the Conservative party is where it's at and our team is not interested in opening and bringing forward things that divide our own movement."
After two votes on same-sex marriage in the House of Commons (in 2004 and 2006), Scheer suggests that despite his personal views, Conservatives and Canadians have moved on.
"I believe that, at this point in time, that there is no conceivable path for the Conservative Party of Canada to reopen the debate on that issue."
Last year at the party's Vancouver convention, members voted to strike the traditional definition of marriage from the Conservatives' policy book. Scheer says he understands the "wisdom" of party members. If support for same-sex marriage was "keeping people away" from the Conservatives, now, without an explicit statement of beliefs, there is room for everybody.
"For the party now to be silent on the issue means that there is space in our party for the Brad Trosts and the Michelle Rempels [a Calgary MP who helped strike the traditional definition of marriage off the books]."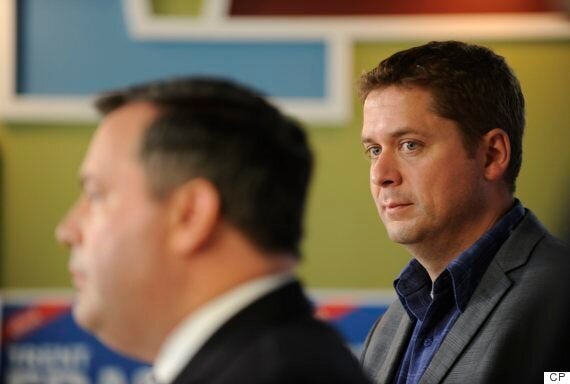 Focusing on shared interests and common policy goals and prescriptions is the central theme of his campaign.
"It is the leader's job to encourage people to bring up issues that unite us rather than divide us," he responds when asked if MPs under his leadership would be free to use private member's bills or motions to push their own anti-gay marriage or anti-abortion positions.
Scheer won't say if he would forbid MPs from bringing forward such bills, calling the question "hypothetical." MPs should "work together as a team" and put forward policies that have "a chance of actually succeeding," he says.
Scheer's position resembles Harper's on social conservative issues. He is less willing to give them a voice than Bernier, who promises that under his leadership MPs can introduce any legislation they want.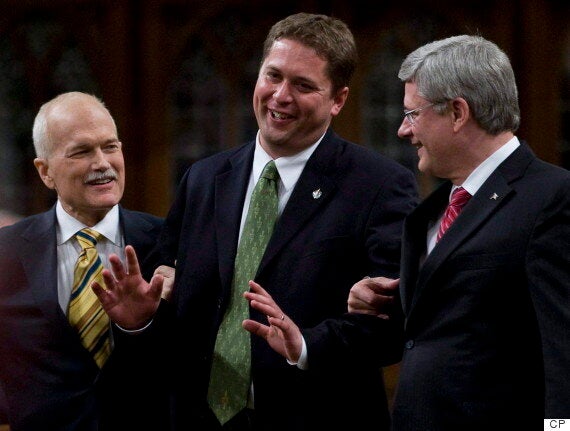 At the moment, Scheer is focused on convincing members that Bernier is too libertarian, too radical to win a general election. The "mainstream" public isn't libertarian, he says. "I don't get the sense that that's what was missing in the last election. Even in Alberta, the party that had a more libertarian message didn't win the last election."
He knows a radical free market message plays well with the Tory membership, but he thinks they need to think of less drastic ways to sell their agenda to the public.
"The best thing to do is say to libertarians in the party is: 'What [are] you looking for [that] would also resonate with mainstream Canadians? And let's start with those.' So, scaling back the size of government, deregulate in certain areas, absolutely those are messages that we can sell as Conservatives.
"Stephen Harper got a lot of things right and, in some ways, he made the lot of tough things look easy, and maybe some easy things look tough," Scheer adds, somewhat tangentially. "Being able to find a common ground between all the different kinds of conservatives was something that, I think, maybe some of us took for granted."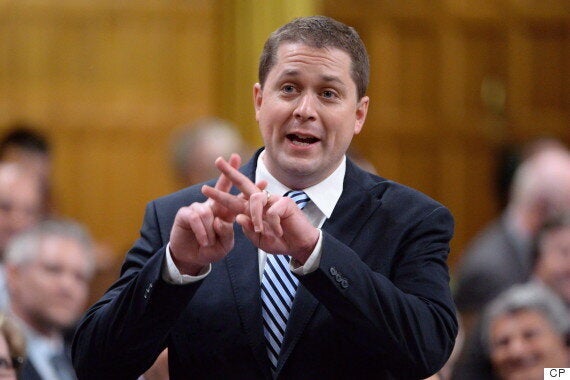 Scheer says he isn't going to "impose a personal ideology that I know it's going to be very divisive in our own caucus." He is talking about Bernier's desire to eliminate supply management, but he could be talking about Ontario leadership candidate Michael Chong's pledge to bring in a revenue-neutral carbon tax, or Trost's stance on abortion.
"It doesn't it make sense to me, that a leader would come into a caucus one morning and say here's a bill that a third, 20 per cent, half of our caucus doesn't support," he says. "This is not a presidential system, we're not electing someone who ... is going to impose their personal view on things."
Scheer is hoping Conservatives think about electability with the general public, not just the Tory race.
"There are a lot of issues that can elicit a very powerful positive response from elements of our Conservative membership, but if we can't stay together, what's the point?," he says, raising the stake that a Bernier win could mean in-fighting.
Scheer notes he grew up in the Reform Party and knows that conservatives can't win if they are divided. "It's almost frustrating to me during this leadership race that that almost seems to be taken for granted that ... How do I put this? It's not a given that we're just always be able to [be], you know, one united voice on the centre-right of politics.
"I don't want to be alarmist. Or fearmonger. I don't want to say like, 'If this person wins, then you know, we're going to have this problem,' but I would just urge members to really reflect on the fact that keeping [together] a diverse group of conservatives from diverse backgrounds in a country as diverse as Canada is not simple, and it's not just about, you know, who can be the most pure on any given policy matter; it's who can take the best of those policies and pitch them in a way that resonates with Canadians, and that's what I'm offering."
Although the youngest leadership candidate, (his 38th birthday was last Saturday), Scheer has been around politics for a long time.
The son of an Ottawa Citizen librarian and proofreader, James Scheer, and a registered nurse, Mary, Scheer grew up in an Ottawa household where politics were dinner-table conversation.
As the middle child — one sister, Catherine, is two years older, while the other, AnneMarie, is two years younger— Scheer was an argumentative youngster. He recalls challenging his sixth-grade teacher when she tried to confiscate his Coke can because she thought it was unhealthy.
"My parents gave it to me. I have a right to have it," he recalls telling her. "I got quite upset, I thought it was up to my mom and dad to determine what I should or shouldn't have."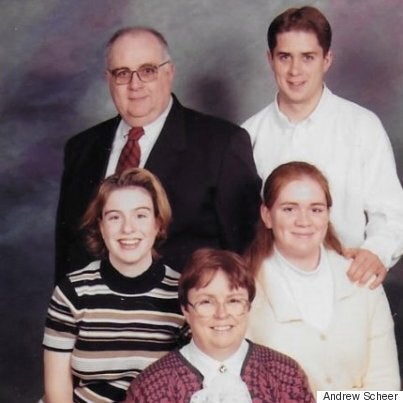 Yet, Scheer notes, "my parents didn't have the healthiest eating habits. My mom would cook everything with butter and lard."
Scheer attended Immaculata, a Catholic high school, where he took French immersion.
"I tried to be the funny one in class; I don't know if I was successful. I wasn't mischievous. I was relatively well-behaved. The times that I got into trouble was that I did have a little bit of trouble with authority and rules that I didn't think made sense."
Upset that his teachers were out protesting then Ontario premier Mike Harris's education reform, Scheer says he wrote a letter to the editor of the Ottawa Sun, the city's populist tabloid.
"My teachers expect me to wear my uniform because that is the rules, but now they are out on an illegal strike breaking the rules?" Scheer recalls writing.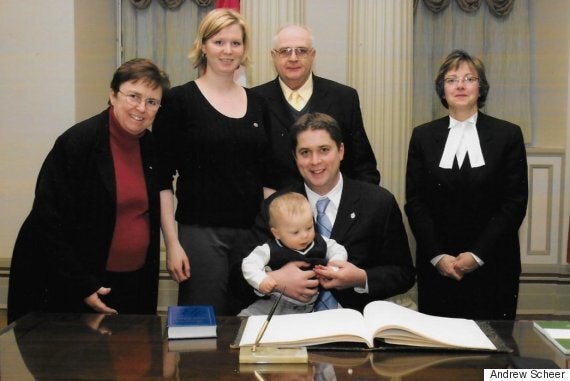 Scheer says he never shied away from a debate. "I really enjoyed debating, I really enjoyed arguing."
His favourite Monty Python sketch, he notes, is "the man who wishes to have an argument." It's the story of a man who wants to argue so badly that he pays for the privilege to debate a partner — who then engages him in a mindless: "No, you didn't! Yes, I did!" until his five minutes are up.
After dinner, the Scheers would gather to watch Canadian television news, followed by U.S. news and "Jeopardy!"
The morning after Christmas one year, Scheer was delivering the local paper (he had a paper route since the age of nine) and noticed a cover photo of Romanian dictator Nicolae Ceaușescu, who had been shot by his own army. "I remember that prompted a lot of questions about how could that happen, why did that happen, could that happen here? Why not?"
His takeaway from the conversations with his father was that "in Canada, we have this wonderful gift that our ancestors fought for, that we don't have to shoot our leaders, we can replace them, and we have an ability to have a say in things."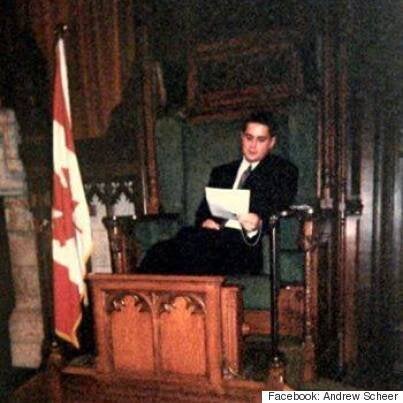 James Scheer, a deacon of the Archdiocese of Ottawa, wasn't a card-carrying member of any political party until his son joined politics, but he was a small "c" conservative, and a classic liberal, who helped shape Scheer's thinking.
It was actually an exercise in computer class that led Scheer to party politics. His teacher had asked students to look up any website on the Internet to study its HTML code. Scheer's interest and curiosity led him to the Reform Party website.
"There was a link for Reform Youth, and it brought up the contact information for the Reform Party youth co-ordinator." Scheer sent them an email and was hired to work at the 1999 United Alternative convention.
That wasn't his first job, of course. After his paper route, he had worked the concession stands at Ottawa's football stadium, baseball stadium and hockey arena, flipping burgers and making popcorn. Later in high school, he moved on to a more lucrative position of waiting tables at the Texas Steak Co. restaurant.
The United Alternative job, which involved helping organize the youth hospitality suite and registration, was the beginning of his long career with the Conservative party and its precursors.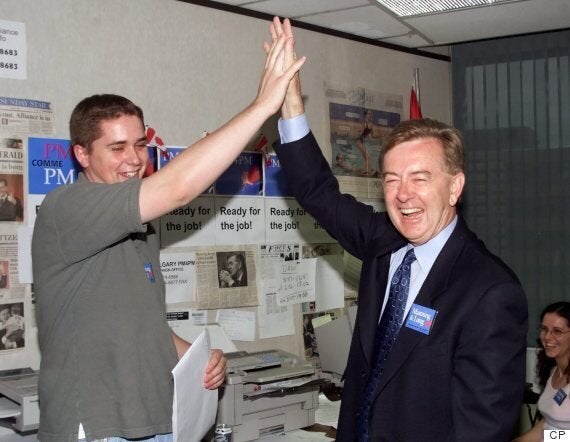 Scheer secured a job as an intern with the Canadian Alliance while working on his bachelor's degree. He transferred from political science to history after finding political theory uninteresting and difficult.
He worked on former Reform Party leader Preston Manning's bid to head the Canadian Alliance (officially known as Canadian Reform Conservative Alliance), and as a media monitor, getting up at 4 a.m. to scour the news).
After Manning lost to Stockwell Day, Scheer was hired full-time in the correspondence unit of the office of Her Majesty's Loyal Opposition.
Scheer got involved with riding associations, general assemblies, and campaigns, knocking on doors for candidates. His job seeped into his social circle.
In 2000, Scheer was set up with Jillian Ryan, a woman who mutual friends felt shared his same sense of humour, laid-back temperament — and height (he is 6'4" and she is 5'11").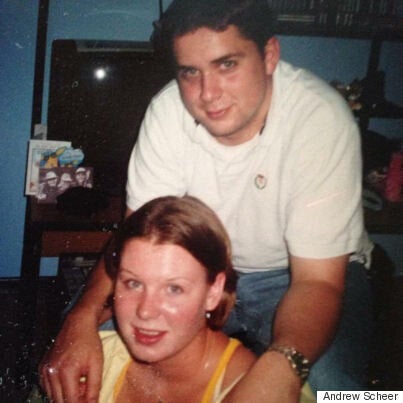 "We're also both very upbeat and positive," he says.
Ryan, now 37, was introduced to Scheer's passion for politics on one of their first dates when he took her to a Canadian Alliance convention in Calgary.
"Her family were not political at all, she probably had vaguely some understanding of the difference between provincial and federal governments but not anything beyond what you get in high school civics class," Scheer recalls, "And then here she is standing on a chair holding a 'Preston Manning' sign, chanting: 'Preston! Preston!'"
Ryan moved from her home province of Saskatchewan to Ottawa, taking a year's worth of electives for her education degree, so the two could spend time together. After the year was over, in January, 2003, Scheer moved to Saskatchewan, where he continued to take classes at the University of Regina and Athabasca University. (He completed all but one class in 2003, he didn't graduate until 2008).
Eight months later, Ryan and Scheer tied the knot.
"We didn't really have a plan. We thought we'd move out there for a bit and then move back to Ottawa."
But then Scheer got involved with the Saskatchewan Party, helping Mike Schenher's run in Regina Walsh Acres (an area now included in Scheer's riding). Schenher lost, but hired Scheer to work as an insurance broker with his firm, Shenher Insurance. He held the job for less than a year, when he quit to join the constituency office of Canadian Alliance MP Larry Spencer.
Scheer says it wasn't until November 2003, when the Saskatchewan Party lost the provincial election, that he thought seriously about running. Marshall, Scheer's campaign manager, remembers it a bit differently. He recalls people musing at the couple's wedding that he might run for office.
"In one of the speeches someone mentioned that Andrew would one day like to run for elected office," Marshall recalls. "There was a couple at the table, well-to-do well-connected Regina folks, who kind of 'tut-tuted' it. 'Oh, Andrew, this guy who is an insurance broker who has been living in Regina for a few months. Oh that's ridiculous, he couldn't run for politics. Not in this town.' They were dismissive and a little condescending. And nine months later he was an MP."
Scheer says he realized at an early age that he would like to run one day. He just thought it would be a bit later.
"I loved politics. I used to go to question period from time to time when I was in high school," he notes. "I might have cut the odd class to go down to question period."
Scheer recalls mentioning to his peers in the Official Opposition correspondence office that Regina–Qu'Appelle would be an interesting seat. The Canadian Alliance had just lost the 2000 election by 164 votes.
It was a series of coincidences that led him to that riding, Scheer now says.
He was living in neighbouring constituency closer to the university. But a number of activists he met through his various political work had close ties to Regina–Qu'Appelle.
Scheer set his sights on the riding and defeated Morris Elfenbaum, a former Ottawa Rough Riders player, for the nomination. He then beat NDP incumbent Lorne Nystrom in a major upset. Nystrom had held the seat since 1997 and had also represented part of the riding from 1968 to 1993.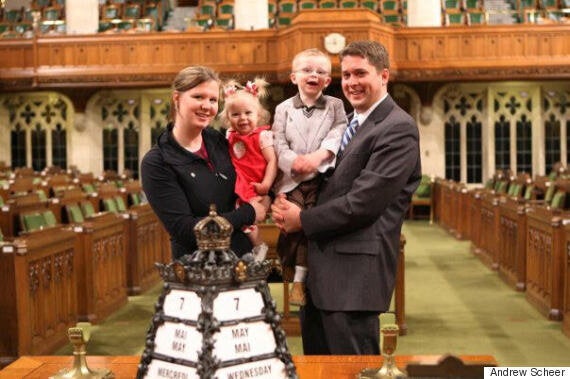 "He was a titan," says Scheer. "He was very well-known, he had run himself twice for the [NDP] leadership, and was very young when he was elected."
Scheer says he felt Jack Layton, who had just taken over the NDP, wasn't speaking to Prairie New Democrats and, anecdotally, he was hearing that Nystrom wasn't as present in the riding as he had been.
"I just thought if I can come in here and really work my tail off, and really put the effort in, this is one of those ridings where the ground game can make a difference. I'd work on quite a few campaigns by then so I thought I could do it."
In two years, Scheer had moved across the country, married, welcomed his first child and won a seat as a member of Parliament. He was 25.
He has won every election since: in 2006, 2008, 2011, and 2015.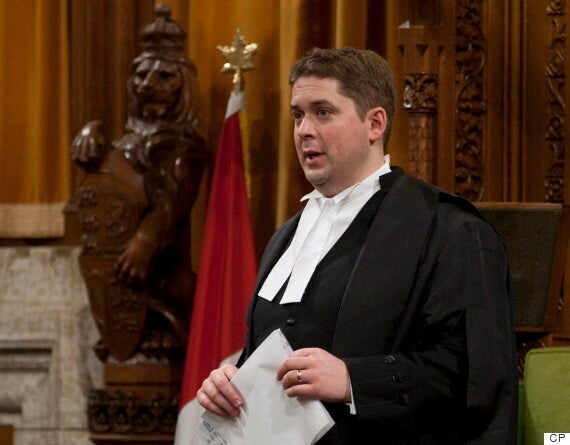 Early in his parliamentary career, Scheer lined himself up to take a less partisan position. He was appointed assistant deputy chair of committees of the whole, then deputy speaker in 2008 and finally, in 2011, at age 32, he was chosen by his peers to be Speaker of the House of Commons.
The election with seven candidates went six rounds by secret ballot until Scheer won a majority. Marshall says Scheer finally bested his Tory challenger, Lee Richardson, by two votes. (The results are not officially announced).
The Speaker's job — to preside over question period, host delegations, and manage the affairs of the House of Commons and its staff — came with enviable perks: a $233,247 salary (the same as a cabinet minister), a car and driver, a cozy apartment in Parliament, and a beautiful farmhouse in the Gatineau Hills, a short drive from Ottawa.
Scheer says he threw himself into the job. "While I was on that track, I enjoyed it immensely and really developed an affinity for [the job] and an appreciation for the kind of systems behind the policies: the way the House functions."
Unlike most leadership contenders, Scheer doesn't have cabinet experience, but he notes that the Speaker exercises an "executive level of authority. Being Speaker is, in a lot of respects, on the same level as being a cabinet minister."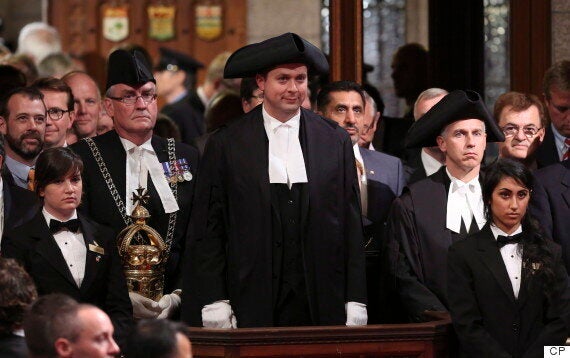 As Speaker, Scheer says, he faced a number of "tricky issues," such as dealing with the aftermath of the 2014 terrorist attack and changing the way security is handled on Parliament Hill.
"A lot of my victories go unnoticed because when a Speaker is really successful, it doesn't spill over to the House, so I was able to defuse a lot of situations that nobody will ever know about because, behind the scenes, you know, we worked things out."
Being Speaker, he says, gave him leadership capabilities he didn't have before. His proudest accomplishment is his ruling reaffirming the rights of individual MPs to speak in the Commons without the approval of their party's leadership.
After the Liberals' big win in 2015, Scheer says he quickly realized he wasn't going to win a popular vote in the chamber and be re-elected to the post, so he didn't compete for the job.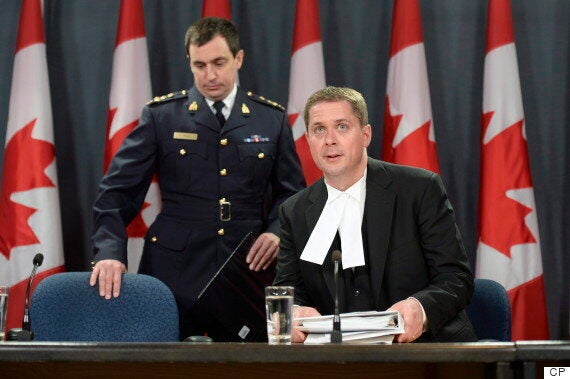 He rejoined the Conservative caucus (the Speaker, as a servant of the whole House, doesn't attend party caucus meetings). It was something he acknowledged missing: the camaraderie and the partisanship.
Interim Conservative leader Rona Ambrose asked Scheer if he'd be her House leader. The position is heavy on parliamentary procedure and Scheer quickly rediscovered his love for not just policy but also negotiations and arguing. "Fighting for things I believe in."
After a few months as House leader, Scheer says his colleagues approached him and asked if he would consider running for leader.
"I'm not one of these candidates who knew two years ago, or even five years ago, that this is something they would like to do. I was not anticipating that in October 2015."
At the time, only MPs Michael Chong, Kellie Leitch and Bernier had signalled their interest.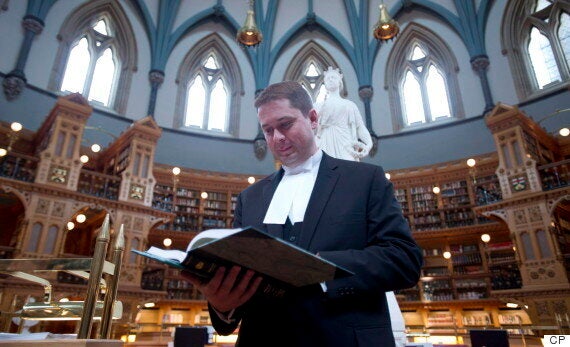 "So I started thinking about it and I didn't mind the idea … I thought I could do it."
Scheer says he started to test the waters and to discuss it with his wife. They now have five children: Thomas (12), Grace (10), Madeline (8), Henry (6), Mary (1½).
(Scheer likes to half joke that his wife is either pregnant or has just had a baby at every election.)
Scheer took the summer to plan his campaign and announced in late September, pitching himself as a bilingual candidate with a unique combination of Eastern Ontario roots and a Western Canadian riding.
His French isn't perfect and it's hard to see how easily he could face off against Justin Trudeau in a French election debate. But in a field of 13 candidates, a remarkable number are much less well-equipped in the country's other official language.
When he moved to Saskatchewan, Scheer says, he was fluently bilingual.
"I will admit that I might not get every conjugation perfect and masculin and feminin still mystifies me, so you know it's one of those areas where I am working constantly to improve on, but I think the level is there to earn the support of a lot of members in Quebec."
He has the backing of several Quebec MPs, has done media rounds around Quebec City en français, taken intensive French lessons in the provincial capital and uses the Parliament Hill's French-training services.
Pierre Paul-Hus, who supports Scheer, says the candidate is more "team-centric." "He is someone who listens." When Scheer approached him and the other Quebec MPs, Paul-Hus says his Saskatchewan colleague made it clear he would consult them on any issues affect Quebec. "His collegiality is what attracted me."
If Scheer wins, he plans to carve out significant time to improve his language skills. "I'm very confident that by the time 2019 rolls around, it will be on the same level [as Trudeau]."
In the meantime, Scheer says he's been re-reading his French high school books, such as Jules Verne's Twenty Thousand Leagues Under the Sea, and listening to Radio-Canada.
Scheer is trying to pitch himself as the best spokesperson for the party. His policy platform, compared with Bernier's for example, is less ambitious. But Scheer sees himself as a continuation of the previous Conservative government. If you're looking for Harper's policies wrapped in a friendlier package, Scheer is your man.
"I am convinced, and as we started off the conversation, [that] it wasn't our policies that cost this last election," he says, still barely touching his now lukewarm coffee.
There is one thing Scheer believes was a mistake. He views the 2015 election not as the electorate's desire to replace a decade-old government with a new, more positive vision, but as the failure to get Canadians to care enough about deficit spending.
"I don't think we did a very good job of laying out the argument. We assumed that people were upset by deficits, or pleased by balanced budgets," he says. "They obviously didn't care enough about it.… If deficits and balanced budgets were the primary concern for Canadians, then we would have won the last election."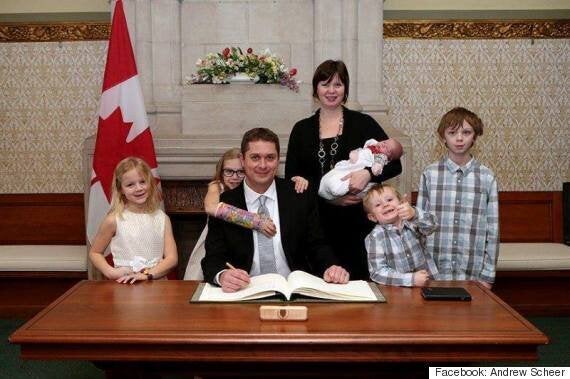 His main goal, if he wins the leadership on Saturday, is to run in 2019 with the promise to make balancing the books the government's No. 1 priority.
Like several other Tory challengers, Scheer pledges to eliminate the federal deficit within two years of taking office. His target keeps both appearing and becoming more ambitious, he notes, because the Liberals' deficits keep getting larger. But, he says, having a target is necessary.
"If you don't give public servants a target and [an] ambitious target," he says, "government growth is organic.
"I've never had a meeting with a government lobbyist [or a] government relations person who brought an idea to spend less money," he says, laughing.
On health care, Scheer would leave the public system as-is but encourage provinces to innovate with private sector offerings. "Everyone is better off in this system. The person that can afford to purchase it, gets his or hers done right away and their name is off the [public] list and everyone else just moves up a spot…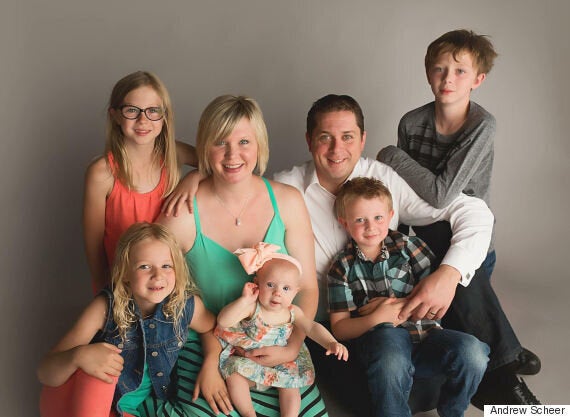 "I just think that for an Ottawa-knows-best approach that puts a straitjacket on provinces at a time when there are increasing burdens based on an aging population and expensive new drug treatments and procedures, the federal government's job is to provide stable funding, ensure that nobody is denied coverage because they don't have the ability to pay but to allow the provinces to [experiment.]"
On supply management, Scheer believes Conservative members voted to keep the system as-is, and it's up to them to decide if they want to change it. "I don't think it's up to the leader to ignore that and just impose a personal view," he says, referring to Bernier.
Still, Scheer says he sees benefits in the current system, which ensures quotas to keep domestic industry thriving while high tariffs keep competition out. It helps support small rural and remote communities, for example, he says.
"There is a social benefit to having those vibrant rural communities across the Canada. I think even Maxime would agree that if we dropped supply management, we would see a massive reduction in the number of dairy farmers, and that would mean an emptying out of a lot of rural communities. I don't think that's good for the country."
He is also unconvinced that eliminating the program would be cheaper in the long run.
Story continues after slideshow: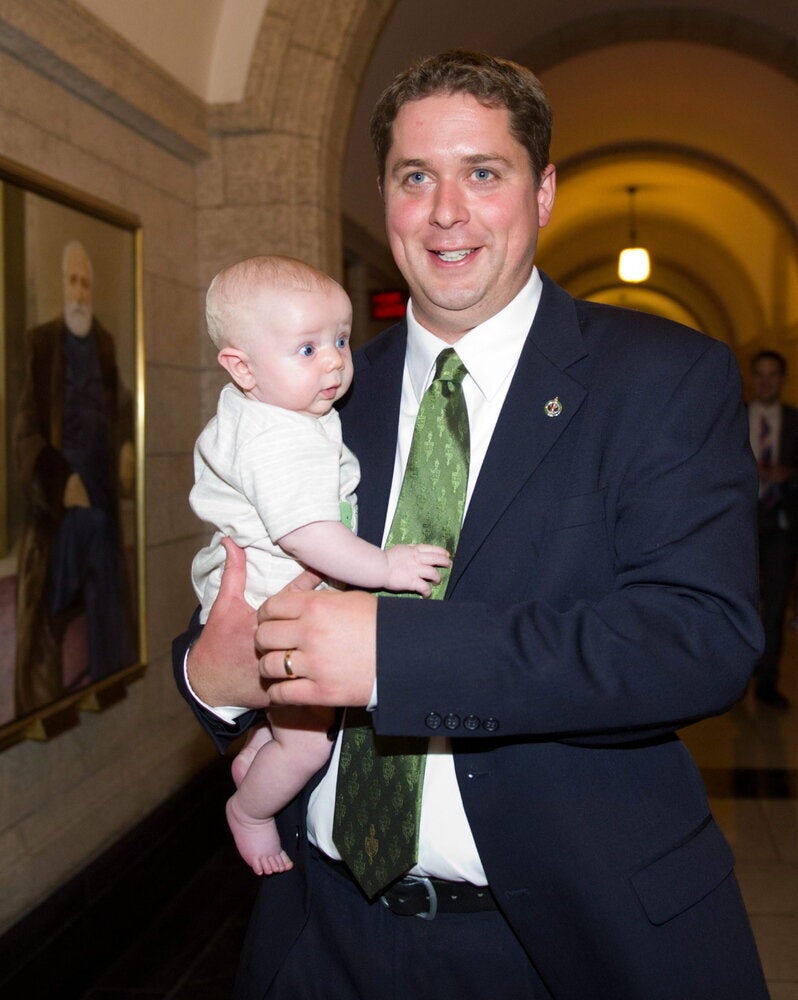 In Photos: Andrew Scheer
"Balancing the budget after Trudeau won't be easy, but it will be much harder if Maxime adds as much as another $30 billion to the national debt," he wrote.
On defence, Scheer, like his colleagues, would return Canada's fighter jets to Iraq to take part in the fight against the so-called Islamic State.
"I'm convinced that this was a political decision that the prime minister [Justin Trudeau] made during an election campaign.… I think our jets were doing a good job, they were contributing."
Scheer would consult NATO allies about keeping the special forces and trainers the Liberals placed on the ground to see if their role is meaningful and whether Canada could do both.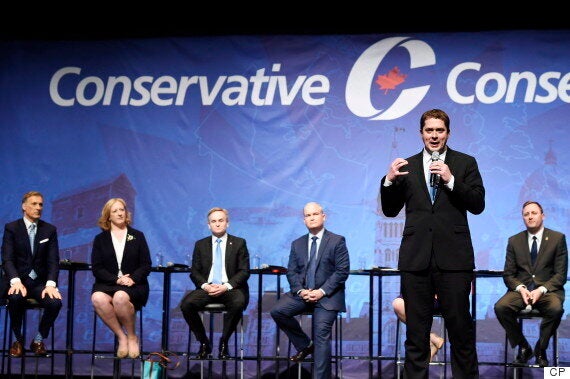 The Liberals are very interested in "root causes" of things, he says, but they seem uninterested in the "root cause" of the refugee crisis.
"The root cause of the refugee crisis is the civil war and the fight against ISIS," he says. "People are fleeing, but they would prefer to go home.
"Yes, we can play a role in helping those that don't have a place to go home to," he says, referring to the Liberals' promise of accepting 25,000 refugees, "but there isn't enough capacity in Europe or North America to to deal with every single person in that area that could be affected by this evil organization, so we should be doing everything we can do destroy [it]."
On the environment, Scheer is so adamantly opposed to a carbon tax that repealing it would be his first bill in the Commons. He says he's interested in "reducing all different kinds of emissions" but believes Canada should focus on exporting clean-coal technology or carbon-capture technology to populous developing countries and help them reduce their greenhouse gas emissions rather than to focus on reducing a smaller percentage of global emissions in Canada.
"We have to be very realistic with first of all what is Canada's global footprint," he says. Helping India and China produce less GHGs would be "much more effective than a carbon tax and [would] not cost Canadians billions of dollars."
Scheer wants Canadians to know where their oil comes from
"I think sometimes those on the left almost want to prove that we're willing to damage ourselves even if it's not the most efficient way to reduce emissions, because then we're showing that we are doing something and I say, 'yeah but if the goal is actually reducing CO2 and this way can achieve it, let's look at that.'"
His main plank on the environment is to make it illegal to dump raw sewage in public waterways.
On pot, Scheer is opposed to legalization but isn't prepared to say if he'd dismantle the system the Liberals set up. "We'll take a look at what the ultimate legislation gets through, we'll have a conversation as a caucus about how best to handle it going to the next election."
On energy, Scheer pledges to approve the Energy East pipeline. He also plans to show Canadian where their oil comes from. He would mandate companies to display at the gas station pump what percentage of oil is sourced from foreign countries.
He thinks his plan would help put pressure on getting energy projects approved by getting Canadians to say: "'Hey, wait a minute, I support Energy East because I don't want to buy a barrel of oil from Saudi Arabia with a terrible human rights record, with zero concern for environmental regulations, with much less labour standards, and we've got out-of-work Canadians in Alberta and Saskatchewan.'"
Some of his other policies include:
Creating a firearms ombudsman to review government regulations
Scrapping foreign ownership rules on airlines to encourage more low-cost carriers
Entrenching property rights in the Charter of Rights and Freedoms.
One unique proposal is a tax deduction of up to $4,000 per child for parents who send their kids to private school, or $1,000 for homeschooled kids. Scheer himself would benefit from the plan, since his children attend the Regina Christian School.
"There may be a perception in some circles that independent schools are places where rich people send their kids. It's totally not the case," he says, pointing out that such institutions offer different approaches to learning or focus on special needs. "A lot of families make a heck of a lot of sacrifices to put their children at a school that that gives them something that they may not feel they would get in a public system, and they make a tremendous and work very hard to be able to do that, and make many tremendous sacrifices. To me, this independence school tax credit is a recognition of those sacrifices."
Another one of Scheer's flagship policies is a pledge to withhold federal funds, such as Canada Research chairs and research grants, from university campuses that "do not foster a culture of free speech and inquiry."
Scheer voted against Bill C-16, legislation that expands the Canadian Human Rights Act to transgender individuals by including protection against discrimination for gender identity or expression. He believes the bill stifles free speech and that broad aspects of the legislation are already covered through the federal human rights code and the Criminal Code.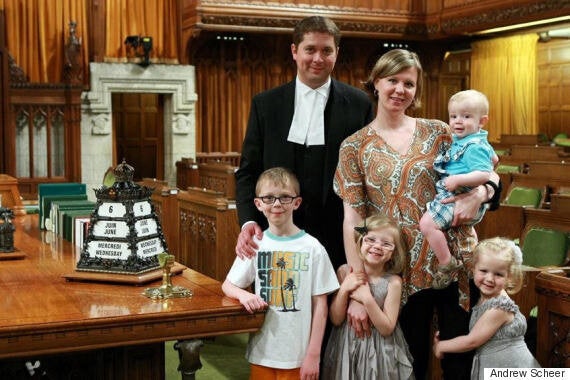 "You don't have the right to not be offended," Scheer say. "To start drawing lines around freedom of speech beyond what we have always had in Canada for a long period of time, the Criminal Code threshold of hate speech or incitement for violence … I just think that we have to protect that."
Scheer feels that Canadian society is starting down a path where people aren't allowed to articulate "their side of things or hold up their beliefs on things." Individuals who are uncomfortable with transgender or question their identity are prevented from speaking their minds, he suggests.
Scheer says he doesn't think it's "wrong" for transgender people to prefer being called certain pronouns, "or wrong that certain people accept that … but to have it rise to the level where there are sanctions if you don't, I would have a problem with that. I don't think there is a case to be made why people don't have the right not to use those types of pronouns.
"True tolerance is accepting that the other side has a right to believe what they believe and argue their case for it," he says. "There are things that are said on a daily basis that I find extremely offensive, as a Christian, as a capitalist. I can't watch stand-up comedians or university lectures on all kinds of things [because] I disagree with [them] passionately, and if I was still a student, I may protest against, but I wouldn't shut down the debate, and I don't think other people have a right to do that either."
"The term Islamophobia is thrown back at people who make legitimate criticisms, who point out dangerous elements."

— Andrew Scheer
Scheer also voted against M-103, a Liberal motion that condemned Islamophobia and called on a committee to study systemic racism. He says he opposed the motion because the term Islamophobia could be interpreted to mean any criticism of the religion.
"If we're talking about making sure that nobody loses their job because they're Muslim or kicked out of their house because there are Muslims, hey, absolutely, that's legitimate," he says.
"But the term Islamophobia is thrown back at people who make legitimate criticisms, who point out dangerous elements," he says, giving as an example of an imam coming to Canada and preaching hatred.
Scheer believes there are "legitimate concerns" that M-103 is an attempt to quash criticism of Islam.
"That's where it could lead to and a lot of times you look back in time and think how did we get here? And I do believe that we may be having a conversation in five, 10 years where there is this and we can say: 'Well, that might have been the starting point how we got to here," he says, not defining precisely what he means.
If the Liberals are trying to play wedge politics on the issue by suggesting to Muslim voters that the Conservatives are racist, Scheer isn't concerned. The Saskatchewan MP says he has met a number of moderate Muslims who have encouraged him to vote against M-103. "I think this is, honestly, this is more of a problem for them than it is for us."
It's easy to see why Scheer is well-liked by his colleagues. He is earnest and likes to joke. He tends to blush easily when he smiles, which is often.
He repeatedly insists that he's the only candidate who can "keep every kind of conservative united and focused on winning the next election. "I'm the only candidate that's really talking about how we connect to people," he says.
Some of the other candidates have used bombastic language or proposed policies in a way that "really gets our members excited and say, 'Yeah! That's what I want to hear,'" he says. But many tend to forget that there is "a heck of a lot" of Canadians who didn't vote Conservative last time, and the party needs to find a way to reach them.
Scheer says that is his advantage. "As other candidates kind of try to make differentiation on certain aspects of policy or style, I'm the one at the end of every debate saying, 'Look we have to think about how do we get our neighbours … our friends and family that aren't conservative but are open to voting Conservative, a reason to vote for us next time.'"
Scheer doesn't expect to be leading when the first ballot results are announced Saturday. But he hopes his nice-guy reputation will give him the most growth potential.
"Do you think I can win?" he asks, before leaving.