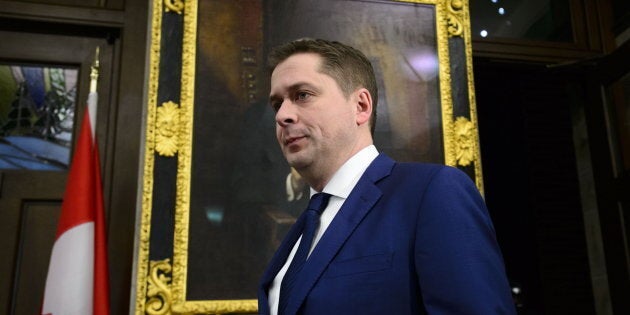 Conservative Leader Andrew Scheer is calling on Prime Minister Justin Trudeau to resign in the wake of stunning testimony from his former attorney general on the SNC-Lavalin affair.
Scheer told reporters Wednesday that Trudeau has "lost the moral authority to govern" and called on the RCMP to open an investigation into the controversy.
The Conservative leader said he was "sickened and appalled" by Jody Wilson-Raybould's testimony before the justice committee, which detailed the political interference she claimed to have experienced as the former attorney general.
Watch: Wilson-Raybould says she faced pressure, 'veiled threats' over SNC-Lavalin
In more than three hours of testimony, Wilson-Raybould alleged that she faced "consistent and sustained pressure" for four months from Trudeau, his senior staff, Canada's top public servant and the finance minister's office to halt the criminal prosecution of the Montreal engineering giant.
Wilson-Raybould told MPs was repeatedly pressed to overturn a decision not to negotiate a remediation agreement, also known as a deferred prosecution agreement, with SNC-Lavalin. Such a deal would have allowed the company, facing fraud and bribery charges from its dealings in Libya, to avoid a trial that could damage the company and spur layoffs.
Scheer said it is clear now that Wilson-Raybould was being bullied to "bend the law" for a well-connected corporation. He accused Trudeau of allowing a "systemic culture of corruption to take root in his office" and said the episode marked the final stages of his government.
"Justin Trudeau simply cannot continue to govern this country now that Canadians know what he has done," Scheer said. "That is why I'm calling on Mr. Trudeau to do the right thing and resign."
NDP Leader Jagmeet Singh did not echo Scheer's call for the prime minister's resignation. He said the testimony heard at justice committee reaffirms his party's call for an independent inquiry.
"He may need to resign because of this," Singh said.
Wilson-Raybould testified that between Sept. 4 and Dec. 19, there were at least 10 different phone calls and 10 meetings about the SNC-Lavalin case between her or key members of her staff and 11 people in the Prime Minister's Office and other departments. Emails and text messages were also exchanged, she added.
Wilson-Raybould said that in a meeting with Trudeau on Sept. 17, the prime minister said SNC-Lavalin could cut many jobs and possibly move from Montreal without a remediation deal. She said Trudeau also stressed there was a provincial election in Quebec at the time and that he was an MP for the Quebec riding of Papineau.
Wilson-Raybould said she was "taken aback" and asked the prime minister if he was politically interfering in her independent role and decision as the attorney general, and that she would "strongly advise" against that.
"The prime minister said, 'No, no, no, we just need to find a solution,'" she said.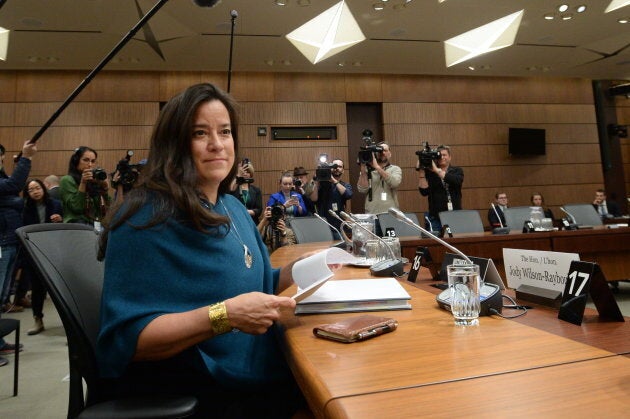 She also accused Privy Council clerk Michael Wernick of issuing "veiled threats" during a phone call on Dec. 19, in which she alleges he referenced how Trudeau wanted to know why a remediation deal wasn't being pursued. Wilson-Raybould said Wernick told her Trudeau would "find a way to get it done one way or another."
In a January cabinet shuffle, Wilson-Raybould was demoted to veterans affairs minister and replaced as attorney general and justice minister by David Lametti. She resigned from cabinet earlier this month.
Wilson-Raybould also testified the pressure she felt did not cross the line, in her opinion, from "inappropriate" to illegal.
PM 'completely disagrees' with Wilson-Raybould's account
Speaking to reporters in Montreal, Trudeau said he "completely disagrees" with his former attorney general's version of events.
"Our government will always focus on jobs and our economy. We,of course, had discussions of the potential loss of 9,000 jobs in communities across the country, including the possibly impact on pensions," he said in reference to SNC-Lavalin's woes.
"My job as prime minister has always been to stand up for Canadians and Canadian workers."
Trudeau distanced himself from Wilson-Raybould's claim that he politically interfered in the prosecution case against SNC-Lavalin. He said the decision about a deferred prosecution agreement related to Quebec company "was Ms. Wilson-Raybould's and hers alone."
"I strongly maintain as I have from the beginning, that I and my staff always acted appropriately and professionally," the prime minister said.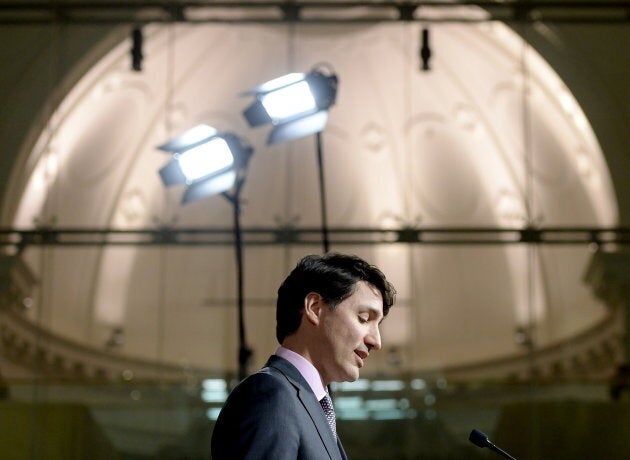 He responded to Scheer's call for his resignation by mentioning the upcoming election, saying Canadians will have a "clear choice" to make in a few months. He pointed to his government's economic record as a reason for Canadians to re-elect a Liberal government.
The Conservative party, Trudeau said, remains "the party of Stephen Harper that continues to attack, to divide, to play politics with big issues."
Trudeau sidestepped a question when asked if he would allow Wilson-Raybould, currently the MP for Vancouver Granville, to run under the Liberal banner this fall. He said that he has yet to listen to the entirety of his former attorney general's testimony.
"I will do that before making any further decisions," he said.
Wilson-Raybould asked if she has confidence in PM
Wilson-Raybould, meanwhile, will likely face questions about whether she can stay in the Liberal caucus in light of her explosive testimony.
At the committee, Liberal MP Randy Boissonnault asked his caucus colleague if she still has confidence in the prime minister.
"I'm not going to get into any conversations about why I resigned other than to say this. I resigned from cabinet because I did not have confidence to sit around the cabinet table," Wilson-Raybould said.
With a file from The Canadian Press