TORONTO — The Conservative Party chose Saturday to stay on the path charted by Stephen Harper, selecting a cheerful family man to sell their message rather than a Quebec libertarian who risked creating rifts within the party.
Thirty-eight-year-old Saskatchewan MP Andrew Scheer won 50.95 per cent of the votes on the 13th and final ballot. Maxime Bernier, who had run a campaign over the previous few days that presumed he would win, received 49.05 per cent when all the votes were counted and redistributed.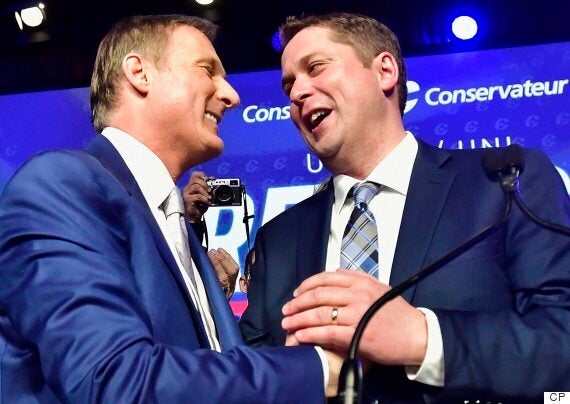 Scheer's campaign manager, Hamish Marshall, told HuffPost Canada the race had become a contest between "people who basically think that Stephen Harper did a really good job and people who are disappointed that Stephen Harper didn't go far enough."
Bernier did a good job of speaking for people who felt Harper was "insufficiently conservative," Marshall added, "while Andrew led the path amongst people who think broadly that the last government was a very good government."
More from campaign manager Hamish Marshall on our "Follow-Up" podcast:
Bernier presented himself as a "no compromise" candidate, a reformer with bold policy prescriptions, such as eliminating the federal government's role in health care funding, scrapping corporate welfare, and eliminating supply management in the dairy, poultry and egg industries. His critics charged he would expand private health care and weaken public services, cost Canadian jobs, hollow out rural towns, and plunge the country into $30-billion deficits to compensate farmers for the loss of their income.
Some inside the party worried that a Bernier win would lead to a showdown at the 2018 Halifax policy convention when he planned to press the membership to adopt his controversial agenda.
Opposite camps called his positions "a bit too extreme" and "unworkable."
Conservative Sen. Don Plett, the party's president for the first seven years after the merger of the Canadian Alliance and the Progressive Conservatives, warned that Bernier would have to put a lot of water into his wine.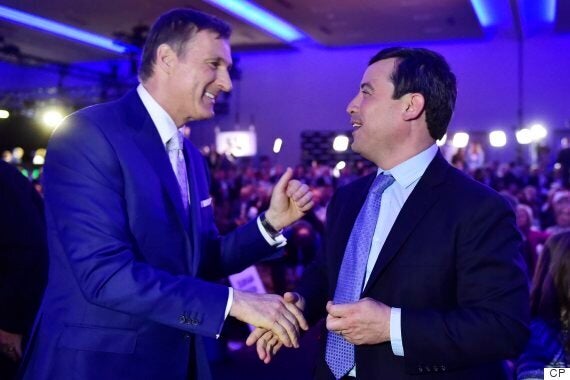 "I'm from the province of Manitoba, and there is a lot of supply management in the province of Manitoba and Quebec," Plett said of the Canadian quota system for dairy, poultry and egg products.
"If he wants to win an election, he is going to have to compromise. You will not win an election without having some compromises," Plett, a Scheer supporter, told HuffPost.
Bernier organizer and Quebec MP Jacques Gourde said: "In the end, it was a referendum on supply management, and Maxime lost his bet."
Speaking after his come-from-behind win, Scheer acknowledged that the support of dairy farmers, especially in Quebec, had been instrumental in putting him over the edge.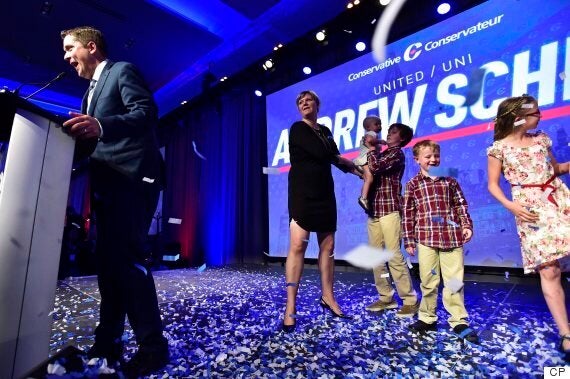 On Saturday, the 141,362 Conservative members whose votes were counted — a 54.6 per cent turnout — told the 13 leadership candidates still in the race that they were looking for someone who could compromise.
"Long-standing members voted at a significantly higher rate, than new members," Marshall noted. "We also believed that long-term members were more likely to mark more choices on their ballot. … We knew from everything we've seen that amongst voters who were not committed, who are long-term members of the party, Andrew was ahead of Max by the end with that group, and we knew that they would be more likely to be deeper ballot voters."
Close to 78 per cent of voters ranked another candidate ahead of Scheer on the first ballot. The party has yet to release the number of votes that actually determined the winner on the final ballot, but Scheer, who campaigned by asking people to put him second on their preferential ballot, benefited from voters who took the time to rank more than their favourite candidate.
'A silent Harperite majority'
"Our operating assumption when I wrote the campaign plan," Marshall told HuffPost's "Follow-Up", "was that there is what I call a silent Harperite majority within the party and that the people who are most disappointed in the election results, or maybe most disappointed in aspects of the government, made a lot of news, complained about a lot of things, but that your average long-term Conservative member was somebody who was pretty happy with the way things had gone for the decade that we were in power and wanted a leader that at least respected that and was compatible with that in some way. … That was something that we identified early and that was a core part of our campaign from the beginning."
Scheer campaigned during the leadership race on a continuation of Harper's agenda.
"The lesson I've learned from last election is not that we have to change our policies," Scheer told HuffPost. "I got very good feedback, and people appreciate of the tax cuts, they like the fact that we balance the budget, they appreciated our foreign policy that had a principled drive to it and standing up for what's right around the world. But we have to find a way to keep all that, but then go from 30 per cent to 40 per cent — 45 per cent beyond, and we're not going to do that just by reminding people how much we don't like Justin Trudeau," he said.
Harper's former campaign manager, Jenni Byrne, said Scheer "more than any than any other candidate campaigned on the policies of Stephen Harper.
"When members of our party sat down and thought what do they want? They thought 'we want a little more Stephen Harper."

— Jenni Byrne
"When members of our party sat down and thought what do they want? They thought 'we want a little more Stephen Harper,'" she said. "That, I think, is the No. 1 take-away."
Plett also believed party members narrowly rejected a giant change because they felt most things didn't need fixing.
"We lost the last election because we were selling somebody that was not sellable," Plett said. "People voted against people in our party, not against our policies, I absolutely believe that."
Former MP Peter Penashue, a Scheer organizer in Labrador, said his candidate was also an easy sell to party members.
"He's a very genuine person. He's, you know, in Newfoundland we say 'salt of the earth.' He's a fine gentleman."
Noteworthy in Saturday's voting is the importance of the party's social conservative wing and their desire to have a continued voice in Parliament.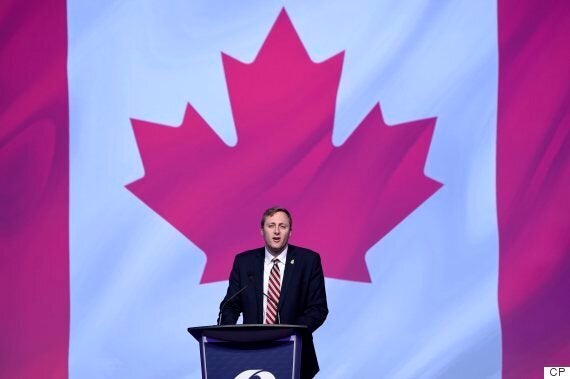 Social conservatives Brad Trost and Pierre Lemieux shared supporters which helped propel Trost to fourth place. While most their voters didn't rank a third candidate, about 25 per cent voted for Scheer, who is also a social conservative, according to observers who were in the room when the votes were tallied.
Trost said his 24,000 members were motivated to vote and they helped ensure a Scheer victory. "The move when Scheer went from trailing by 6½ [per cent] to trailing by two [per cent] happened when I fell off the ballot…
"My voters made the strongest moves to Andrew versus Max."
Listen to Althia Raj's interview with Andrew Scheer on the "Follow-Up" podcast:
"I've been very clear that I'm not going to reopen these things [abortion, gay marriage]," he told HuffPost. "Our team is not interested in opening and bringing forward things that divide our own movement."
Bernier, who spoke in favour of scrapping the traditional definition of marriage at the Tories' last convention in Vancouver, told social conservatives that he would let them introduce any bills or motion but would not push their agenda as a government.
"[Bernier] was pro gay marriage, and that is a no-go for a lot of so-con voters," Conservative pundit Tim Powers said. "If comfort is the message and they see Scheer as Harper light, then they'll probably accept the fact that under Harper they did OK. Part of it for so-cons is holding the line; Andrew is not going to cross it one way or the other."
Bernier was 'overconfident,' Tory senator says
Conservative Sen. David Tkachuk told HuffPost he believes Bernier also lost votes Friday night. Scheer made an enthusiastic last pitch to voters watching on TV and on the convention floor, whereas the Quebec MP spoke off-the-cuff for a few minutes, with his team saying the real speech would be on Saturday — the victor's speech.
Bernier was "overconfident," said Tkachuk, who supported Scheer. "I thought he performed badly yesterday, and I think that cost him."
Scheer told reporters he'd like to think his speech made a difference. The National Post's John Ivison reported that 9,000 votes had been cast Saturday and that Scheer had won by 7,000 votes.
The party has yet to release an official tally of the weekend's polls.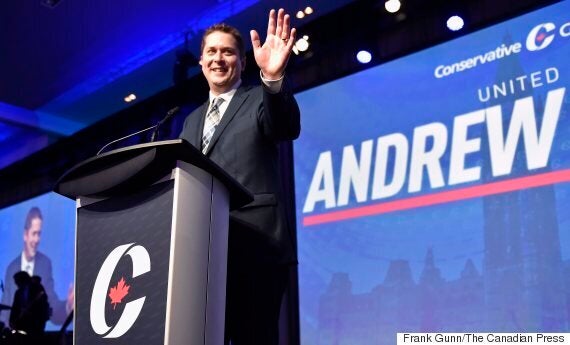 While the old schism between the Progressive Conservative and Reform Party sides of the Conservative tent were not on display this weekend, Powers noted that, with a 51 per cent majority, Scheer shouldn't read too much into his victory.
"The message for Scheer is that you are not the overwhelming favourite. With 13 rounds, you've got to work with everybody that's here and send the right messages about that," he said.
The leadership campaign, which lasted more than a year, saw a national discourse over the idea of screening newcomers for so-called Canadian values — Leitch's main platform plank. While she received warm applause Friday during her speech, she came in sixth with 7.95 per cent support.
Michael Chong, who campaigned on a platform to introduce a revenue-neutral carbon tax and was often booed on stage during debates, received 9.14 per cent support before dropping off the ballot in fifth place.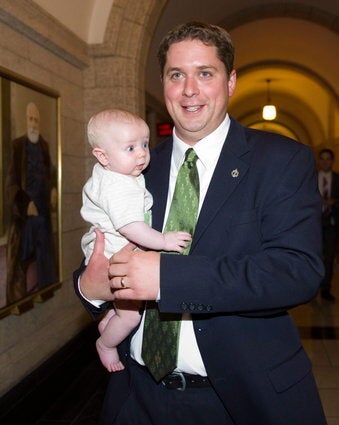 In Photos: Andrew Scheer