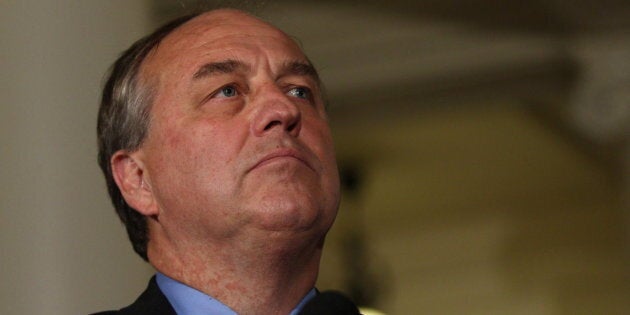 OTTAWA — B.C. Green Party Leader Andrew Weaver says he hopes watered-down language in official cabinet mandates doesn't mean Premier John Horgan has changed his position on fighting the Kinder Morgan pipeline.
HuffPost Canada reported on Tuesday that the new B.C. NDP government's mandate letters make little mention of the party's campaign promise to fight the Trans Mountain expansion project.
Horgan's letter to Environment and Climate Change Minister George Heyman calls on him to defend B.C.'s interests rather than stop the pipeline.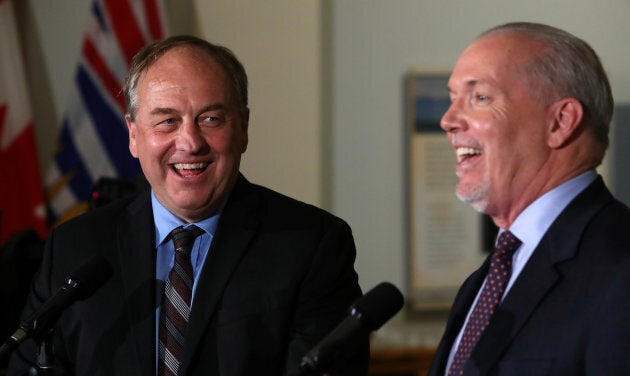 In a statement to HuffPost, Weaver said: "I hope the change in language we've seen in the Ministerial mandate letter isn't indicative of a change in the NDP's position on this project." He added that the Greens have always been clear on their position on the Trans Mountain expansion project.
"The Kinder Morgan pipeline is not in BC's interest," the party's platform stated. "It means a seven-fold increase in tanker traffic. It doesn't, and won't, meet the necessary conditions of providing benefits to British Columbia without putting our environment and our economy at unreasonable risk."
As the Greens and the NDP were negotiating an agreement that would allow them to defeat the Liberals and give the New Democrats a stable minority government, Weaver made it clear their joint opposition to the pipeline was a key factor to his party backing.
The Kinder Morgan pipeline is not in BC's interest.NDP party platform
During the May election, the B.C. NDP won 41 seats, the Liberals 43, and the Greens held the balance of power with three seats.
As an intervenor in the National Energy Board process, Weaver told HuffPost the review process was "fundamentally flawed."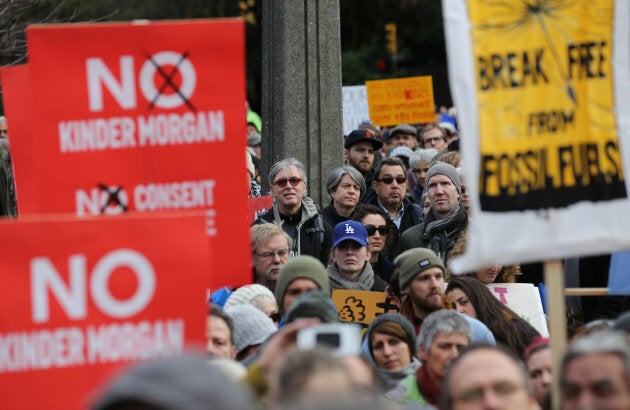 "As an opposition party, the BC Greens will remain steadfast in calling on the NDP government to use every legally available tool to stop the pipeline from going ahead," he said.
The Greens want the province to seek intervener status in the current court challenges.
He wanted to spend his day focused on what issues that he and Trudeau have in common, he said, such as fighting the opioid crisis, address B.C.'s forest fires and addressing child care and affordable housing.
Trudeau approved the controversial pipeline expansion in late November despite opposition from some Indigenous groups and members of his own caucus.
In June, Horgan and Weaver both laughed off Alberta Premier Rachel Notley's assertions that the Kinder Morgan project would go ahead despite their opposition.
"Without the Greens, it may have been an easier relationship and issue to deal with," Dosanjh told CBC News on the pipeline project.
"I don't know what will eventually happen, but I think in his heart, he may realize that Kinder Morgan can't be prevented," he said.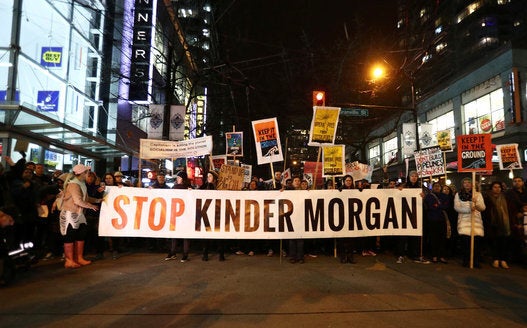 Vancouver Kinder Morgan Pipeline Protests
Popular in the Community