A B.C. First Nations artist is taking the iconic and menacing image of the stormtrooper and using it for good.
Andy Everson, a Courtenay-based artist from the K'ómoks First Nation, has taken a costume of one of Darth Vader's soldiers and turned it into an indigenous warrior.
"Defender" is a stormtrooper whom he hopes will empower First Nations people.
"During one of the pipelines protests, standing on the steps of the legislature building, I had this vision of a stormtrooper looking through the crowd, all dripping with oil — this stark, white, faceless individual covered in this oil, representing what will ultimately happen on our coastlines if these pipelines go through," he said in a YouTube video.
Everson wondered whether he could transform the stormtrooper into a positive figure by doing away with the uniform's whiteness and cover it using formline designs.
"I thought, 'Change him from somebody that blindly follows the instructions from his higher-ups to somebody that's able to take action for himself and for his own people.' And so I started to create this idea of this West Coast warrior, this defender of the land."
Everson saw the figure as a "modern warrior" because he feels that modern warfare is about "using our voice" and "defending our land and our territories, not just for First Nations people but for all of us on the planet."
This isn't the first time that the artist has blended "Star Wars" characters with an indigenous aesthetic.
In 2012 he put a First Nations spin on the franchise's characters to highlight problems with the B.C. Treaty Process.
His Idle No More posters also became prominent symbols of the protest movement that swept Canada in 2012 and 2013.
Defender was part of a show at the Comox Valley Art Gallery that ran until May 2.
Take a look at how it came together: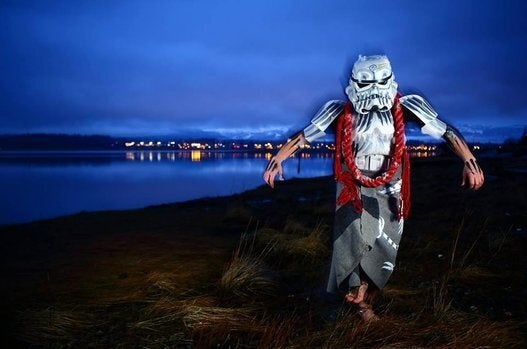 Andy Everson's Stormtrooper 'Defender'


Popular in the Community