The 42-year-old actor, mother and Special Envoy of the United Nations High Commissioner for Refugees gave a keynote speech in Vancouver Wednesday at the UN Peacekeeping Defence Ministerial Summit. HuffPost Canada got an exclusive first look at excerpts from her speech (read the full speech here).
The mom-of-six thanks Canada for hosting the event, and for its "leadership on women, peace and security." She then goes on to urge politicians, defence ministers and military leaders to help UN peacekeepers better respond to sexual violence around the world, and outlines the myths she believes are at the heart why these crimes persist, and which "we have to overcome together."
"The first myth is that this behaviour is sexual," Jolie's speech explains. "All too often these kinds of crimes against women are laughed off, depicted as a minor offense by someone who cannot control themselves, as an illness, or as some kind of exaggerated sexual need,"
"But a man who mistreats women is not oversexed. He is abusive."
Jolie cites UN claims that almost every female Rohingya refugee in the camps in Bangladesh is a survivor of, or witness to, sexual violence, sexual assault, rape, or gang-rape.
A man who mistreats women is not oversexed. He is abusive.
"This is rape and assault designed to torture, to terrorize, to force people to flee, and to humiliate them. It has nothing to do with sex. It has everything to do with the abuse of power."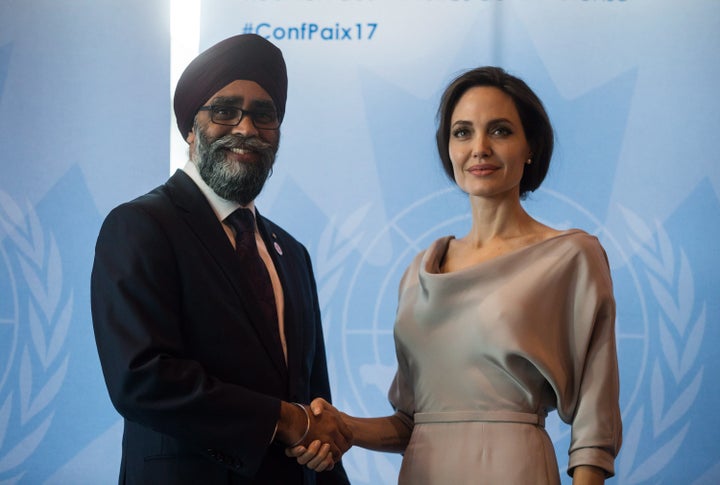 Jolie says the second myth is that sexual violence isn't seen as "serious" enough of a crime to warrant significant action. It isn't treated as "a central issue for peace negotiations or agreements. Not grave enough to mount prosecutions and imprison those responsible."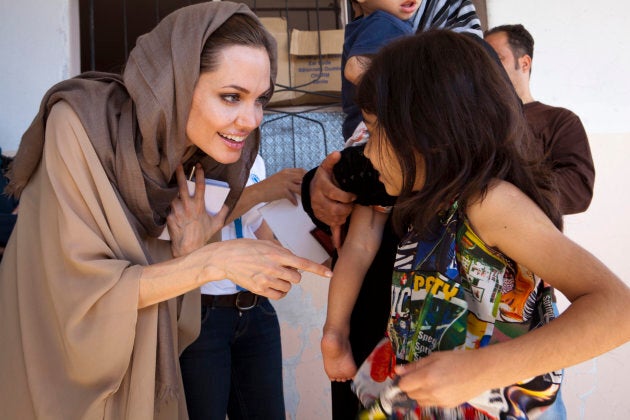 Even though millions of families are under threat of sexual violence in conflict areas, Jolie notes that, "It is on our television screens and in our newspapers. Why then, does nothing change?"
The third myth is that we can't do anything to stop sexual violence, at home or abroad, according to Jolie. Even if the first two myths are dispelled, many still think the problem is too big to solve. But Jolie says it's not impossible, and that countries have the "laws, the institutions, and the expertise in gathering evidence. What is missing is the political will."
[Sexual violence is] happening day in and day out, and more often than not, we know about it. It is on our television screens and in our newspapers. Why then, does nothing change?
Jolie says that, despite being prohibited by law, sexual violence continues to be employed as a tactic of war in 19 countries. She cites a trial in the Democratic Republic of Congo for 46 alleged cases of child rape by militia fighters, with some victims just 18 months old.
As the Special Envoy of the UN High Commissioner for Refugees and co-founder of the Preventing Sexual Violence Initiative, she is well-versed on the topic.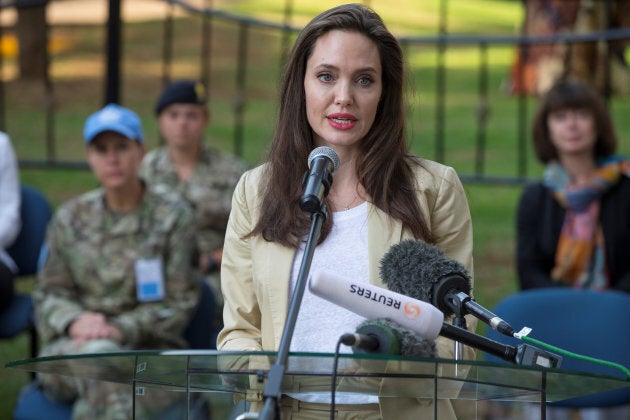 She also hasn't shied away from speaking out on her own experiences with sexual violence, noting in her speech today that sexual violence can happen anywhere, even where you work.
Although she didn't specify details, the "First They Killed My Father" director told the New York Times in October that she "had a bad experience with Harvey Weinstein in my youth, and as a result, chose never to work with him again and warn others when they did. This behaviour towards women in any field, any country is unacceptable."
Last month, the New York Times and the New Yorker detailed several women's accounts of the sexual assault and harassment they allegedly experienced from the disgraced Hollywood mogul. Since then, many more women, including prominent actresses such as Gwyneth Paltrow and Lupita Nyong'o, have come forward to share their stories of rape, abuse and harassment they allegedly experienced at the hands of Weinstein.