Does your dog get better treatment when he's sick than you do? Dr. Sarah Boston thinks so. During a year in which she underwent treatment for thyroid cancer, the Canadian veterinarian couldn't help but compare her experience with those of her own patients. The result is Lucky Dog, a new book that is more than a cancer memoir in that it brings up issues that frustrate many Canadians about our health care system: Long waits for everything from initial diagnosis to treatment, a sense of profound powerlessness, poor communication and a lack of choice.
In fact, Dr. Boston goes one step further in claiming that being a veterinarian helped to save her own life. And maybe she's right. As a surgical oncologist she was no stranger to lumps and bumps. And even though the ones she dealt with were in animals, when she felt a lump in her own neck she knew what had to be done in order for it to be further investigated.
That's when frustration with the human healthcare system kicked in for her. Discovering that she would have to wait weeks for an ultrasound appointment, she grabbed the ultrasound machine her husband (a large animal vet) used on horses and scanned her own neck. What she found was a solid nodule on her thyroid which to her was very suggestive of thyroid cancer. So when she finally got to see her doctor, the tables were turned: "Normally, your doctor tells you that you have cancer, not the other way around," she told me.
What makes Lucky Dog a compelling read is that it's not just another cancer memoir. Neither is it just another critique of the Canadian health care system. The book also details the process (and in her case the lack of progress) that anyone found with a thyroid nodule would go through from initial diagnosis through treatment. Between appointments with various doctors, getting to her first surgery (she had two) took two and a half months.
If you're a fan of John Green's The Fault in Our Stars, also a major movie this summer, you'll know a bit about thyroid cancer because it's the cancer that Hazel, the main character, has. It's not a common cancer but 80 per cent of those affected by it are women; in 2014 some 6,000 Canadians will be diagnosed with this cancer of the small butterfly-shaped gland at the front of the neck below the voice box. (For more on the thyroid and this cancer, go to www.thyroidcancercanada.org).
But it all starts with a lump in the neck, the kind that Dr. Boston found on her own. Not everyone with a lump on their neck has thyroid cancer, though. In fact half of us (myself included) have thyroid nodules, 95 per cent of which are benign. But right from the get-go, Dr. Boston, herself an experienced oncologist, was convinced that her lump was not benign. Unfortunately, four physicians told her it was nothing to worry about and only when she pressed further and checked the pathology reports herself did she finally get the right diagnosis. (Often, as was her case, initial biopsy results indicate that either not enough cells were taken in the needle biopsy sample or the cells taken may or may not be cancer -- sort of a grey "we are not sure" area which usually prompts watchful waiting or a re-do of the painful needle biopsy test.)
So stuck for weeks "between the benign and the malignant" while waiting for medical appointments, follow-up tests, and eventually surgery, Dr. Boston put pen to paper and couldn't help but compare her own experience with that of her patients. "The dogs I treat for thyroid carcinoma come in for their appointment in the morning, and have chest x-rays, blood work, and an ultrasound of their neck all done on the same day. Depending on the results, we may do a needle biopsy of their neck mass that day as well, and will get the report back from the pathologist later that afternoon." surgery can be scheduled the next morning, the dogs go home the following day, and preliminary results of the cancer are reviewed within 24 hours.
In her particular cancer, it took five weeks and several different appointments during which she was told she didn't actually have cancer. Though it was recommended that the nodule be removed just to be sure, she further found out that surgery would not be possible without waiting at least another month or more. "And that is why I wish I were a dog. Because I would take better care of me," she writes.
I found my own anger rising when I heard about some of her experiences: Though she made clear she could not tolerate a drug and asked for a substitute, her request was ignored; while seeking holistic treatment at a spa, she found they took a more complete medical history than any hospital had; as her lump grew in size, her doctors seemed rather blase about the lack of diagnosis and the slowness with which appointments proceeded. In being discharged even the nurses were confused as to whether she should stay or go, and she was released without talking to a doctor and with no discharge plan in place other than to follow-up with her own doctor. Unlike her dogs who are home the day after thyroid cancer surgery, Dr. Boston was bed-bound for two weeks.
This is a story about fighting the system and fighting to be heard. In her view, "the Canadian health care system can take a serious health concern and drag things out for long enough that it becomes a life-threatening disease." There are funny thought-provoking bits in this book: Dr. Boston is not shy in talking about the "cancer fatigue" we all feel with a sea of bracelets, tee-shirts, cancer awareness-raising months, and the rainbow of ribbons. Why did thyroid cancer pick teal, she asks? And once diagnosed with a nodule, she found that one is either a real cancer patient or a faker: If your lump was benign, you can't use words like remission, radioactive iodine, or survival time.
Can the human medical system learn anything from the way our canine friends are treated? In the end, Dr. Boston stresses advocacy and taking responsibility for one's own health. "Whether it is a pet, yourself or a family member, try to have someone with a bit of a medical background to advocate for you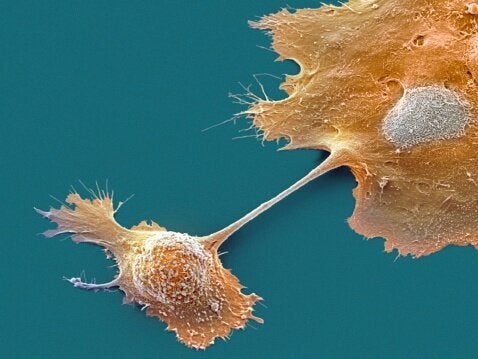 10 Facts About Cancer That May Surprise You
Popular in the Community