Controversial American commentator Ann Coulter says Justin Trudeau's Liberals would never have won Canada's federal election without immigration.
But, in an interview with Evan Solomon's "Everything Is Political" show on SiriusXM Monday, Coulter was repeatedly reminded that, for almost 10 years, it was the Conservatives in this country who won the vote of many new Canadians.
Coulter's almost 30-minute discussion with Solomon was focused mostly on American immigration issues. A supporter of Donald Trump's presidential bid, Coulter suggested immigrants commit more crimes in the U.S. and are not "owed" anything by the government.
However, near the segment's end, Solomon asked her about prime minister-designate Trudeau and the return of a "Liberal Canada," which will include the government pulling CF-18s from the combat mission against the Islamic State, the promised legalization of marijuana, and right-to-die legislation.
"It could never have happened without immigration," Coulter said matter-of-factly. She admitted she thought for years she'd have to move north of the border, but has since discovered Canada has been "wrecking" its country with immigration, as well.
Solomon told her Canada accepts about 240,000 immigrants a year.
"From wildly diverse cultures," she said. "And they are all voting for the Liberals."
Not so, Solomon explained, saying immigrants "famously" voted Conservative for the last decade. The host also highlighted the efforts of former immigration minister Jason Kenney to court different communities with socially conservative values.
Coulter was evidently unconvinced and reaffirmed Canada has been bringing in people who will be voting Liberal going forward.
"And your country is going to be finished," she said.
Coulter to Tories: 'Be men'
When asked about the niqab issue that dominated parts of the campaign and sparked accusations Stephen Harper's team was fanning the flames of xenophobia, Coulter appeared to suggest Tories were too soft on the matter.
"They challenge this rather preposterous practice, meanwhile you're running ads with smiling immigrants and still trying to suck up at the same time," she said. "Be men."
Solomon also asked her to share her views about the legalization of pot.
"I think it's ridiculous. It's a disaster," she said. "And it's especially sad for the women of Canada who are going to face a generation of sunken chest young men."
Incredulous, Solomon asked her to elaborate on the "sunken chest" quip.
"You know any pot heads? They're all midgets," she said. "They're not manly men."
Listen to their interview below. The conversation about Canada's election begins around the 18-minute mark:
Not the first time Coulter has weighed in on Canadian politics
Coulter, a lawyer and best-selling author, has made a number of inflammatory remarks about Muslims and gay people over the years. She is famous for saying "not all Muslims may be terrorists, but all terrorists are Muslims."
The fact that such a step was taken in the middle of an election campaign raised eyebrows among Liberals and New Democrats who oppose the provisions in C-24.
Coulter shared a National Post story to her almost 700,000 followers and said only Trump would suggest doing something similar.
In 2010, a speech Coulter was to deliver at the University of Ottawa was cancelled amid protests and apparent security concerns. A prior warning from the school about Canada's hate speech laws also sparked debate about the limits of free expression in a free society.
She spoke that year at the University of Calgary and London, Ontario's University of Western Ontario. At Western, she told a Muslim student asking about a line in one of her books about Muslims using flying carpets for transportation that she could "take a camel" instead.
And in 2005, Coulter had a memorable exchange with "The Fifth Estate" host Bob McKeown, wrongly claiming Canada had sent troops to Vietnam.
With files from The Canadian Press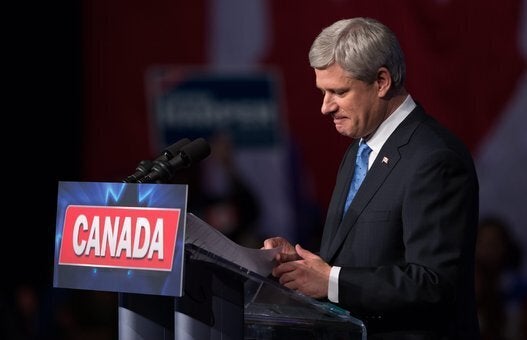 Harper Cabinet Ministers Ousted In 2015