Ann Makosinski has come a long way from when she played with transistors as a small child.
The Grade 11 student at St. Michaels University School in Victoria will fly with her father to Mountain View, Calif. Saturday, where she'll present the hand-powered flashlight that made her a YouTube star at Monday's Google Science Fair finals.
UPDATE: Ann Makosinski won the Age 15-16 category at the Google Science Fair on Monday night. Her prize includes a $25,000 scholarship from Google.
Makosinski admits she's nervous about putting her invention up against the other projects that include enhanced solar cells and plastic made from banana peels, but she's also excited for the opportunity and the chance to win the grand prize of $50,000 in scholarship funding plus a trip to the Galapagos.
"Usually people are nervous for weeks beforehand or a week before, but for me it happens right before I start presenting," she told The Huffington Post B.C.
"And then once I start talking it slowly goes away, hopefully."
Makosinski's interest in science dates back to her childhood. Arthur, a lab manager with two medical patents to his name, bought her a box of transistors as her first toy, and she had a glue gun with which she tried to make imaginary cameras out of garbage.
"Of course nothing worked," Makosinski said, laughing.
Things became more serious when she discovered how to power an MP3 player using Peltier tiles (instruments that produce electricity by heating one side and cooling the other).
And it was during a trip to the Philippines in Grade 5 when Makosinski began to develop the idea for the invention that has made her famous. While there, she made friends with a girl who was failing at school because she didn't have access to electricity.
"She had to do all these chores, support her family, clean, whatever," Makosinski said. "By the time she got down to studying, it was too dark to really see anything, so that kind of gave me an idea. What if I could make a flashlight that doesn't really run on any batteries?"
The Hollow Flashlight — which Arthur let her build in a UVic machine shop—uses Peltier tiles attached to an aluminum tube. That means the user turns the torch on just by holding it.
The trip also inspired a special surprise that Makosinski is bringing to the Google Science Fair: another flashlight specifically designed to help Third World children study at night.
And the 15-year-old's journey doesn't stop there: she'll present her invention at a TEDx event in Redmond, Washington on Sept. 28 and again at a Vancouver TEDx on Oct. 19.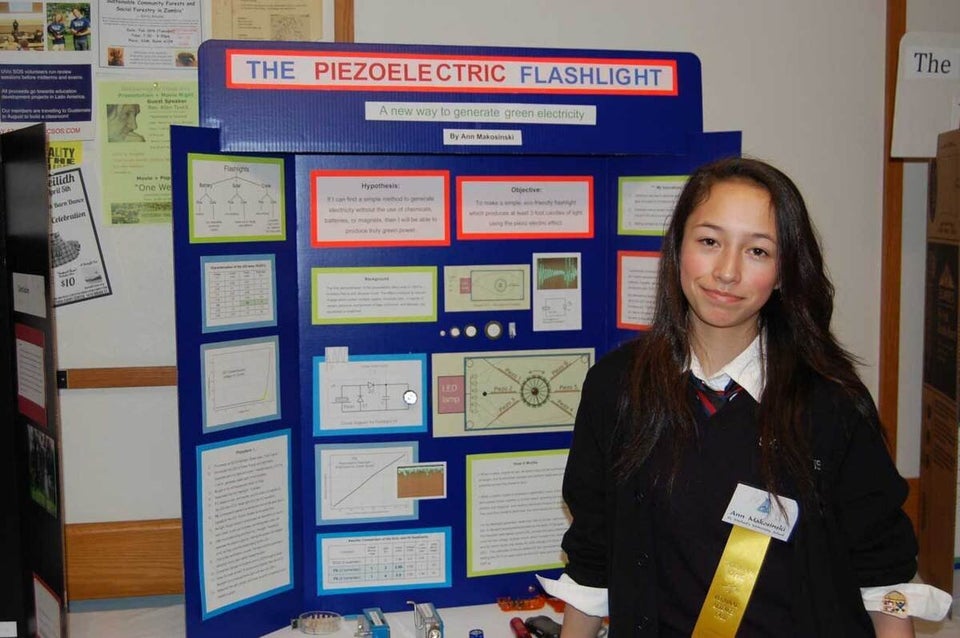 Ann Makosinski, Google Science Fair Finalist