Hacking collective Anonymous has claimed it attacked the Government of Canada, shutting down a series of websites in a protest against Bill C-51.
A Twitter account associated with the group posted this tweet on Wednesday:
Treasury Board President Tony Clement later confirmed that government servers had been attacked.
Clement told The Globe and Mail the attack on the gc.ca domain server affected government websites and email.
None of the websites cited by Anonymous worked when The Huffington Post Canada tried to access them on Wednesday afternoon. Neither did sites for ministries including industry, labour, foreign affairs and environment, according to the Globe.
But a number of the websites were working when HuffPost Canada checked later on.
Shared Services Canada worked to fix the problem, which was treated as a "denial-of-service" attack.
Dave Adamson, chief information officer with the Treasury Board, said in a statement that the government is still working to "restore services as soon as possible."
Public Safety Minister Steven Blaney talked tough when asked about the attack at a Wednesday news conference.
"We are living in a democracy, and there are many ways you can express your views in the country," he said.
"There are no excuse[s] to justify attack[s] to public property, and those who have committed those attack will be prosecuted and will have to face the full force of the law."
Rosane Doré Lefebvre, the NDP's deputy critic for public safety, said the attack was "very concerning."
She said the Tories have been lazy on the cyber security file. In the last budget, she said, the money the Tories set aside to fight cyber crimes were "just enough to play catch up."
Lefebvre also noted that in 2012 the auditor general took the Tories to task because the government didn't have 24/7 cyber security surveillance.
"Our allies are much further ahead of us in terms of cyber security,' she said.
In a video posted to YouTube on the same day, Anonymous said it was targeting the federal government for passing a bill it said was a "clear violation of the Universal Declaration of Human Rights."
The controversial bill, which has been passed by both the House of Commons and the Senate, lowers the burden of proof needed to brand someone a national security threat.
The Liberal Party joined with the Conservatives in voting the bill through the House, though 26 senators voted against it.
The party has also committed to amending the legislation if they win the next election.
Opposition leader Thomas Mulcair has said the NDP would repeal the bill if elected to government.
- With files from Althia Raj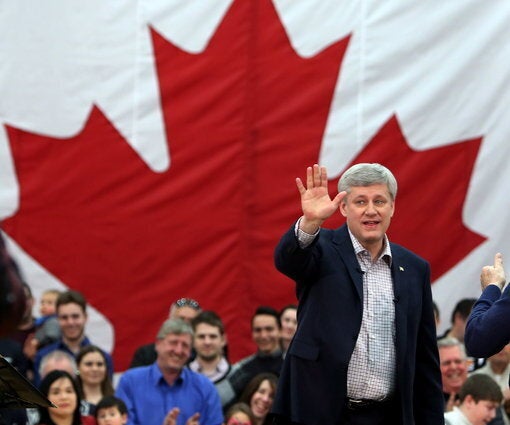 5 Things To Know About The Anti-Terror Law
Popular in the Community