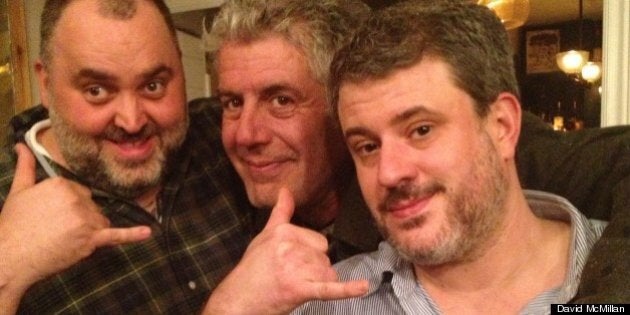 What happens when you mix America's badass chef with Montreal's culinary enfants terribles? For food nerds and francophiles who have a thing for irreverent personalities, it's a delicious combination.
Unlike the Montreal segment of "The Layover," which was shot in the summer, Bourdain recorded the "Parts Unknown" Quebec episode in snowy and freezing February. He and his crew were hosted by McMillan, Morin and Au Pied de Cochon's Martin Picard among other Quebecois chefs for several days of food, booze and ice sports that included seeing the Montreal Canadiens and playing a game of shinny hockey behind Joe Beef's sister restaurant Liverpool House. In an interview with The Huffington Post Canada, McMillan says it was visual Canadiana at its best.
"We had dinner in an ice-fishing cabin, which was off the chain," he says.
"We prepared a very elaborate French dinner in a sugar shack that sits like three people on the middle of the lake in the middle of f*cking nowhere and it was a very beautiful meal that could have been in a two-Michelin star restaurant in Paris."
"There's this f*cking crazy-ass one which is made when the monks were in Spain, like when they were banished from France for a small period. It's called the Tarragona chartreuse, that's very expensive," says McMillan. "It's not expensive like douchebag expensive, it's just very...how can I say, Star-Trek-nerd-like collectible chartreuse. If you're into Star-Trek it would be liking getting a bottle of Romulan ale."
So, what other goodies did they have? According to McMillan, there was a baseball-sized truffle that the crew spent more or less four days trying to consume, and "la tourtière a Martin" stuffed silly with cheese and foie gras.
Hungry yet? You'll just have to watch the episode to get your fill.