I dreamt I was being showered with memories from my happiest days.
If only those dreams didn't have to fade. As I awake to what my day will be like.
That's the opening to Toronto filmmaker Rich Obeng's mini-opus on the ravages of bullying — before it turns on a dime to the slings and arrows of this teen's stark reality.
The film, punctuated by jarring images of a a tearful girl holding a noose to her neck, delivers an even more unsettling verdict on the people who make bullying possible.
"Today, you've given me the hand I need to stand tall," the girl narrates. "The hands that you've always dealt me. Those hands will set me free."
The hand to which she's referring is the so-called 'helping hand' that remains idle in the midst of bullying — the hand that, ultimately, helped this teen take her own life. In other words, the bystanders to bullying.
Obeng, who grew up in Toronto's Jane and Finch area, needed only one inspiration for the short — a conversation he had with a neighbourhood mother.
She had a daughter under siege.
"It got to the point where the daughter was contemplating suicide," the 25-year-old tells The Huffington Post Canada. "Thankfully, it never came to that."
As a call to arms, 'Helping Hand' indicts the bystander, for creating a world where a teen's only refuge from the daily onslaught of peers — 'No one likes you.' 'She's such a slut' — is in dream.
Obeng took an aggressive approach to the video, hoping to shake that very complacency with graphic, unflinching imagery. From its blood-red opening title to its stark composition, it plays more like a trailer for a horror film than a public service announcement.
But with the Amanda Todd tragedy still fresh in many minds, Obeng's short needs little effect to resonate with Canadians.
Todd, a Vancouver-area teenager, was found dead last month in her B.C. home. A month earlier, she had posted her own video to YouTube — a heart-wrenching tale of relentless bullying both online and offline. Authorities believe she committed suicide.
Obeng takes his subject down a similar route, while lashing out at the idle bystanders that accommodate bullying.
"She could be your sister or your friend," Obeng says. "If you're not a part of the solution you can also be part of the problem."
On the web: www.erasebullying.ca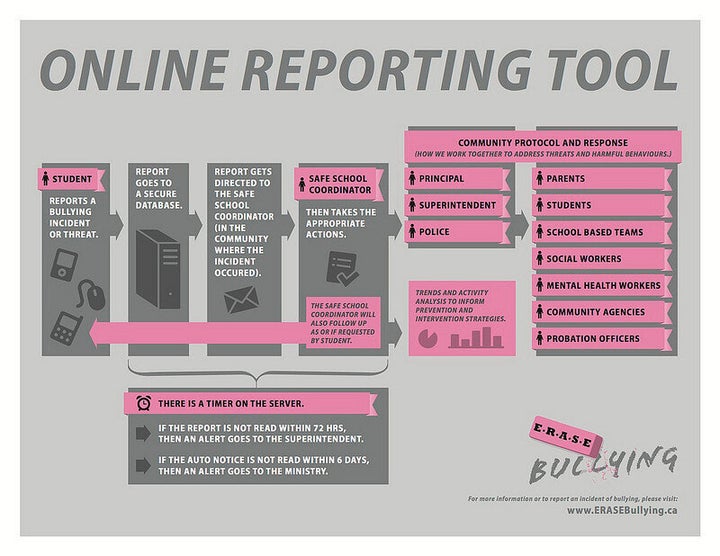 Amanda Todd Remembered
Popular in the Community