An anti-feminist sticker from a men's right group was spotted in a west-end Toronto subway station on Thursday.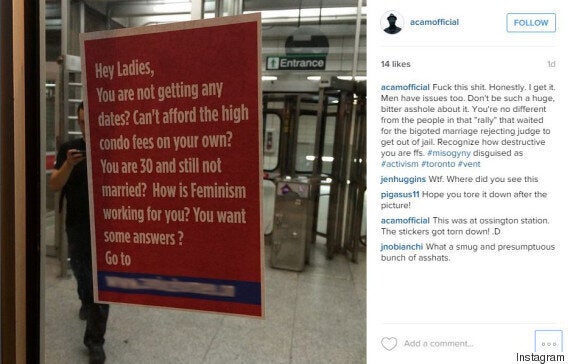 Cameron, who took the picture, shared his own thoughts on the issue in the caption: "Fuck this shit. Honestly. I get it. Men have issues too. Don't be such a huge, bitter asshole about it. You're no different from the people in that 'rally' that waited for the bigoted marriage rejecting judge to get out of jail. Recognize how destructive you are ffs. #misogyny disguised as #activism."
The sexist questions on the sticker, which is credited to A Voice For Men, target everything from women paying condo fees to being 30 and unmarried.
According to Cameron, the stickers have been taken down.