Anti-Islam protesters marched outside a downtown Toronto mosque Friday — as Muslims prayed inside — while holding signs denouncing a motion tabled in Parliament that condemns Islamophobia.
More than a dozen people, including members of groups including Canadians Against Islamization, Never Again Canada, and Suffragettes Against Shariah, attended the event.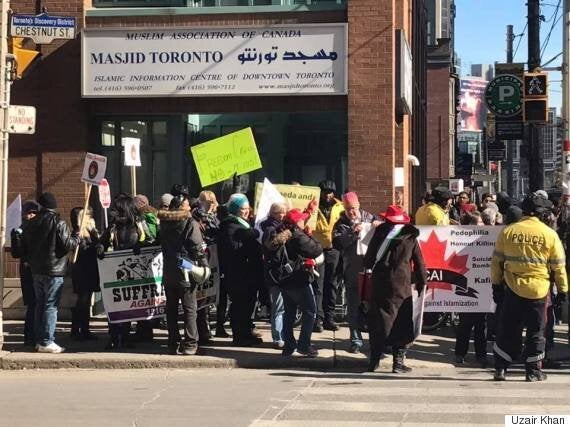 Toronto resident Uzair Khan posted photos of the protest on Facebook as it took place outside Masjid Toronto.
"It's awful and hateful and it shouldn't be allowed," Goldblatt said of the rally.
Toronto Mayor John Tory spoke out against the demonstration on Twitter.
The mosque reacted to the protest on Friday evening, by sharing photos of supportive messages left outside the building after the event.
"You belong here," one note read.
Mississauga-Erin Mills MP Iqra Khalid, who tabled the anti-Islamophobia motion last December, has been the target of hate speech. On Thursday, the Muslim MP read a list of racial slurs and threats she's received since introducing the motion in Parliament.
"Islamophobia is real," she told the House of Commons.
Another anti-Islam rally was held in Toronto this week by Rebel Media in opposition to the Liberal motion. It was attended by Conservative leadership candidates Kellie Leitch, Chris Alexander and Brad Trost.
Tory MPs, including interim leader Rona Ambrose, have said they oppose the current version of the anti-Islamophobia motion. Instead, they have tabled a new motion that condemns "all forms of systemic racism, religious intolerance, and discrimination," but does not include the word Islamophobia.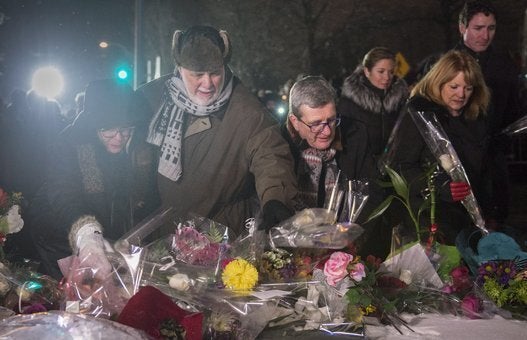 Vigil For Victims Of Quebec City Mosque Attack
Popular in the Community