Day 22, 23, 24... of Israel's brutal assault on Gaza. Total casualty figures at the time of this writing: Palestinian -- more than 1000, of which more than 30 per cent are children and eighty percent civilian; Israeli -- 46, the vast majority, non-civilian; thousands injured.
Lost also is the hope that a solution to the crisis will be found anytime soon as both sides hunker down for the long haul. Meanwhile, the atrocities inflicted on the people of Gaza by air, sea and now land, continue to pile up, compounded by Israel's 7-year long blockade of the territory.
I grieve at the senseless loss of life on all sides of the conflict as well as for the lives and livelihoods destroyed in the attacks from both sides.
The other night I was chatting with a Muslim friend who lives in another war-torn country. He was complaining about how a journalist he knows will only ever post information about Muslims suffering at the hands of others -- Jews, Christians, Hindus, Buddhists... But never when Muslims perpetrate brutalities and injustices in the name of Islam upon other Muslims, such as what is currently happening in his own country.
He was frustrated by his friend's double standard. I told him about my recent experience. Watching the horror of Gaza unfold, I was moved to pen an editorial entitled, "I am a Jew. Stop Killing Babies in Gaza." I borrowed the heading from a sign carried by a protester at a demonstration in support of Gaza. But it also poignantly and succinctly summed up my own sentiments on the crisis.
Needless to say, the article generated a fair bit of controversy. I heard from friends, relatives and strangers who either applauded or took exception to my stand of laying the blame for the situation in Gaza squarely at Israel's feet. Its occupation of Palestine, at the root of the current crisis, is both illegal and immoral.
My friend posted the article on his Facebook page under the heading, "Reality is bitter but it is one's responsibility to speak out." Yet, sitting on my privileged Canadian perch, scribbling commentaries about the horrors of Gaza half a world away is easy.
A former colleague of mine who is a Tamil from Sri Lanka had to flee his country and will never be able to return. Not because of the government there, who conducted its own vicious war against the minority Tamils whose rights are systematically denied, but because of threats from his own community. He dared to speak out against the atrocities that Tamil leaders were committing against their own people in the name of 'liberation.'
I grew up with the understanding that to be a Jew meant being on the side of justice. As a child, I watched my parents donate money to have trees planted in Israel in the name of their parents, who had survived the pogroms of Eastern Europe. From them I also learned the value of Tikkun Olam: "healing the world" in Hebrew... that to help those who are suffering, whoever they are, was an integral part of Judaism.
Tikkun olam has always been a large part of my identity, being Jewish much less so. Still, I have always enjoyed the rituals of my heritage, particularly Passover, which celebrates the emancipation of the Jewish people from bondage in Egypt. I saw it as a fable for modern day liberation movements, including the Palestinian people's own struggle for a homeland -- something we as Jews should relate to.
But it was only after spending three months working in the West Bank and seeing the occupation first-hand that I knew I could no longer sit silently while Palestinians are harshly subjugated, ostensibly for the safety and security of Jews: 'Not in My Name.'
As a Jew, I am concerned by the rise in anti-Semitism worldwide, but I realize that Israel's actions, brutalizing a civilian population it holds captive, are helping to fuel a revival of anti-Semitic attitudes.
Last week more than 50 reservists in the Israeli military published a petition in the Washington Post newspaper, refusing to serve, "because of the brutal military operation now taking place in our name." Not only do they risk jail for their actions, they will likely be seen as traitors in their community.
I am inspired by those who risk the consequences of loss of livelihood, life, home, for speaking the truth about what is happening in their own community, like the Israeli reservists. The Malalai Joyas of this world.
The first century Jewish sage, Hillel, posed three questions: "If I am not for myself, who will be for me? If I am only for myself, who am I? If not now, when?"
For the sake of those suffering in Gaza, it's time we Jews followed the example set by the courageous Israeli reservists and speak out, no matter how bitter the reality may be.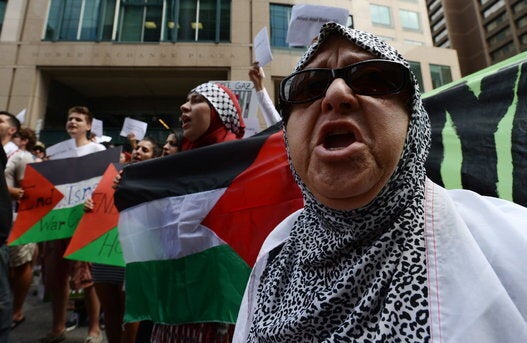 Protesters In Ottawa Denounce Israeli Offensive In Gaza
Popular in the Community