A four-month contest to reward Canada's most dedicated hockey players could only end in a place like this.
The lucky winners of Molson Canadian's #AnythingForHockey campaign were flown by helicopter this month to a professionally built rink on a glacial B.C. lake to play an epic game of shinny.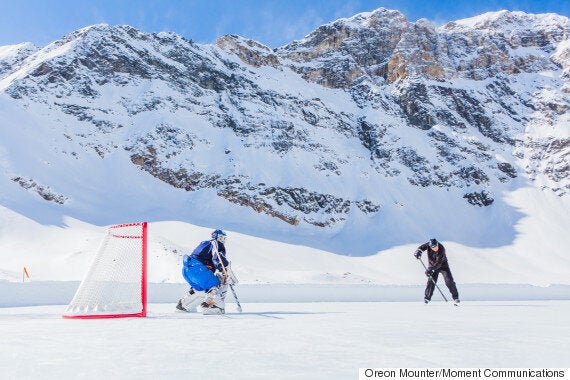 Thousands of Canadians submitted their hockey-obsessed stories to prove their unbreakable dedication to the sport, but only 11 were chosen for the trip to Shamrock Lake in the Purcell Mountain range just outside of the Rockies.
It took Molson Canadian two weeks to build the rink, and the result is the most unreal ice we've ever seen: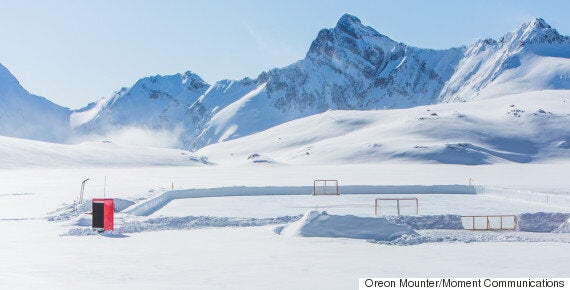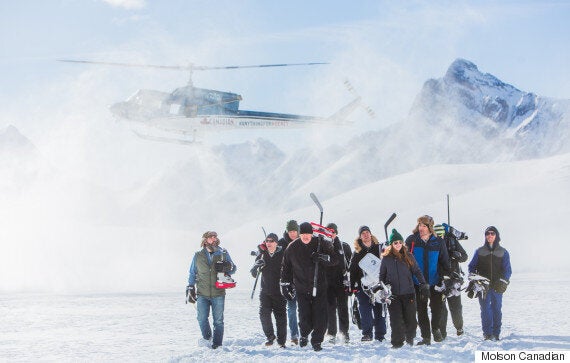 "When we all first saw it, we lost our minds," Friesen told The Huffington Post B.C. in an interview. "It was spectacular."
Friesen, a pilot for over 20 years, has been the stairway to heaven for many of his passengers. He flies hockey players, explorers, and even figure skaters to secluded frozen lakes in B.C.'s outback for some unbelievable ice-time.
Last year, Friesen had flown some hockey players to a rink he made on a remote frozen lake, but when it came time to leave, his helicopter wouldn't start. The group was stranded on a mountain with a wind chill of around -60 degrees Celsius for several hours until a search and rescue helicopter rescued them.
Because of his commitment to helping others achieve their wildest skating dreams, Friesen was chosen to live out one of his own.
"That setting in the Rockies is way bigger country than what I fly in," he said. "We were at 8,300 feet and looking up another 1,000 feet to the top of the mountain."
A former referee officiated the game, and Molson even flew in a beer fridge.
UPDATE - April. 1, 2015: The grand finale happened at the end of the scrimmage when the actual Stanley Cup was flown in. The surprise was revealed to the public in a new video released by Molson Canadian. (Watch above).
Story continues after slideshow: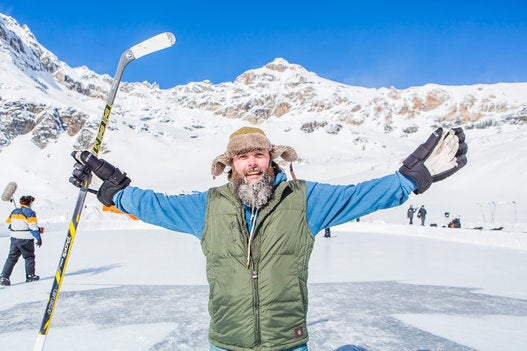 B.C. Mountaintop Hockey Game
But the ultimate reward was found in the strangers who turned into teammates.
One of the winners was former NHL defenceman Don Dietrich. The 53-year-old beat cancer three times and now lives with Parkinson's disease, but none of that has stopped him from playing the sport he loves.
"We would all just gather around Don to listen to him speak," Friesen said. "To hear a man who's been through that say, 'I'm lucky that I have Parkinson's because otherwise, I never would've gotten to do this'... it was pretty incredible.
"It was something we all realize we're never going to get to do again," he added. "I don't think it was lost on anyone how incredible and special it was."