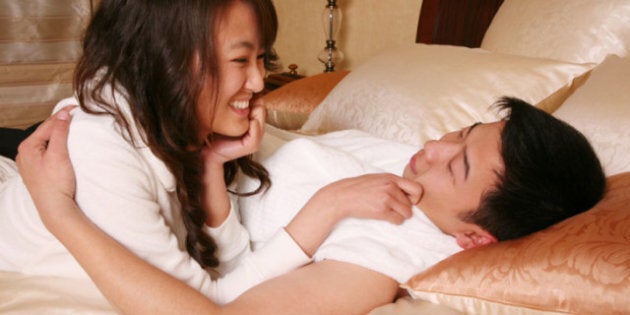 Countless studies have shown us foods can spice up our sex lives, but what about good-old romantic gestures?
Some experts say sticking to the classics will keep your sex life going.
"Kissing is one of the most erotic things you can do. Just spending time [together] and remembering you can go back to those first night sensations is another aphrodisiac," says Dr. Laurie Betito, a clinical psychologist and sex therapist based in Montreal.
Spice Up Your Surroundings
When it comes to heating up the bedroom, don't forget about your surroundings to turn you on either. "Flickering lights or fire can get you in the mood," she says. Dr. Betito says some pastel colours like red -- the colour of love -- have both a calming and exciting element. "There was a study done that showed women who saw men in red shirts were more attracted to them." Playing the right music can also get you and your partner in the mood.
Be considerate and thankful for what your partner does for you. "Anyone who makes their partner a priority outside the bedroom, will make their partner a priority inside the bedroom," says sexologist Dr. Jessica O'Reilly. Another aphrodisiac is switching up household roles. "There's something about [your man] doing dishes or cooking... it can be real turn on," says Dr. Betito.
Story continues below: Here are seven ways to keep the heat up in the bedroom, without necessarily making a trip to the grocery store.
Both experts say having sex shouldn't be something you feel like you need to do every day. Learn how to understand each other's schedules. "Balance is a need of both spontaneous and planned sex. If you both have really busy schedules, plan ahead with date nights or brunch," says Dr. O'Reilly. She also recommends changing up where you get it on. If you usually have sex in your bedroom at night, try connecting in the laundry room in the morning.
A lot of couples want to go back to those first nights, those first dates and that feeling of teenage love. Fast-forward to now when you're married, have kids and work a nine-to-five job and staying connected can be tough, says Dr. Betito. "Take time to make sure you show your love [for your partner]. Saying "I love you" or planning little surprises that say "I was thinking about you,"" will go a long way to increasing intimacy.
All of this, however, doesn't mean we should forget food as a way of increasing libido. "What's important is food's impact on how you function sexually," says Dr. O'Reilly. She says keeping up with healthy diet will lead to higher levels of energy and improve sexual health. And foods like whipped cream, chocolate sauce or strawberries can also be used during sex, Dr. Betito says.
Remember, sex isn't about fulfilling duties. Dr. Betito says you need to find time for yourself to keep your sex life exciting. "You have to have your own time to strengthen yourself," she says. "Pick up a hobby, go out with friends or read a book."
Popular in the Community