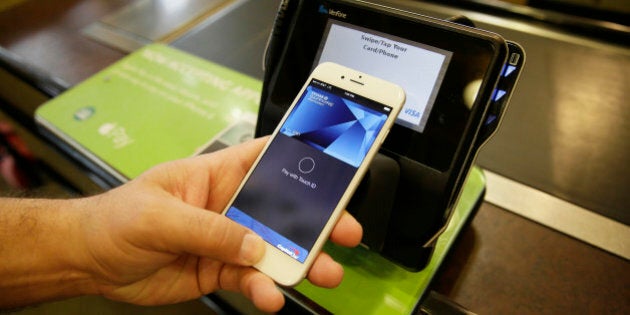 Apple Pay, the mobile payment system that launched on iPhone in the U.S. last fall, will be coming to Canada potentially by November, according to a report at the Wall Street Journal.
Apple is reportedly in talks with Canada's six largest banks -- BMO, CIBC, National Bank, RBC, Scotiabank and TD Bank -- to bring the service north of the border, marking Apple Pay's first foray outside the U.S.
The mobile payment system allows iPhone users to pay by waving their phone in front of a mobile reader. The technology has taken off in the U.S. and already accounts for two-thirds of all contactless credit card payments south of the border.
But another report at the Journal suggests Canada's big banks aren't happy with Apple Pay and fear what the product's introduction to Canada will mean for their bottom line.
In comments made last month, RBC CEO David McKay warned that Canada's banks are "on a collision course" with mobile payment systems like Apple Pay and Google Wallet.
"The last thing anybody wants is to have someone between you and your customer, and that's what we now have in the payments space," he told a New York audience.
All the same, the banks appear to be preparing themselves for the inevitable. The Journal reports that the big six banks have formed a consortium and hired McKinsey & Co. to develop a security protocol for Apple Pay.
In the U.S. the payment system has been hit with incidents of fraud, apparently due to problems banks have had verifying the authenticity of credit card numbers provided through Apple Pay.
The banks are trying to convince Apple to create a secondary security measure of some sort, such as a code that is texted to the user, or requiring that a user log on to a mobile banking site.
But Apple is reportedly balking at the request, because this would slow down the fluid and convenient experience of paying by waving your cellphone.
It's unclear whether all of Canada's banks will roll out Apple Pay at the same time, the Journal reported.