As Ontario's government prepares to launch an experiment on the basic income, a new poll shows voters are increasingly turning on to the idea.
Four in 10 respondents in a new Forum Research poll said they approve of a guaranteed minimum income, with 33 per cent opposed. In a Forum poll in 2012, only one-quarter approved, according to Forum Research president Lorne Bozinoff.
"This appears to be an idea whose appeal is growing," he said in a statement.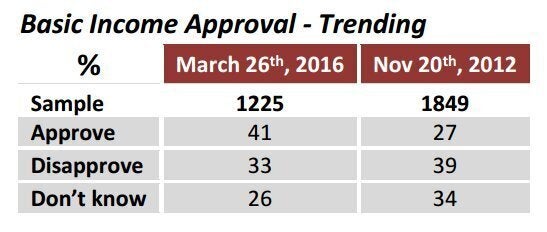 One reason may be that the basic income has received more attention in the media in recent years than it has in the past. Still, many Ontarians remain unsure about the idea that would see social assistance programs replaced with a monthly cheque sent to everyone. Twenty-six per cent of respondents in the Forum poll had no opinion.
The idea was most popular among young respondents (52 per cent supprt) and low-income respondents (58 per cent).
Progressive Conservative voters were the least likely to support the idea, with only 21 per cent in favour. Liberal voters were the most likely to support it, with 59 per cent in favour. Among NDP voters, 46 per cent were in favour.
Ontario's Liberal government announced a basic income pilot project as part of its budget released last month. It's unknown where the project will be run or what it will cost. Finance Minister Charles Sousa said the project would be used to determine whether to create a permanent basic income.
The federal Liberals made studying the idea a part of their platform, but the federal budget, released last week, did not mention a basic income.