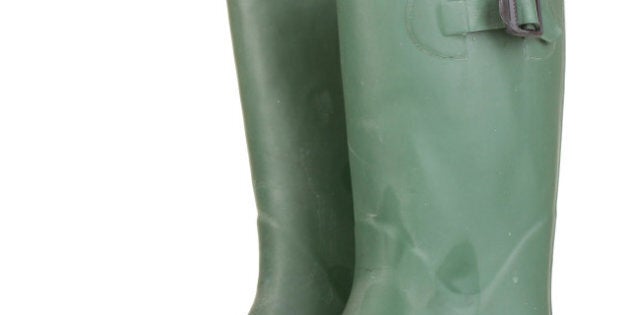 It's April, and no matter where you live in Canada, spring 2013 will be wet, if not flooded in some areas (hello Saskatchewan). Rubber boots are your practical and stylish answer -- but with environmental reservations.
Rubber boots as we know them today didn't start as rubber boots. The style of boot derives from Hessian boots, a high style from the Regency Period. These 18th-century boots were made of leather with a heel and slightly pointed toe, and decorated with a coloured tassel. This is the boot from which rubber and cowboy boots derived.
Though also worn by Beau Brummel, the most famous of dandies, the Hessian boots were adopted by the military and favoured by officers.
One of these officers, Arthur Wellesley, the first Duke of Wellington, modified the style and changed footwear forever. Wellesley wanted a boot tough enough for the battlefield but comfortable enough for evening wear. The resulting boot was made of plain soft calf skin (possibly treated with wax to make them waterproof), cut closer to the leg, housing the trim stirrup trousers of the period.
These Wellington boots became all the rage -- civilians and soldiers alike wore this style to emulate their favourite war hero and statesman. It was the boot of 19th-century aristocracy, synonymous with fox hunts and country life in Britain.
According to Scientific America, rubber footwear originated with Amazonian Indians who lived amongst rubber trees in South America, but it wasn't until the mid-1800s that rubber boots appeared.
Natural rubber is composed of long polymer chains which, when uncured, move independently, giving an unstable substance that can get sticky when warm and brittle when cold. In the mid-19th century, Charles Goodyear discovered a process called vulcanization that linked the polymer chains, making rubber strong, elastic, and waterproof.
Goodyear used his invention to make tires and Hiram Hutchinson bought the patent to manufacture footwear, and the waterproof Wellington boot was born (see pictures of rubber boot making in France).
Wellingtons, wellies, gummies, gum boots, or rain boots have been worn all over the world to keep feet dry and protected for mining, farming, fishing, food processing, chemical plants, and for those who live in wet climates.
Remember the black rubber boots with red soles from your childhood? They are ageless and practical, and still readily available at Canadian Tire, but for those who itch for a more stylish rubber boot, Hunter, the Scottish rubber boot company, makes all kinds of rubber boot styles. For casual dress, Sweden's Tretorn offers cool sporty, waterproof "rain sneakers," along with other styles and lots of colour options. Click here to read about Canadian men getting into footwear.
But there' s a catch to these stylish waterproof numbers.
Environmental Considerations
Waterproof footwear will be made either of rubber or PVC (polyvinyl chloride, aka vinyl), one of the most widely used plastics on the planet. PVC can be found in everything from water pipes to furniture to apparel, but Greenpeace considers it a toxic substance that we will eventually drown in. PVC is not easily recyclable (unless you're collecting tons of it), so not a good choice in waterproof footwear if you're of a green mind (and I hope you are).
Rubber decomposes, as anyone who grew up in the pre-Spandex era can tell you. I have a pair of lined, rubber Tretorn rain boots that cracked within two years. I don't know if the lining had anything to do with it, but I can't wear them anymore. Tretorn doesn't have a recycling program. So what do I do with them?
Hunter sells care products with their boots to shine them up, but this doesn't seem to affect the long-term performance of these boots. I've looked at forums and blogs that complain about their wellies "crumbling" and "splitting" since the Scottish company moved their manufacture to China (read this blog for an excellent take on Hunter's move to cheap labour).
A wonderful alternative to throw-away boots is Kamik's vegan footwear (the Lucas Lo style featured above). The styles of this Canadian company are similar to Hunters, but the boots are eco-friendly, and the Kamik waterproof footwear is vulcanized, unlike the China-made Hunters. Kamik's boots are recyclable and made in Canada. Kamik products can be found in Canadian Tire and various other locations throughout Canada and the U.S.
Rubber boots are awesome in wet weather, so this spring, feel confident to roam the streets in the rain and splash through puddles, but do be mindful of the environmental impact of your choice in wellies.