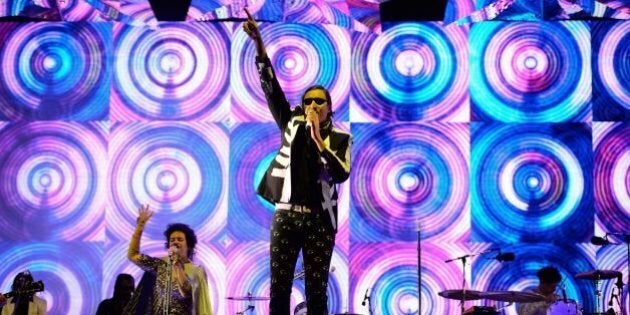 "Eclectic" is just one word you can use to describe Arcade Fire's music.
It can also describe the group's interests beyond the recording studio.
The indie rock band is partnering with the owners of Toronto restaurants The Black Hoof, Rhum Corner and Cocktail Bar to open Agrikol, a Haitian restaurant in Montreal this summer.
Black Hoof co-owner Jen Agg confirmed the news on her Twitter account Wednesday, adding the resto could be close to opening by the weekend of August 1.
Singer Win Butler asked Haitian-born co-owner Roland Jean if he could play some Haitian festival music, but the speaker system blew out. However, bandmate (and Butler's wife) Régine Chassagne kept time using some glasses and other items sitting on surrounding tables, creating what Agg called a "magic" moment.
They soon started talking about opening not just a restaurant, but a Haitian "cultural space" with food, art and music, Butler told the newspaper.
It isn't Arcade Fire's first association with the Caribbean country.
The song "Haiti" features on their debut album "Funeral," and it makes reference to Chassagne's history in the country.
Arcade Fire's song "Wake Up" was licensed to Super Bowl XLIV, with all proceeds going to help relief efforts in Haiti following the devastating earthquake that happened earlier that year.
She told The Montreal Gazette about a scene involving papier mâché masks, loud music and bands playing from 18-wheeler trucks.
"I wanted to bring a bit of that phenomenon here," she told the newspaper. "Because it's from another world."