When the new Arcade Fire single, "Reflektor," was released on Monday, Sept. 9, the Montreal group played a semi-secret hometown show at a 250-capacity club. Naturally, most people who had been lining up for the better part of the day didn't get in. Some of them were journalists, one of whom, the Montreal Gazette's Erik Leijon, showed up at 4 p.m. and waited for five hours until he was told he wouldn't be getting in. Instead, he was sold a $9 bracelet ticket for the next night (the band would play three nights in total, debuting their new album, also called Reflektor, not out until Oct. 28).
Leijon wrote a blog post about the experience that was essentially a news story, but his Gazette colleague Brendan Kelly followed up with an angry screed, accusing the band of having contempt for their fans, of being too exclusive: "It's really classic Arcade Fire stuff. Treat your fans badly, treat the journalists badly, prioritize the media stunt over everything else, and watch the headlines pop up on the web the world over. It doesn't get much more cynical than that."
Speaking of cynical, how do Arcade Fire treat journalists badly, exactly -- by not guaranteeing writers entrance to small shows designed for diehard fans? And are fans treated badly when they show up three hours after the lineup starts expecting to get into a 250-person capacity venue -- and then some leave with tickets for one of the next two nights, anyway?
Obviously Kelly forgot about the massive outdoor free show Arcade Fire put on at Pop Montreal in 2011 before over 100,000 people, or maybe he didn't get into one of the many small shows they routinely put on in their hometown in advance of an album release. (Before the 2010 album The Suburbs' release, hastily announced shows in Toronto in 2010, by contrast, also had same-day tickets, and still had tickets available by showtime.) More likely, like most Montreal media, Kelly was late to discover who Arcade Fire were back in 2003, and was taken by surprise when the 2004 debut album, Funeral, went on to become one of the best-loved albums of the decade.
Arcade Fire do not play traditional media games -- or rather, they do so only when it suits them. They prefer offbeat, quirky stunts like cryptic album trailers or spontaneous shows in suburban parking lots to traditional media campaigns. They don't need the media; the media needs them. Naturally, this leads to a resentful relationship, of which Kelly's column is symptomatic. His piece was picked up by newspapers across the country; Leijon's was not.
Journalists have long grumbled about the fact that Arcade Fire play most of their cards close to their chest: few, if any, advance copies of their albums circulate before the release date; interviews are scarce, and limited to the album release. No, they're not going to do a quick phoner for your online lifestyle blog.
Why would they? Indulging the entertainment media en masse is highly overrated, especially in an age when "content providers" are happy to repost and retweet other sources instead of original interviews or analytical think pieces. It's arguably the subject of the new single: "The signals we send / Are deflected again / We're still connected / But are we even friends? ... It's just a reflection of a reflection / Of a reflection of a reflection."
Playing gun shy with the media is a Montreal tradition dating back to Godspeed You Black Emperor, a Mile End collective known for apocalyptic and haunting instrumental epics. They became underground heroes in North America and Europe in part because of their ambiguity (not having lyrics helps), ambition (songs could swell to 15 minutes) and aversion to all elements of mainstream culture -- especially the press, even sympathetic counterculture publications. They broke that rule only three times in the last 14 years: for three British publications, the New Musical Express, The Wire and the Guardian, and each time they insisted on responding as a collective voice and not as individuals.
Toronto's Abel Tesfaye, who records as The Weeknd, became an international sensation in 2011 without a record label and by distributing music solely through its own website (though they've since signed with a major label). He shunned all press requests, which only fuelled speculation and mystique, furthering the appeal of his music, which is a dark, unconventional take on modern R&B. The only thing anybody knew about him was Drake's glowing endorsement. When Tesfaye granted his one and only interview last month (which was not even to a major publication), in advance of his new album, Kiss Land (out today, Sept. 10), he admitted he thought he was "too boring" to do interviews. Either way, playing coy paid big dividends -- and forced listeners to assess the music entirely on its own terms.
On The Suburbs (winner of the Polaris, Grammy and Juno awards that year), Arcade Fire had a song called "We Used to Wait": "It seems strange how we used to wait for letters to arrive/ But what's stranger still is how something so small can keep you alive." Small gestures are hard when you're one of the biggest new rock bands in the world, but they're all the more meaningful when they happen -- and, arguably, ultimately makes the music a more intimate exchange with listeners, rather than being filtered through secondary channels. An impatient media with an exaggerated sense of entitlement can and should be put on hold; Arcade Fire are not reality show stars, they're a band.
It's hard to find something more transparently hypocritical than entertainment journalists -- who get all their "scoops" from press releases and carefully mediated exchanges -- complaining about marketing hype.
Read more from Michael on his blog.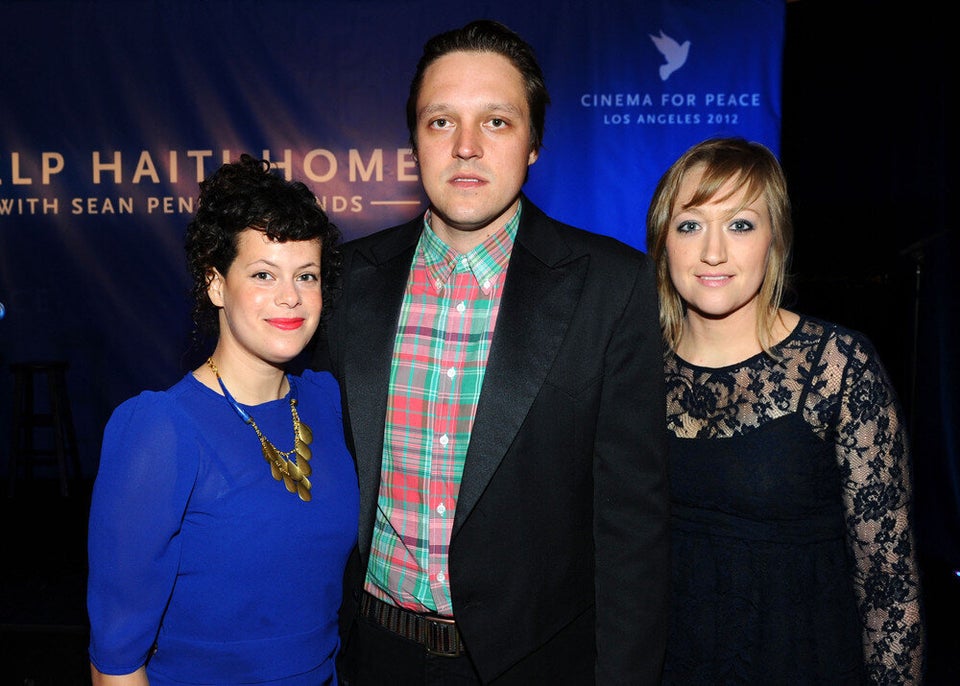 FALL MUSIC PREVIEW 2013