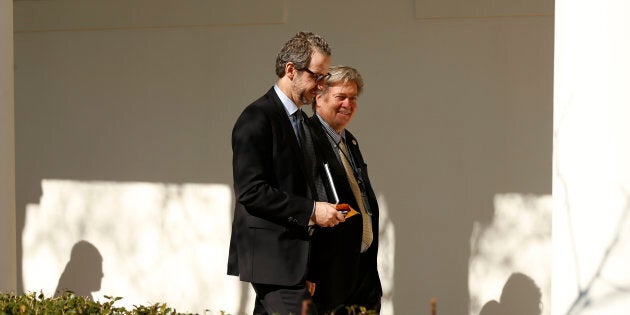 OTTAWA — Prime Minister Justin Trudeau's office is trying to downplay a U.S. report about the close relationship between his senior staffer, Gerald Butts, and Donald Trump's key adviser, Steve Bannon.
In a piece published Tuesday in The New Yorker, Washington correspondent Ryan Lizza described Butts and Bannon as "friends" and noted the two "talk regularly."
'We all have relationships with people in the White House'
They have dined together. They've met more than half a dozen times and they are in frequent contact.
"I'm not going to expand on specific individual relationships, but what I can tell you is... there was an effort made by our government to establish good relationships across the board," Trudeau's spokesman Cameron Ahmad told HuffPost Wednesday.
"It has been well known for quite a while that our office has made a concerted effort to establish a constructive working relationship with our counterparts in the White House and the same can be said about the prime minister and the president, same can be said with ministers who have been working with their counterparts," Ahmad added.
While Ahmad didn't mention it, Trudeau's chief of staff Katie Telford is close with Trump's son-in-law and adviser Jared Kushner, as well as his daughter, Ivanka.
"We all have relationships with people in the White House... It's our job," said a staffer.
The Liberals were highly critical of former prime minister Stephen Harper and his office for being unable to get along with then U.S. President Barack Obama and his team because their agendas were often unaligned.
After the prime minister's visit to the White House in February, Trudeau's team credited their courtship of Trump's advisers for obtaining two key objectives: a public recognition of the importance of the Canada-U.S. economic relationship, and a pledge from Trump that he would treat Canada differently than Mexico in trade talks.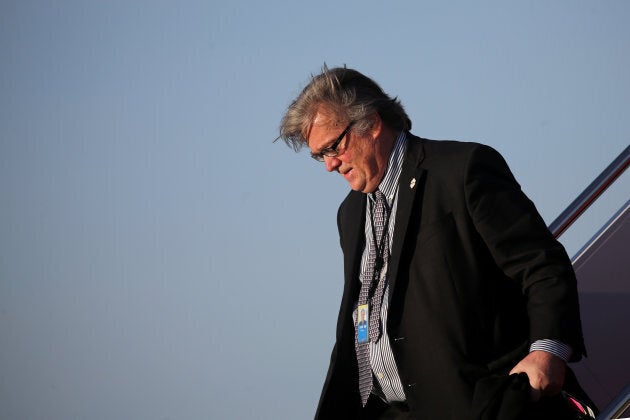 Butts, a socially liberal environmentalist, may not appear to have much in common with Bannon. The former head of the far-right website Breitbart News, Bannon has been criticized for making racist and anti-Muslim comments.
Yet, the two have found common ground.
"He's a pretty easy guy to get along with to be honest," said a source closely familiar with the relationship. "[Bannon]'s like a working-class kid from Virginia. Grew up a Democrat. Joined the military, became a Republican."
While Butts, Trudeau's principal secretary, is a former president of the World Wildlife Fund, and previous principal secretary to Liberal Ontario premier Dalton McGuinty, he also grew up in Cape Breton, the son of a coal miner and of a nurse who tended to the miners.
"The problems [Bannon] thinks are problems, are the same problems we think are problems: that regular people have gotten screwed over by the economy, the system is rigged," said a Liberal at the time when asked about the Butts-Bannon relationship. "He just has a different approach to resolutions than we do."
Both Butts and Bannon are credited with crafting their bosses' electoral strategies — including Trudeau's (now fulfilled pledge) to raise taxes on the rich in order to boost benefits to the middle class. That promise was partly the subject Lizza's piece, where he appears to credit Butts with giving Bannon the idea of taxing rich as a successful ploy.
'Bannon sees Butts as a sort of left-wing version of himself': The New Yorker
"Bannon sees Butts as a sort of left-wing version of himself. Last year, as the Prime Minister's popularity was in decline, Trudeau pushed through a tax hike on the rich, and it helped him rebound," Lizza writes. (The timing Lizza refers to is incorrect. This was a promise made in the months leading up to the 2015 election campaign at a time where the Liberals were trailing the NDP in the polls).
"There's nothing better for a populist than a rich guy raising taxes on rich guys," Butts is quoted telling Bannon.
That quote and the closeness of their relationship appeared to irk a few political opponents.
On Twitter, Matthew Green, a Hamilton city councillor who supports Ontario MPP Jagmeet Singh's bid to become federal NDP leader, urged Butts to "strongly refute claims of being BFF with Steve Bannon and to denounce his ties to white supremacy."
"Enabling your hella 'racist uncle' at the dinner table isn't real politik," Green also wrote. "(It's) enabling a violent supremacy."
The idea of Butts advising Bannon, however, was described by a Liberal source as "ridiculous." Still, it's not hard to see how discussing the Liberals' successful strategy of having a wealthy individual campaign on taxing the 1 per cent might be an example Bannon, a populist, wants to champion for Trump.
Conservative MP Michelle Rempel tweeted the story Tuesday night, saying: "I'll just leave this here."
With files from Ryan Maloney