In case you missed it, the Harper Conservatives claim that they have "done more for women and girls across Canada than any other government."
The actual evidence simply does not support such a wild claim. A 2013 report by the World Economic Forum (WEF) ranks Canada an embarrassing 20th of 133 nations -- behind Nicaragua (10), Latvia (12), Cuba (15), and Lesotho (16) -- among countries where women are most able to participate fully in economic and political life, and enjoy most equal access to education and healthcare. In 2006, the WEF ranked Canada 14th, falling to 18th in 2007, and 31st in 2008.
If the government is really doing more, as it shamelessly says, clearly its policies are failing women. Perhaps this is first because in 2006, the government closed down 12 of its 16 Status of Women offices which the Public Service Alliance of Canada said would cut 61 of 131 jobs.
Second, pay equity is still a non-issue for the government, despite the fact that women earn roughly twenty percent less than men, face barriers to employment, and strive to break through the "glass ceiling".
Instead of addressing pay equity, the lack of which means about $126 billion in lost income potential of women in Canada, former Heritage Minister Bev Oda was more interested in freeing up $700,000 from unnecessary rent and utility bills after a $5 million funding cut to Status of Women.
Third, one out of three women in Canada suffers violence. The human costs are incalculable, and the economic costs to the Canadian economy range between $4 to $12 billion each year. Yet, only $62 million has gone towards ending violence against women and girls since 2007.
When the current Minister for Status of Women Canada was asked whether she would listen to victims and their families and agree to a national inquiry regarding the 600 missing and murdered aboriginal women and girls, her Parliamentary Secretary simply ignored the question.
When, in the same session, the Minister was asked four separate times whether she would support a national action plan to end violence against women, the Parliamentary Secretary side-stepped the question each time.
But the government's lack of answers hit an all-time low during a recent meeting of the Standing Committee on the Status of Women, when the Hon. Stephane Dion asked about the government's proposed changes to the Canada Labour Code through Bill C-4.
C-4 narrows the definition of "danger" under the Canada Labour Code which previously included: "any exposure to a hazardous substance that is likely to result in a chronic illness, in disease or in damage to the reproductive system."
When Mr. Dion asked the Minister if she was aware of the change, the Parliamentary Secretary intervened: "I'm not sure what the Canada Labour Code has to do with the status of women and supplementary estimates."
Mr. Dion responded, "I'm speaking about the reproductive system. That definition will affect many women at work, so I think it's very relevant."
When the Minister evaded, Mr. Dion continued: "Why was the reference to the reproductive system removed from the definition of the word 'danger'?"
When he received no answer, he once again asked: "You are changing the meaning. Minister, I urge you to look at this file and to convince your government to not make this change. You have been unable to give one reason to do so."
While the government members claim that the reproductive system has nothing to do with the status of women, the government did bring forward a motion to study eating disorders at the Standing Committee on Status of Women.
Eating disorders are complex, devastating conditions that can have serious consequences for health, productivity and relationships. Importantly, they affect both men and women -- for example, some 20 million women and 10 million men in the United States -- and should therefore be studied at health committee, rather than being effectively sidelined at women's committee.
It is my profound hope that the eating disorders study will include the voices of those who hurt, make real recommendations that reflect the concerns of stakeholders, and avoid lapsing into another "think about report" -- that is the only direction given is that the Minister should think about issues, that there be no real direction to act and no monies attached to undertake what is really needed -- namely, a national strategy to address eating disorders.
Canadian women have been fighting for key issues, such as pay equity, for almost one-hundred years. Is it not time the government drops its talking points, acts on the established evidence, and fights for real change for Canadian women on issues such as pay equity, violence, child care, valuing women's work, etcetera?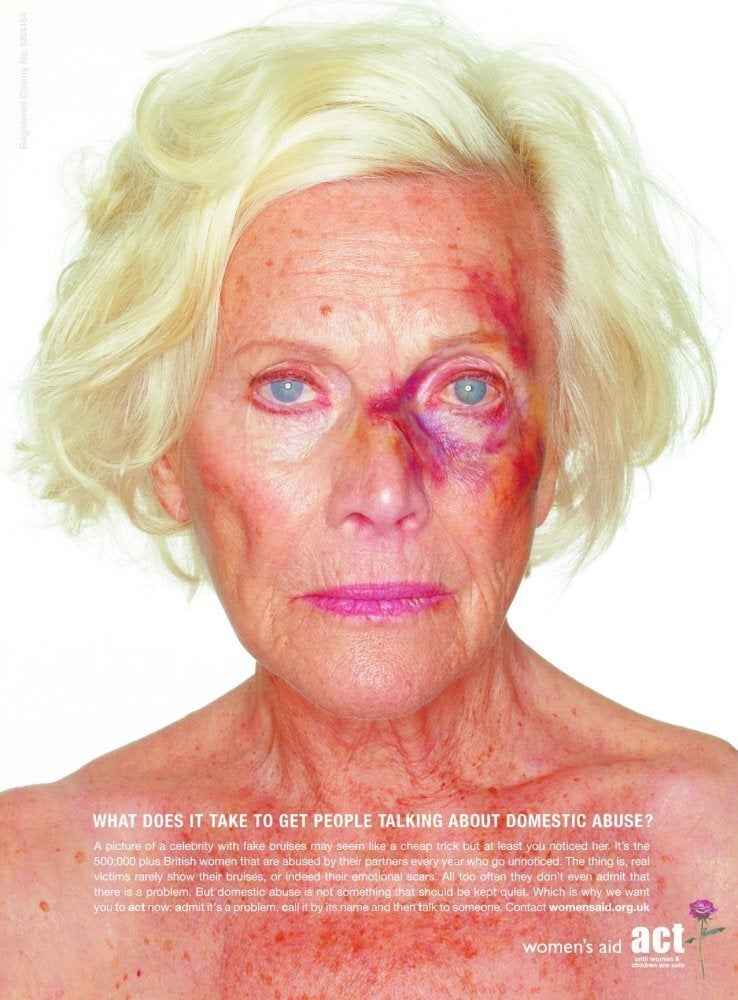 Notable Anti-Domestic Violence Campaigns