Aretha Franklin, the undisputed "Queen of Soul" whose powerhouse vocal cords revolutionized American music and made her one of the top-selling female musicians of all time, has died at age 76, her publicist told The Associated Press on Thursday.
News of her death comes on the heels of several reports of Franklin being "seriously" unwell. Friends of the singer said Monday that Franklin was "gravely ill" and "asking for prayers."
Rumors surrounding her health have followed Franklin in recent years, including concerns that she has cancer, which she denied in 2011. She performed at the Elton John AIDS Foundation gala in New York City last November and had lost a noticeable amount of weight. She canceled several shows in 2017 and 2018 for health reasons, including a headlining gig at New Orleans' Jazz Fest in April. Franklin's management said at the time that the singer's doctor had ordered her to "stay off the road and rest completely."
The 18-time Grammy winner, who got her start singing gospel as a child, transcended music categories — R&B, pop, jazz, disco and blues — during her six decades as a recording artist.
Her Top 10 hits included "(You Make Me Feel Like) A Natural Woman," "Think," "I Say a Little Prayer," "Chain of Fools," and most famously her signature rendition of Otis Redding's "Respect," which became a rallying cry for strong, independent women and black empowerment during the civil rights era.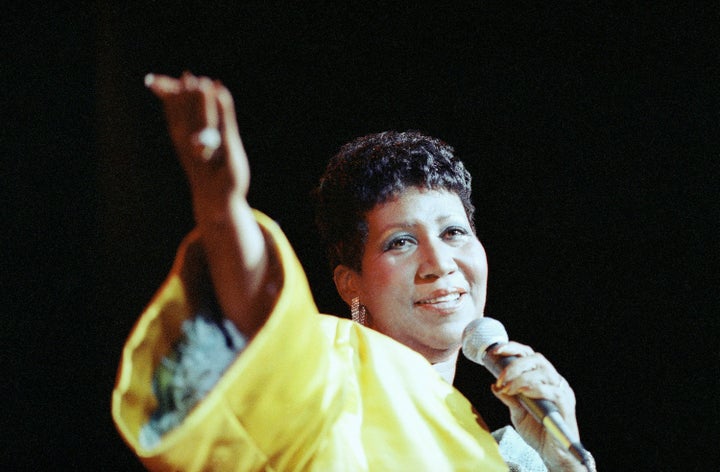 "There are artists, there are stars, but there are very, very few we know will be a part of history forever," Franklin's longtime music collaborator, Clive Davis, told HuffPost in April 2017. "And her talent, her voice will be studied and appreciated forever."
In addition to being a cultural icon ― not just in music, but in human rights and even fashion ― Franklin, who was ranked by Rolling Stone as the greatest singer of all time, was one of the most honored singers of the 20th century and 21st century.
She was the first woman inducted into the Rock & Roll Hall of Fame in 1987 and received a Presidential Medal of Freedom, the highest U.S. civilian honor, in 2005. She was invited to perform at the inaugurations for Presidents Bill Clinton and Barack Obama.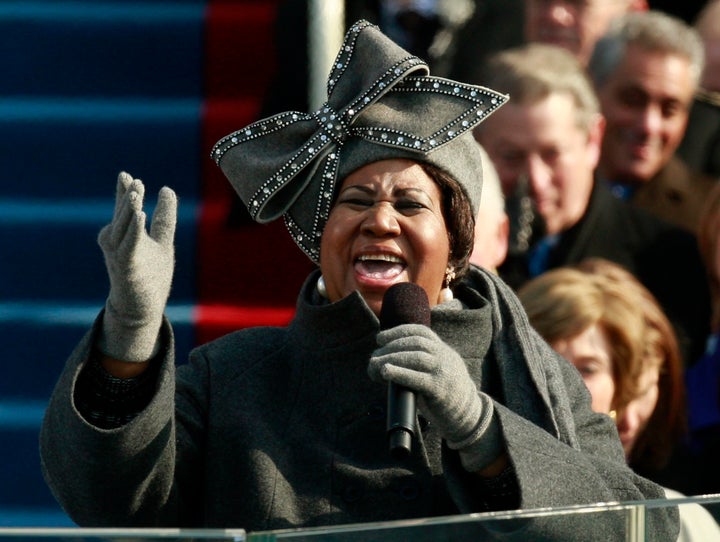 Her 2009 performance at Obama's inauguration ― where she wore a spectacular jeweled hat ― was one of several shows she performed for the first couple during Obama's two terms in the White House. She would also perform the classic "A Natural Woman" at the 2015 Kennedy Center Honors. Obama appeared to wipe away tears as she brought the house to a standing ovation.
Born March 25, 1942, to a Baptist minister and a gospel singer, Franklin first started singing at her father's church as a child with her two sisters.
Her father, the late Rev. C.L. Franklin, was a celebrity in his own right. His fiery sermons packed the pews and attracted a range of musical talent to the Detroit home where Franklin grew up. There, the Franklin children were exposed to the likes of Nat King Cole, Art Tatum, Mahalia Jackson, Sam Cooke and Oscar Peterson, as Franklin fondly recalled to NPR's Terry Gross in 1999.
In later years, the Franklins became close to the Rev. Martin Luther King Jr., with C.L. helping to spearhead civil rights demonstrations, including Detroit's Freedom March in 1963.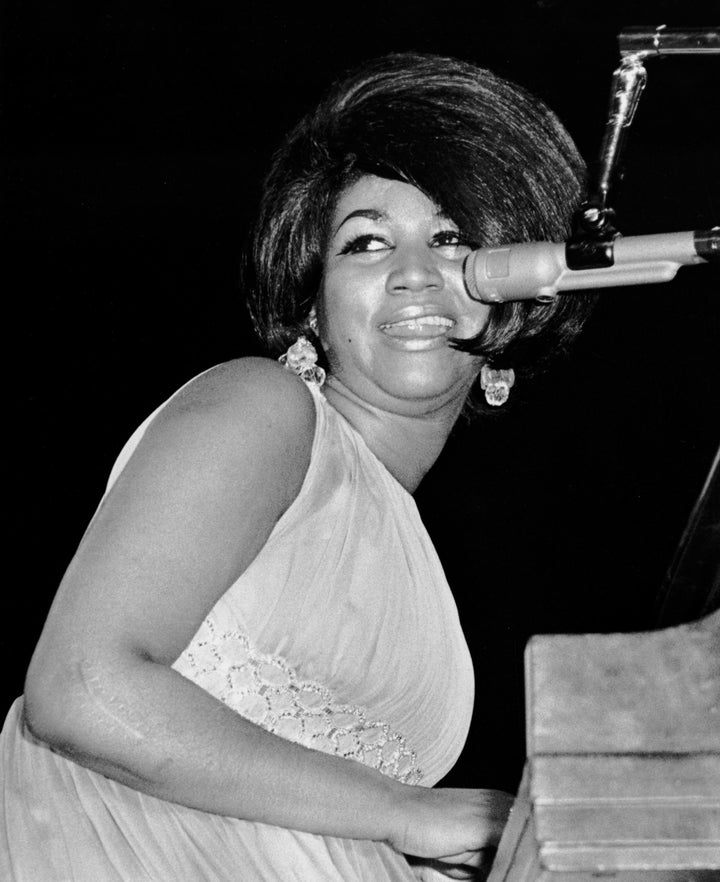 Franklin's music career kicked off at age 14, when she recorded her first studio album, "Songs of Faith," in 1956. While touring with her father, by then her manager, she gave birth to her first child. Two years later, she gave birth to the second of what would be four children.
In 1960, she signed with Columbia Records, where she released her first Top 40 hit, "Rock-A-Bye Your Baby With a Dixie Melody."
Her signing with Columbia was monumental, helping her to transition from gospel to mainstream music. Yet it wasn't until after her contract ended in 1966 that her career took off, with Franklin signing to Atlantic Records.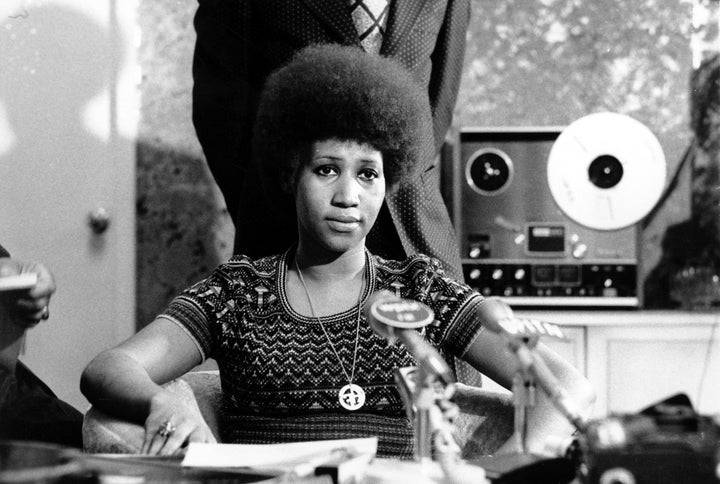 John Hammond, who produced Franklin's nine albums with Columbia, remarked on that move upon her induction into the Rock & Roll Hall of Fame: "I cherish the albums we made together, but Columbia was a white company who misunderstood her genius," he said.
Franklin produced 19 albums for Atlantic over 12 years, and she exploded at the top of the charts with many of the soulful classics she's best known for today.
In her autobiography, Franklin credited the label, and music producer Jerry Wexler, with granting her free rein in regard to her music, which led to her chart-topping success.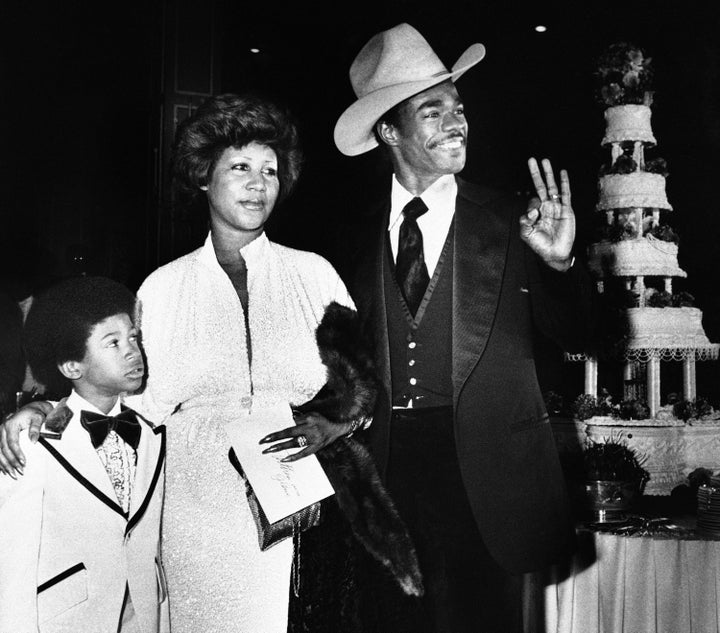 "Jerry handled all the technical aspects and made sure I put my personal stamp on these songs," she wrote. "Atlantic provided TLC — tender loving care — in a way that made me feel secure and comfortable. ... Putting me back on piano helped Aretha-ize the new music. The enthusiasm and camaraderie in the studio were terrific, like nothing I had experienced at Columbia. This new Aretha music was raw and real and so much more myself. I loved it!"
The 1970s saw her win six Grammys and release a variety of diverse live albums, which included a return to gospel with her double platinum selling album "Amazing Grace."
In the '80s, she signed with Clive Davis' label, Arista Records, where she knocked out a range of tunes from dance music to pop ― notably her 1987 Grammy-winning single with George Michael, "I Knew You Were Waiting (For Me)." Her 23-year partnership with Arista Records, which lasted until 2003, was the longest in her recording career.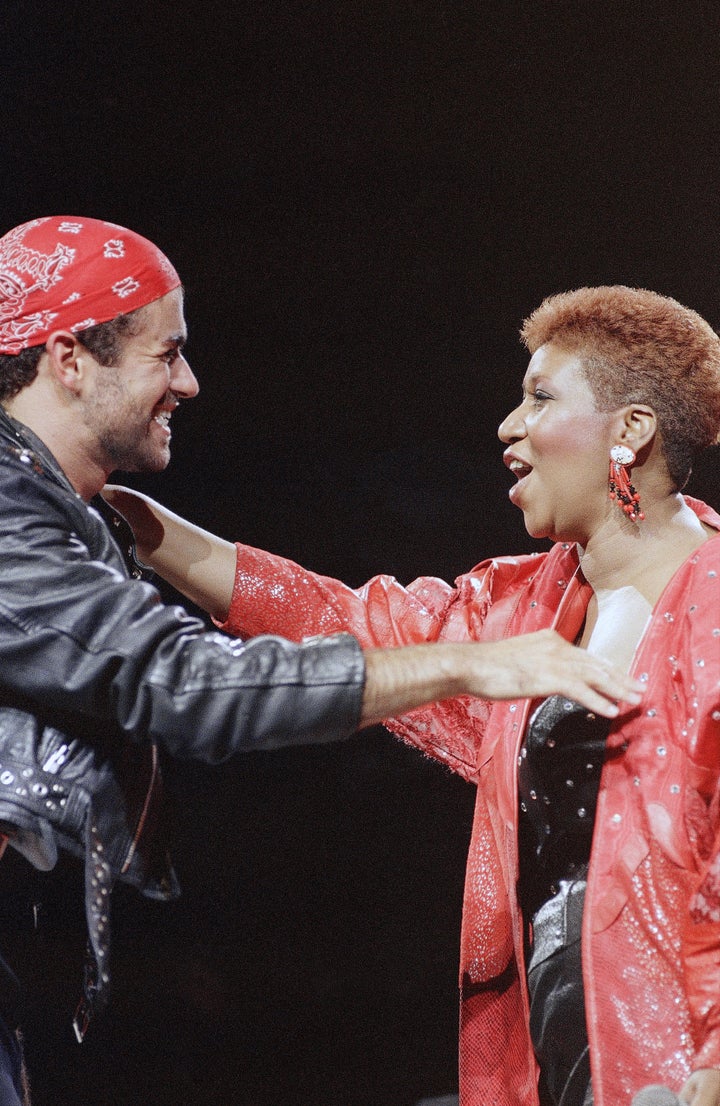 She went on to receive her 18th Grammy in 2007 for her duet "Never Gonna Break My Faith" with Mary J. Blige.
Her last album, "Aretha Franklin Sings the Great Diva Classics," was released in 2014 on RCA, and marked her first major-label album in 13 years.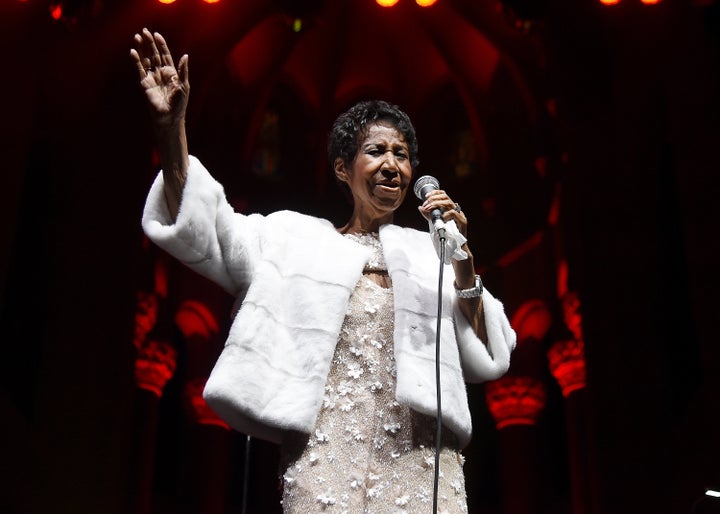 In January, it was revealed that Franklin had chosen Grammy- and Oscar-winning singer and actress Jennifer Hudson to portray her in an upcoming biopic.
Production had stalled on the film due to negotiations, but Franklin was anticipating moving forward with the project.
"It's been a long, long haul, but I think we're right at it now," she told HuffPost while celebrating her 74th birthday in New York City in 2016. "We're gonna go forward with it."
Regardless of the biopic's status, Franklin's place in the nation's cultural landscape is secure.
"Nobody embodies more fully the connection between the African-American spiritual, the blues, R&B, rock and roll — the way that hardship and sorrow were transformed into something full of beauty and vitality and hope," Obama told The New Yorker in 2016. "American history wells up when Aretha sings."
Franklin is survived by her four sons ― Clarence Franklin, Edward Franklin, Ted White Jr. and Kecalf Cunningham ― and several grandchildren.
Dominique Mosbergen contributed reporting.