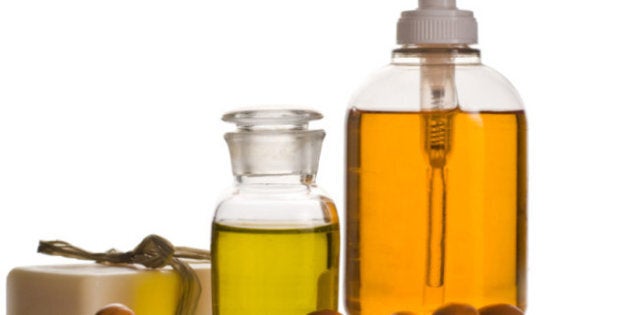 Test Drive: Each week, the Huffington Post Canada's Living team will try out something that has sparked our curiosity, and as long as we live to tell the tale, we'll let you know all about it.
Me, a fearless HuffPost manager, lover of trends and lazy beauty junkie. I love product but wear very little makeup, often neglect the expensive potions I buy, and can't be bothered with a three-step skincare regimen (toner, what?). Alas, my dry-yet-breakout-prone skin has probably suffered for it. As a woman in her later thirties who's starting to think about a) her fine lines and b) the synthetics she's putting on her skin, I wanted an age-preventing something or other that I could dab on when half-asleep and be done with it.
I decided to give argan oil a whirl. Long touted by celebrities like Josie Maran (who has her own argan oil skincare line) and 'natural' skincare shopping sites as a miracle anti-aging product, argan oil is a vegetable oil made primarily in Morocco by cooperatives of women. The labour-intensive process involves expressing the oil from the nut in the argan fruit. The oil is supposedly rich in vitamin E and essential fatty acids, and started emerging as a skincare trend a couple years back (it's in the popular Moroccanoil hair products) -- but like I said, I'm lazy. And bigger brands like Maran's are often pricey -- and also like I said, I tend not to use the expensive treatments I buy.
I decided to take the plunge when a friend told me she'd found argan oil at the organic food stores in Toronto's Kensington Market for cheap. And she said it worked so well she started seeing fine lines on her palms disappearing. (Erasing your life line? Now that's effective.) I picked up a bottle of Divine Essence argan oil for a mere $10.25. Score!
I used the product pretty much every day for about four months, and went through two bottles of Divine Essence (the name, er, could use a little work).
I dispensed about a quarter size amount and applied it on my face after cleansing. I applied it to all areas of my face, including around my eye area, my neck, and my lips (it's edible, after all). I also tried it on the ends of my hair as a conditioner.
...did it work, you ask? Pretty darn good as a moisturizer. It left my skin feeling ridiculously soft, and didn't cause breakouts like I feared it would, but that may be because I use another moisturizer with glycolic acid to help keep my skin clear. But it left my skin dewy, plumped up and kind of glowing, and was a good companion to my other moisturizer (NeoStrata, which I can't recommend enough).
But in terms of anti-aging properties, I haven't seen any wrinkles erased as far as I can tell. They're not any worse, but they haven't disappeared. So while there could be some preventive properties to argan oil, there was no reversal happening -- although maybe you need longer than four months for any significant results. Or maybe my other products were interfering. Or maybe I shouldn't have partied my way through my twenties. Who can say, really?
Oh, and it made my hair a little stringy when I used too much on the ends.
Nevertheless, I'm sold and will keep using argan oil. It's cheap, simple and natural, a super moisturizer and skin softener, and it's not making my wrinkles or my breakouts any worse. And I like that it helps collectives of women earn legitimate wages independently. For all that, I can put up with the name Divine Essence.