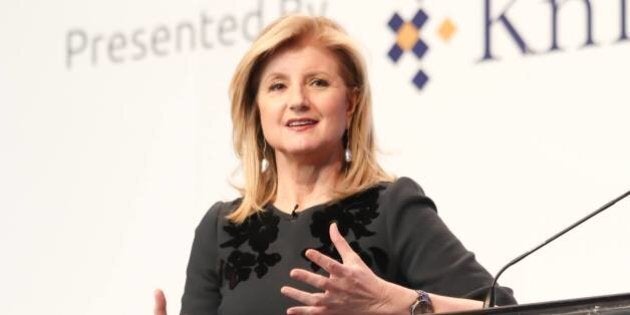 If you want to live a fully successful life, you need to plan out time to do absolutely nothing.
Huffington, the editor-in-chief of The Huffington Post, spoke on topics from her book, "Thrive: The Third Metric to Redefining Success and Creating a Life of Well-Being, Wisdom, and Wonder" and the philosophy that's led her to believe that downtime is just as important to success as working hard.
"We all need time to be alone," she said. "We all need time to be still and to be silent."
But why is downtime valuable, and what is it exactly? While success has been traditionally defined as money and power, Huffington believes there is a third metric we need to incorporate in order to feel happy and fulfilled. This metric is made up of four pillars: well-being, wisdom, wonder and giving.
Downtime helps you recharge and reconnect with your inner wisdom and wonder. And according to Huffington, it can be anything from going on a hike outdoors to meditating — whatever takes you away from the noise and hyper-connectivity of our modern world, and allows you to have some time for yourself.
But it's often easier said than done. During her talk at The Art Of Leadership conference, Huffington described a study at the University of Virginia in which people were given the option of sitting doing nothing for 15 minutes or getting a mild electric shock. For 67 per cent of men and 25 per cent of women being studied, a shock was preferable.
Being afraid of silence is one of the great problems of our time, noted Huffington. And that goes doubly true for the moments in life that we've ostensibly dedicated to taking time off.
"How many times have you received a 'This person is away on vacation and won't get back to you for two weeks' email, only to get a reply five minutes later?" Huffington asked the crowd at Rotman.
Her advice is to take the time to recharge, and take time to tap into the inner wisdom that everyone has within them. She referenced companies like Germany's Daimler, which has put into place an innovative program that deletes emails that come in when an employee is on vacation (while giving the sender the contact information for someone else who can help). Another company, Volkswagen, gives employee specific phones that turn off at 6 p.m. and turn back on at 7 a.m.
All in all, Huffington believes that giving yourself a rest leads to more creativity and less burnout.
"Humans were not designed for 99.9 per cent up-time," Huffington explained, referencing a company that boasted a sales platform with virtually no off-time. "The need for downtime in human design is not a bug — it's a feature."