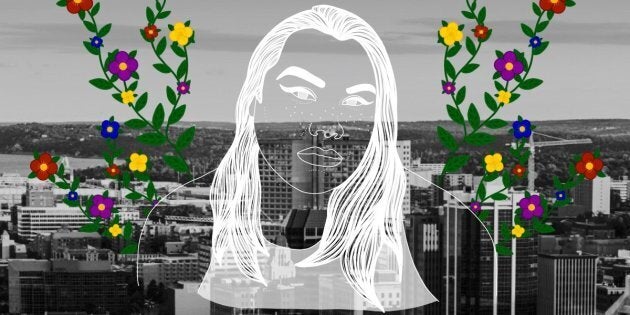 Arielle Twist is Nehiyaw (Cree) from George Gordon First Nation. She is a two-spirit, trans femme supernova writing to reclaim and harness ancestral magic and memories.
Arielle was born in Regina, but spent her formative years in Sipekne'katik, a Mi'kmaq community one hour north of Halifax, where she now lives.
Arielle has this fearless vibe and she is incredibly strong. She talks a lot about how community and mentorship helped shape her into the sex educator and writer she is today.

Arielle moved to Halifax for the first time when she was 18, and now, after several years of bouncing around, she finally feels at home. She's constantly navigating different communities because of her intersecting identity.
Sometimes people only see me as an Indigenous poet, sometimes people only see me as a trans poet; it's not often that I can exist as both in one place.
Halifax is a weird city, it's a diverse city but you don't see Indigenous people. There are people of colour, but there's no one who looks like me, besides my family. I don't look how they expect Indigenous people to look because I don't look like I'm Mi'kmaq. I'm racially ambiguous in just this space; outside of the Maritimes, people are like, "That's a native person."
Arielle started writing almost two years ago, but it's already become a huge part of who she is. Her first personal essay was published in them., an online queer platform with a huge following; she wrote about what it was like to be a native trans woman on Thanksgiving. And, like her work in sex education, she got into it because of mentorship.
I started writing after I met Kai Cheng Thom, a trans woman, poet, author — she's incredible — who was launching her book at Venus Envy [a Halifax sex shop and bookstore]. She sort of became my mentor and now my first book is coming out in March. Writing felt like something that gave me access to community as a trans woman of colour that I didn't have a lot of in Halifax.
When I started writing, I was like, "I'm going to come into this and I'm going to f**k it up. I'm going to f**k up what you think I should look like and what you think I should be doing." I wanted to show people that I don't need what you say I need to be worthy. People think that Indigenous people exist outside of the realm of their own possibility — but we don't.
I wrote a workshop called "Ferocity and Filth: Finding Sacred Space in a Post-Apocalyptic World" and it's a conversation about building your own decolonial body map. Asking, "What part of myself did I have to kill to exist in a colonized world?" I just want to bring this kind of open dialogue of sexuality and queerness back to our people so that we're more accepting of what's natural, and go back to the way it was before colonization.
Indigenous communities need to work on our internalized homophobia, transphobia and anti-black racism. There are conversations that are happening, but they need to be more intentional, more intentional in the ways in which we challenge and unlearn the things we've been taught about queer people and race, transness and two-spirit identity through colonization. A lot of people don't survive as trans people and they don't have access to coming out so they die before the can exist in the world. I want to exist.
Some of the responses in this piece have been edited for clarity and brevity.
This story is part of Not My Territory*, a HuffPost Canada series about urban Indigenous perspectives driven by the people who are part of the country's fastest growing populations.
*Some Indigenous people live in cities that don't overlap with their community's traditional territory, and many feel burdened by being regularly called on to represent cultures and backgrounds that aren't their own.
Popular in the Community