Arif Virani's parents never forgot the outpouring of support they were shown as Ugandan Asian refugees fleeing a brutal regime 43 years ago.
The Toronto Liberal MP was only 10 months old at the time, but he says his family often recalls stories of neighbours showing up to their home with clothing and food after they settled in Montreal.
"They never forgot the outpouring of assistance," Virani said.
"I was being babysat by countless French women who thought I was a cute pudgy little baby," the Parkdale-High Park rookie MP told The Huffington Post Canada at a Toronto fundraiser for Syrian refugees on Tuesday. (Click here to donate to Westside Refugee Response.)
Despite some culture shock, Virani said his parents think "fondly" of those early years in Canada. They always tried to —within their means — pay that spirit of kindness forward to new refugees, he explained.
"We used to have people over for dinner whenever new employees show up at my dad's office," he said, adding his parents made an effort to ensure others' resettlement experience went as smoothly as possible.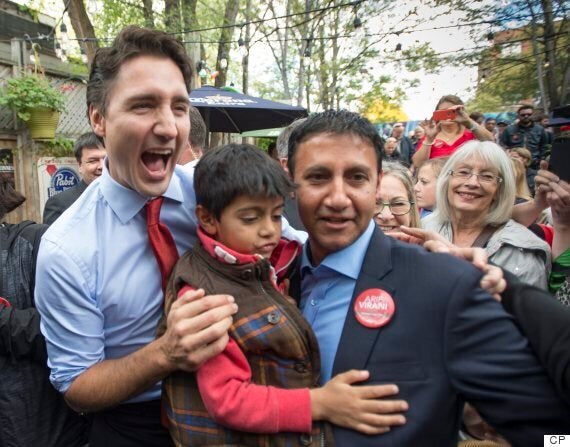 Justin Trudeau laughs as he poses for a photo with Arif Virani and his son during a campaign stop at a Toronto bar Oct. 13, 2015. (Paul Chiasson/The Canadian Press)
Now 44 with a family of his own, Virani faces a new challenge: explaining the current Syrian refugee crisis to his four-year-old son.
Virani said he tries to take his kids with him to refugee-related events as much as possible as way of making sure they're exposed to the issue.
And when it comes down to language, he said he chooses his words carefully, describing refugees as people who are less comfortable than him and his one-year-old sister, with families looking for a better place to live.
"You try to explain to him in ways he can digest that some people don't have the luxury of a bed or three meals a day," he said. "Kids are internalizing a lot more than we give them credit for."
Liberals opt for 'responsible' plan
Earlier in the day, the Canadian government unveiled its decision to extend its timeline to resettle 25,000 Syrian refugees from the end of December to February.
Virani said the "responsible and responsive" approach doesn't break one of the Liberal party's headline election promises.
"What we committed to is 25,000 government-sponsored, and we're going to fulfill that promise on a different timeline."
Virani reiterated Health Minister Jane Philpott's assertion new refugees won't arrive in Canada with temporary resident visas.
"People who are processed abroad will come here with a permanent resident visa in hand."
Opposition immigration critic Michelle Rempel said the Conservative Party is "pleased" the Liberals "abandoned a timeline that was not workable."
In a statement, Rempel said there still remains many unanswered questions that surround the Liberals' resettlement plan including "real" costs and impacts on provincial governments.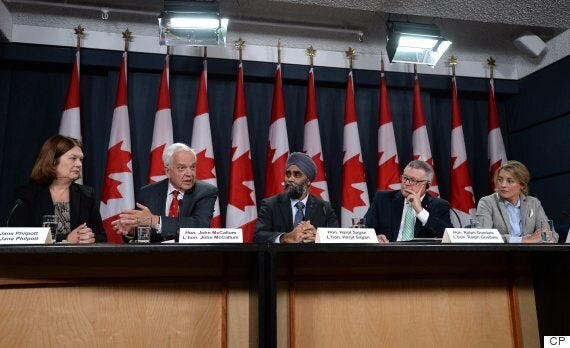 Health Minister Jane Philpott, Immigration Minister John McCallum, Minister of National Defence Minister Harjit Sajjan, Public Safety Ralph Goodale, and Heritage Minister Mélanie Joly attend a press conference at the National Press Theatre in Ottawa on Nov. 24, 2015. (The Canadian Press/Sean Kilpatrick)
Immigration Minister John McCallum told media at a press briefing that the government wants to resettle refugees fast, but also wants to "do it right."
"I have heard Canadians across this country saying, yes, you have to do it right and if it takes a little bit longer to do it right, then take the extra time," McCallum said.
He added he was pleased the head of UNHCR endorsed Canada as one country up to the task of resettling Syrian refugees.
"Now all we have to do is prove him right," he said.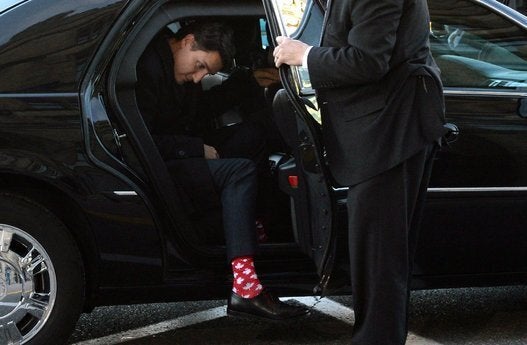 First Ministers' Conference 2015