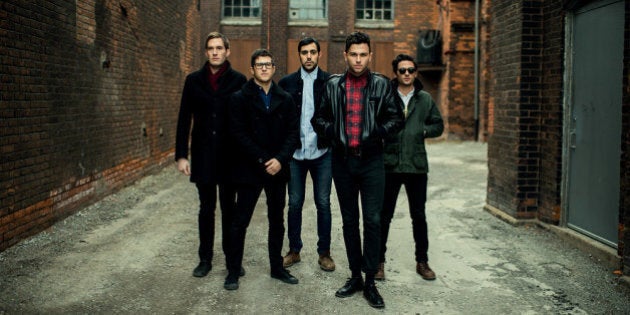 Arkells is that band of relentless road warriors who solidified themselves as Canadian rock radio mainstays with their debut album "Jackson Square" back in 2008.
They have since snatched two Juno Awards while delivering bouncy sing-a-long anthems that brought the band from college pubs to arena slots alongside the likes of Tragically Hip, a rite of passage for any Canadian act. And now, they've finally released their third album 'High Noon'.
The Hamilton five-piece, composed of frontman Max Kerman, guitarist Mike DeAngelis, bassist Nick Dika, keyboardist Anthony Carone and drummer Tim Oxford, has been busy expanding their musical palette. Kerman notes that their new album drew from politically conscious marauders like The Clash to alt forefathers The Replacements, pop fixtures like Kanye West and Katy Perry and even some influence from Electric Light Orchestra.
Hiring producer Tony Hoffer, whose previous credits include Beck, M83, Belle & Sebastian and Stars, Arkells added string arrangements on several tracks and musical cues that Kerman related to a "cinematic quality" recalling the 1952 film "High Noon" starring Gary Cooper and Grace Kelly.
"The expression 'high noon' has a confrontational feeling to it, and lyrically we are taking some political ideas head on. A moment of great reckoning also brings clarity, and — whether it's social politics or the politics of love — I think we get to the heart of the matter on this record."
Kerman shared his personal notes on 'High Noon,' exploring the album track-by-track, and we've included a stream of the new album so you can follow along
"We wanted to come out swinging. Every song on the record is meaningful to us in its own way, but the first tune on an album sets the tone. We went in a few of directions on this record, but didn't want people to forget that at our core we're a five-piece rock'n'roll band. 'Fake Money' is about a few things, but generally it's about personal values.
To have responsibility is not the same as acting responsibly. In the right context, boyish behaviour is all fun and great — most of my favourite people have a youthful spirit. But it becomes a problem when the decisions of a few one-track minded 'boys' effect people who don't have a say in the matter. Perhaps the most egregious example are these investment banker-types, finance, and big business men, who act as though the work they do is like a day at the casino. I read a lot about social economics, and learning the disastrous way big business gambled everyone's future for continuously greater profits was so tone-deaf and well, greedy.
When I think about men with power and privilege, the first image that comes to mind is child's play. Despite their status or billing, men who control money and power aren't really adults. Reckless behaviour has proven this a thousand times over. They're just little boys running around without a care in the world — everything is a fun little game.
The band has always been a political band but I think this is our first protest song, and it's also a reminder: there are some ethereal things — human connection and empathy etc. and there are constructed things — money and systems. Let's not place the latter ahead of the former."
"We wanted to channel some Americana. Those classic driving songs — "Running Down A Dream," "Boys of Summer," "Money For Nothing," etc. are always fun to play live. There's a quote we borrow from the treasured Negro League baseball player Buck O'Neil, 'What you do in the dark, will come to light.' O'Neil lived through brutal segregation and racism in the early 20th century but rose above it in every way.
There is a book called "The Soul Of Baseball" by Joe Posnanski that tells the story of O'Neil's life, and it's a really inspiring read. Obviously, O'Nell suffered through far more than me, but the lesson remains. 'Come to Light' is a reminder to myself to lean on your loved ones and always try to act with love and compassion, even in times of darkness."
Article continues after video gallery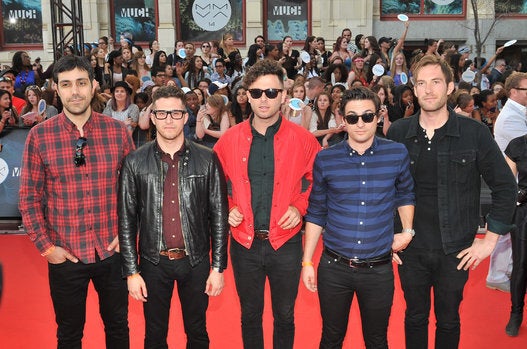 Arkells
"'Armpit of Ontario.' There's a weird glee and smugness that people often take in making fun of a place they've never lived. I always find this odd. Didn't your mamma teach ya? 'If you ain't got nothing nice to say…' Whether it's Hamilton, Detroit, or any other Great Lakes industrial city, these are places that have been dealt a shitty hand, and what got them here is not the fault of the townspeople. It's incredibly discouraging to hear snickering jokes in the face of locals that pour their heart and soul into making their community a good place to live again.
Living in Hamilton for the past 10 years has been completely enriching, and this song is a salute to the people who live, work, and play in the core. Who've made my experience possible. Hamilton might not be shiny as Toronto or New York, but it's got just as much heart."
"We've never had a proper love song before. Songs about love can go in any direction — sadness, heartbreak, etc. A love song, on the other hand can only be joyous and hopeful. This is mostly autobiographical, but also touches on my favourite part about seeing my friends fall in love: the pedestal they put their partner on. 'I couldn't hold a candle to you,' 'I was nervous just standing with you.' I think that kind of swooning is a very nice thing."
5. "Never Thought That This Would Happen"
"A lot of our material is pretty compact, but we wanted to be able to wander a bit on this album. It felt adventurous to go outside the bounds of a three-minute pop song, use strings and the sonic space.
The aftermath of a summer weekend getaway with a pile of friends is almost as entertaining as being there in the moment. I live for the tales that get told on the Tuesday following a long weekend, and this is one of those stories. Thanks Hillside Festival!"
"Tony Hoffer really pushed us on this one. He wanted to make the chorus really pop out, and thought the bones of the song had a lot of promise. He said something that really stuck a chord, and I'm paraphrasing here: 'In many ways, a lot of indie rock is actually the most conservative music out there. Lyrically, indie rock veils itself under the guise of 'art,' but it's really just timid.'
'Dirty Blonde' is an intimate song about the beginning stages of trusting someone with your deepest feelings. For hip-hop fans of the late 90s and early oughts, listen closely for nods to Nelly and Ja Rule."
7. "What Are You Holding On To?"
"'Only God Can Judge You' is one of my least favourite expressions. I get what it's supposed to mean, but most people use it as an excuse for when they do something they probably shouldn't be doing. The great writer, Michael Lewis once said: 'You owe a debt, and not just to your Gods. You owe a debt to the unlucky.'
This song picks up where 'Fake Money 'left off. It's another protest song of sorts. I hate sounding moralistic or preachy, but sometimes you gotta show some teeth: 'Don't say I didn't warn ya — this bleeding heart's got some bite.' Musically, we tried to channel some ELO vibes."
"The demo started off as a Talking Heads thing, but then Anthony got his hands on it and it turned into Elton John honkytonk. Before the song had a chorus, Tim started calling it 'Hey Kids' because of the first lyric in 'Benny and the Jets.' This is certainly the zaniest song on 'High Noon.' Structurally, it's pretty weird and all over the place, but that's the charm.
I don't think people will know what the hell I'm talking about, but essentially there are two themes that run side by side, although are complete opposites. The first: every person is precious and unique. Second: given the first statement, get over yourself. There is a shared experience in living and overcoming struggle that every person must recognize in each other. Let's foster that with tales of inclusion, not division."
"One of my favourite lyricists is Craig Finn from the Hold Steady. The storylines in quintessential Hold Steady songs are: young people, city living, imperfect but sympathetic characters. Finn has an amazing view of talking about the struggles of others without ever seeming above it.
If you're using a pay phone at 2:30am in 2014, chances are you're not having much luck, and 'Leather Jacket' tries to provide some of the back story for how the central character keeps finding herself in these kinds of situations. The 'southern accent' lyric is somewhat unrelated: a few years ago I watched 'Friday Night Lights' while we were on tour, and ended up talking like Coach Taylor with fans after the shows. I don't think anyone really noticed."
10. "Crawling Through the Window"
"This song was written for my friend Dan Hamilton. We'd both been in long-term relationships that ended around the same time. We moved in to this terrible basement apartment in Westdale, Hamilton, and all we really had was each other. Leaning on your friends — and having them lean back — is really one of the most beautiful things you can experience. From the outside in it may have looked like a grim situation, but I really look back fondly on that time in my life."
"I think this song bookends the record fittingly. It ends where 'Fake Money' began. Smart people with power often have a great way of spinning ideas to fit whatever narrative suits them best. But when the re-imagination of simple facts are foundational to the systems of inequality, the spinner in question must be called out. Musically, the song started off with a Rolling Stones' 'Miss You' vibe, but ended up feeling kind of like 'Canned Heat' by Jamiroquai."
'High Noon' is now available via Universal Music Canada and Dine Alone Records.
Popular in the Community