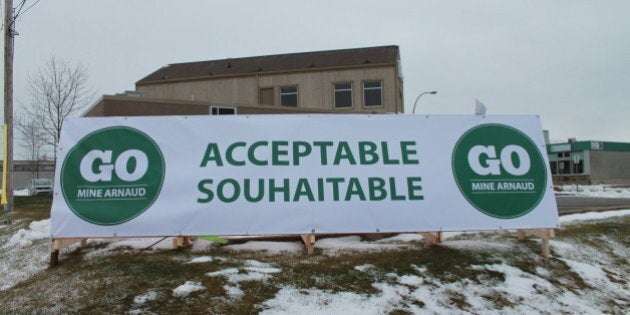 Tensions are running high in la Belle Province as people wait for the government's decision on opening a controversial new mine in northeastern Quebec.
Opponents of the Arnaud mining project, a proposed open-pit mine inside Sept-Îles' town limits, say they have been the targets of a campaign of intimidation.
For more than a year now, supporters and opponents have been publicly going head to head in the media and in the streets.
With the economy slowing down, the region desperately needs to create jobs. But the proposed project was labelled "unacceptable" for environmental reasons by the independent advisory agency, the Bureau d'audiences publiques sur l'environnement (BAPE), in February 2014.
Claire Hébert lived in Parc Ferland, a trailer park located about three kilometers from the site of the proposed pit in Sept-Îles when she started doing her own research into what was under the ground at this particular location.
Barium, vanadium, cobalt … all substances that are cause for concern, since they would be brought up in the first round of dynamiting and settle in fine particles on mounds of residue left over by the mine's construction. As she pursued her research, Hébert shared her findings with her Facebook contacts through screenshots or homemade graphics.
Her curiosity also led her to pose questions during the public hearings held by BAPE and to mine supporters, questions which were rebuffed because, she was told, she didn't understand anything.
"They tried to discredit me because I don't have a chemistry background. They ridiculed me for having left out an "s" in one of my emails, instead of addressing what I was saying. It's as if the fact of making mistakes in my writing meant I wasn't able to understand anything."
Then, last spring, her Facebook account was hacked and her identity was stolen. Claire's name was changed to "Pauline Hébert" and the account was used to tell off pro-Arnaud Mine groups. She reported the fake account (it has since been closed) and created a new account.
On top of all that, she received threats, even after moving two hours away from Sept-Îles.
Another opponent of the Arnaud mine, who would prefer to remain anonymous, was accused of stealing information last year by her former employer. Her external hard drive was seized by the authorities and then returned to her, since no further proof was found.
As in the case of the threats made to Claire Hébert, she believes these tactics were meant to silence her. "I've always worked with confidential data," she adds.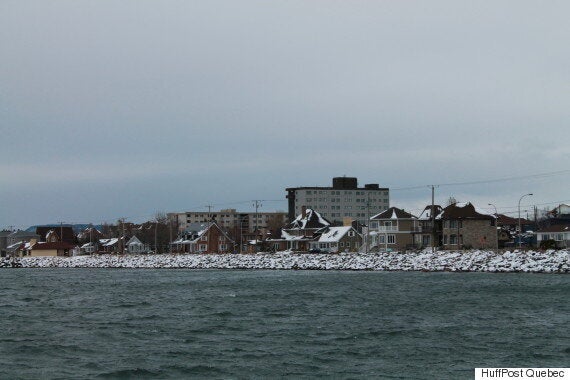 The town of Sept-Îles, Quebec.
The mayor of Sept-Îles, Réjean Porlier, says he is well aware of the pressures being felt by all parties.
"The people who raised their hands to say 'We have questions, we have concerns,' they were given a rough time on a number of occasions," he said.
Federal MP Jonathan Genest-Jourdain campaigned alongside Porlier last November to ask for a referendum. He feels the population should be taking the decisions affecting them — not just the entrepreneurs who want to "keep all the marbles for themselves".
"A lot of people in public office in Sept-Îles have taken a favorable position that is blind, pro 'Go Mine Arnaud,' pro development," he notes. "I wanted to make sure that those who had a different opinion from that of the large work providers were heard."
Porlier admitted openly that he had been subject to pressure because of his position. As the initiator of a 5,000-signature, April, 2013, petition in favor of a referendum, he must now deal with an entire municipal council that supports the Arnaud project now that he is in office. As a result, he cannot fulfill his main campaign promise, which is to organize a democratic vote on the issue.
"It is a little paradoxical because we always criticize people for not getting involved in things and then when they do want to be heard, they're told they'll get their turn, but not this time," he says. "In some ways, democracy is elastic. When it suits us, we say democracy's important, but when it is in our way, then we're inclined to bypass it."
A "Go Arnaud mine" sign on a lawn in Sept-Îles.
Claire Hébert created a new Facebook account not long after the hack attack, but her new account was also hacked. She now refuses to communicate by Facebook, as she believes outside parties have access to her private conversations. She is convinced it is part of a fear campaign organized by those who stand to benefit from the Arnaud mining project.
Regardless, Hébert continues to make her opinions known in anti-Arnaud Mine Facebook groups, even with a hacked account.
As for the other Arnaud mine opponent, who was forced to change jobs, her detractors are still making things difficult for her.
A spokesperson for the Chamber of Commerce in Sept-Îles said he was not aware of instances of intimidation against opponents of the Arnaud mine.
"Regardless of where it is happening, if it is happening, I haven't been made aware of it," Marc Brouillette said. "I've been saying it for a year and a half: these situations, from one side or the other, we will not tolerate them."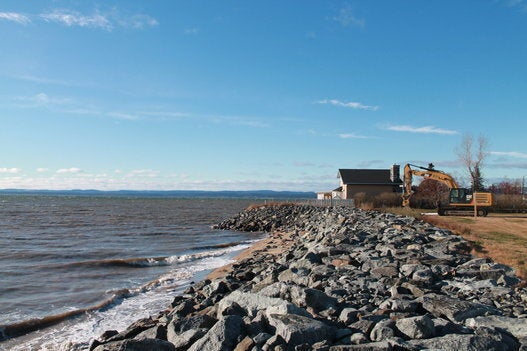 HuffPost Quebec in Sept-Iles