Arianna Huffington recently tweeted a great St. Exupery quote: "It is only with the heart that one can see rightly; what is essential is invisible to the eye." That truth is sort of a paradox about art. The artist is always trying to capture something they can see with their hearts, but is not necessarily seen by the naked eye. They use technique, materials, perspective and heart to evoke a response of the audience. That got me thinking about what connects the artist, the entrepreneur and the environmentalist.
Last week I attended an art auction in Los Angeles conducted by Sotheby's with some of some of the great artists I learned about in art school. Select works from Chuck Close, Yoko Ono, Robert Longo, Jasper Johns, Ed Ruschka, Jeff Koons and others, including Los Angeles based Shepard Fairey, were donated to the Waterkeeper Alliance as a fundraiser to help them continue with the great work that they do protecting the waterways around the planet. Larry David, Tim Robbins, Maria Shriver, Cheryl Hines and others were all present to thoughtfully explore the work that begged inquiry and curiosity hanging on the gallery's stark white walls on a clear and warm night on La Brea Drive in Los Angeles.
Marc Yaggi, Executive Director of Waterkeeper, Robert F. Kennedy Jr. and artist chair Ed Ruscha all gave moving speeches about the importance of art in creating awareness around the challenges we have faced with the environment, and -- specifically with Waterkeeper -- protecting our water from harm and pollution. "The artist", said Bobby, "observes society and provide those insights back to us."
The entrepreneur, the artist and the environmentalist all see something that others may not. Maybe what others don't want to see. Maybe what they don't want to accept. Elon Musk explained recently on a Google Talk session with Richard Branson that the only reason he decided to continue with his electric vehicle company Tesla was because -- to him -- it was clear that the big three auto manufacturers were not going to make the electric car.
He was fed up with hoping someone else would do it, and he realized that he alone was crazy enough, and bold enough and it was important enough for him to believe in something nobody else could see. So he convinced others and started raising the funds to build what is now an amazing company. Richard Branson has had a similar career trajectory. That frustration, seeing something that others don't, is often the spark that begins the career of an amazing innovator.
An environmentalist, like Bobby Kennedy Jr. has the same vision and will. Bobby knows and sees something that was brought to him through a unique experience. Hiking with his father through the soaring landscapes across Canada, along the river ways and great lakes in the United States, he grew to appreciate the profound silence, beauty and power of nature. His father and his uncle perhaps set the bar for believing in things that people could not yet quite imagine, or believe in. Like civil rights and putting a man on the moon. Bobby believes that we can do better protecting the environment, we must strive to do better and it comes from the same vision of seeing something deeply and truly believing in it. The good news is we can make a difference, as he has seen with Waterkeeper's efforts, positive examples of returning once-polluted waterways back to clean and unpolluted playgrounds for families, swimming and recreation.
While at the Marmont after the event was over I had a great conversation with artist, DJ and raconteur Shepard Fairey discussing the role of the artist. During the era of the impressionists, la flaneur -- or the artist -- was a "passionate observer." That kind of keen and clear insight is what it takes to see what others cannot.
Entrepreneurs, artists and environmentalists all have a very clear image or feeling in their minds and hearts of something that we may not be seeing right at that moment. When we support that kind of seeing, it makes our world a little richer. With all the things distracting us today, maybe opening our eyes to what seems invisible will really help us see.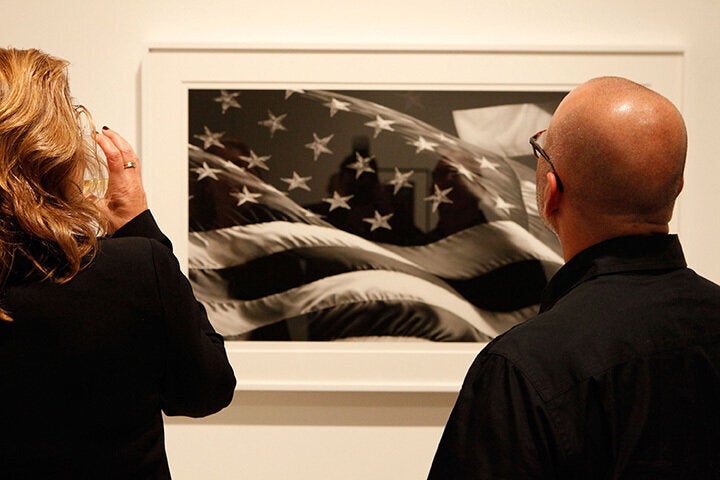 Art for Water: Los Angeles fundraiser for Waterkeeper