A petition demanding that a polar bear be moved to Canada has gained over 200,000 signatures, and support for the effort only continues to grow.
Arturo, a 29-year-old bear at Argentina's Mendoza Zoo, has been dubbed the "world's saddest animal" by some media outlets. Experts say he fell into depression after a companion died in 2012, The New York Daily News reported.
The bear lives in a climate that can reach over 35 degrees Celsius. One of the only ways he can keep cool is in a pool that is just 50 centimetres deep, according to The Daily Mirror.
The campaign to move the bear, which has persisted since at least 2013, has gained new energy recently with a Change.org petition.
The petition has gained some high-profile support. Former U.S. House of Representatives speaker Newt Gingrich urged people to sign it in an Instagram video posted Wednesday.
Actress Olivia Munn has also tweeted her support.
The petition had earned a total of 205,781 supporters towards its 300,000 goal as of Thursday.
Video has emerged showing the bear pacing around his enclosure, and his behaviour suggests he is "going insane," Winnipeg Humane Society CEO Bill McDonald told CBC News in 2013.
The Assiniboine Park Zoo had previously offered to accommodate Arturo, but the Mendoza Zoo turned them down.
Here are some photos of Arturo in his enclosure: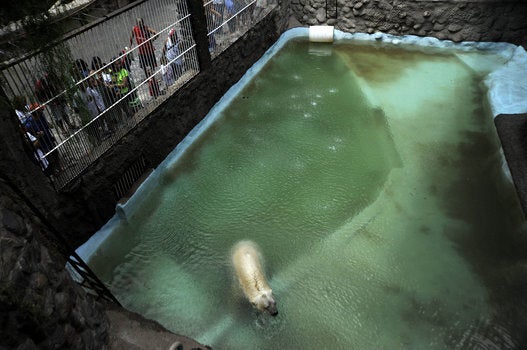 Arturo, "World's Saddest" Polar Bear, At Argentina Zoo
Popular in the Community