Greece's exit from Europe's monetary union is just a matter of time, and when it comes, it will be a shock to the global financial system, Alan Greenspan warned this weekend.
The former chairman of the U.S. Federal Reserve spoke on BBC Radio 1 on Sunday, arguing that there is no benefit to Greece remaining in the euro because there are few left who will lend euros to the Greek government.
"I don't see that it helps them to be in the euro, and I certainly don't see that it helps the rest of the eurozone, and I think it is just a matter of time before everyone recognises that parting is the best strategy," Greenspan said, as quoted at The Guardian.
"Greece is in the position that if they don't get additional loans, then they will default and leave the euro," Greenspan said. "At this stage, I don't see any people who are willing to put up the funds, having been disappointed so often."
The Associated Press reports:
ATHENS, Greece - Investors hammered Greece's markets Monday after the country's new government renewed a pledge to seek bailout debt forgiveness and dubbed the rescue package a "toxic fantasy" — comments that presage a clash with European lenders at high-stakes meetings this week.

Amid wider European losses, Greek shares were down 6 per cent in early trading, continuing a negative run. And borrowing rates were back up, a sign investors are more worried about a sovereign default. The yield on the country's 3-year-bonds spiked above 18 per cent.

Finance Minister Yanis Varoufakis dismissed the 240 billion euro ($270 billion) bailout packages crafted by Greece's lenders as a "toxic fantasy" that had always been doomed to fail.

"The time has come to say what officials admit when the microphones are turned off and say out in the open. ... At some point someone has to say 'No' and that role has fallen to us, little Greece," he told parliament.

Greece's left-wing Syriza party won Jan. 25 election on a pledge of bringing relief to Greeks who have suffered through six years of recession and a dramatic drop in living standards. But since the party took office, Greece has suffered a ratings downgrade and a decision by the European Central Bank not to accept its bonds as collateral.

Markets were hit after Prime Minister Alexis Tsipras in his inaugural speech in parliament late Sunday described his election pledge to seek debt restructuring as "irrevocable."

"Greece's new Prime Minister Tsipras gave a few hints that the reality shock after a week of European meetings has started to reach Athens," said Christian Schulz, an economist with Berenberg Bank in London. "But the policy program presented still reads more like a unilateral tearing up of the conditions under which Athens received ... aid."

Tsipras' new government — which ousted the less-confrontational conservatives — argues that Greece's debt will be increasingly unsustainable unless it receives generous repayment relief that would allow its battered economy to recover.

"It appears the new government does not yet have a roadmap for the economy," said conservative lawmaker Christos Staikouras. "That has created a great deal of turbulence."

Parliament is schedule to give Tsipras' coalition a vote of confidence late Tuesday, hours before an emergency meeting of eurozone finance ministers in Brussels.

___

Elena Becatoros and Nicholas Paphitis in Athens also contributed.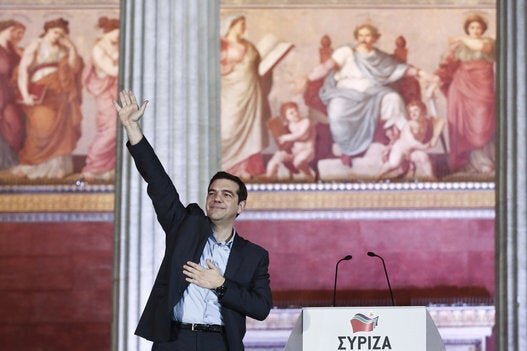 Greek Elections 2015
Popular in the Community