An aboriginal woman from Alberta who was crowned Mrs. Universe 2015 says she will channel the attention she's received into educating people about childhood abuse.
Ashley Burnham, 25, won the international pageant for married women in Minsk, Belarus, on Saturday. It was the first time a Canadian, as well as a First Nations woman, took home the prize.
Burnham is from the Enoch Cree Nation west of Edmonton, and is an actress, model and motivational speaker.
She told CTV that she was abused sexually and physically as a child, but rather than turning to drugs or alcohol to cope, she embraced her heritage.
Burnham made it to the finals of the 2013 Miss Universe Canada contest, when she was competing under her maiden name, Ashley Callingbull. She noted that she finds it hard to talk about her younger years.
"I had an incredibly difficult childhood and was raised mainly by my mother and grandparents. My mother as strong as she is, raised me to be grateful for what I have and showed me all the love in the world," she said in her bio for the pageant.
"Things that occurred in my childhood were incredibly painful and it is very hard to discuss. It was difficult to grow up the way I did, but it made me appreciate everything I have and most importantly made me the strong woman I am today."
According to the Mrs. Universe 2015 Facebook page, the topic for this year's event was "Domestic Violence and Reflection Over Children."
Burham wowed the pageant judges this year by wearing a stunning beaded jingle dress, which is a traditional outfit worn for a powwow dance. It was designed by Dabney Warren.
As she told the Edmonton Journal, "Ever since I was little, I loved acting and being in the spotlight and on stage and everything. When I was a little kid, I danced jingle and entered every powwow and competed."
Burnham was also represented Canada in the Miss Friendship International Pageant held in Hubei, China in 2010, and in the Queen of the World Final held in Germany that same year.
She also competed in the Miss Humanity International in Barbados in 2011.
Burnham graduated from the television program at the Northern Alberta Institute of Technology in Edmonton and is pursuing an arts degree focusing on drama and acting/television.
With files from The Canadian Press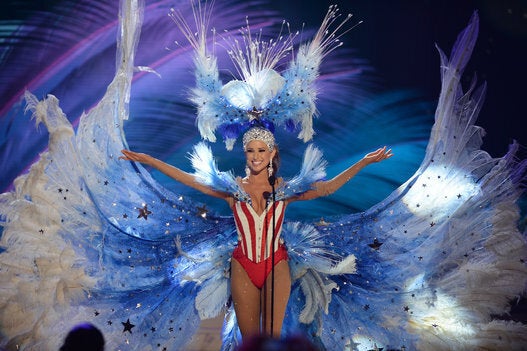 Miss Universe National Costumes