 Natalie Strouth is a nurse with Saint Elizabeth and the information specialist behind Ask Elizabeth, a free caregiver support service. Saint Elizabeth, a home health care company, has been a trusted name in Canadian health care for more than a century and is a national, not-for-profit, charitable organization.

In her weekly column, Natalie answers your questions about caring for a family member or friend who needs extra support -- and caring for yourself as a caregiver.

Send your question to askelizabeth@saintelizabeth.com
Rebecca asks: My grandmother is getting older and was recently diagnosed with early stage Alzheimer's Disease. She is still very healthy and independently living on her own. We have talked about her desire to remain at home and independent for as long as she can. How can we keep her safe in her home?
First, I think it's wonderful that your grandmother is still very independent and enjoying her usual activities, as are many people living with early stage Alzheimer's or dementia, and that your family respects her choice to remain independent as long as possible. This is really important. However, I can empathize that the changes ahead with her memory are likely scary and unsettling.
Right now it's important to focus on what she can do, and to develop strategies for successfully doing the activities that she may find harder to do. Although she may only need a bit of help right now, it's important to plan ahead for care she will need in the future.
Consider arranging help with tasks around the house like housekeeping, meal preparation or transportation. Speak to a local community support organization, home health care organization or health care authority.
Also, create a list of phone numbers of people who help her already, what tasks they help with, when they visit, and how to get in touch with them. Post this list near her phone.
If your grandmother starts to show signs of getting easily overstimulated, having difficulty following conversations, or a limited attention span, help her to pick activities she can manage. Breaking tasks into smaller steps can be helpful. Maintaining social connections is very important, but you may find that one-on-one or small group settings are easier.
Talk to her bank manager about "bank at home" services. Arrange for direct deposit of cheques and automatic withdrawal for bills, if this is not already in place.
Designate an obvious place to keep keys, such as a large bowl in the hall, and leave an extra set with a trusted neighbour.
Label cupboards with words or pictures that describe what is inside. For instance, dishes, knives and forks, cereal.
Clean out closets and dresser drawers to only include necessary items. This will make it easier to find items and make daily decisions, such as what to wear.
Write emergency contact information and important telephone numbers in large print and post them by the phone. Also program these names and numbers into her phone.
Keep a pad of paper to write down "Things to Remember" handy at all times.
Have a daily newspaper delivered to remind your grandmother of the date.
Use electronic aids such as alarm clocks, timers and cell phones to help manage the changes that are happening in day-to-day life.
Use electrical appliances that shut off on their own.
Install smoke and carbon monoxide detectors and check the batteries regularly.
Leave written reminders like "turn off the stove" or "unplug the iron." Place them where they will be seen frequently and easily.
Have her keep a map of where her home is.
Have medications organized in a weekly bister pack or dosette and delivered on a regular schedule.
Having a diagnosis of dementia, or caring for somebody who does, is a big adjustment. However, there are many strategies and tools available to help people live well with dementia. Maintaining a healthy lifestyle, such as proper nutrition, physical and mental activity, can enhance your grandmother's ability to manage the changes she is experiencing.
Here are some additional resources to support people with dementia and their family partners in care -- and help you prepare for the road ahead:
Send your caregiving question to askelizabeth@saintelizabeth.com. Answers may appear in an upcoming weekly column. Ask Elizabeth does not offer legal guidance, nor does it answer questions about personal health issues.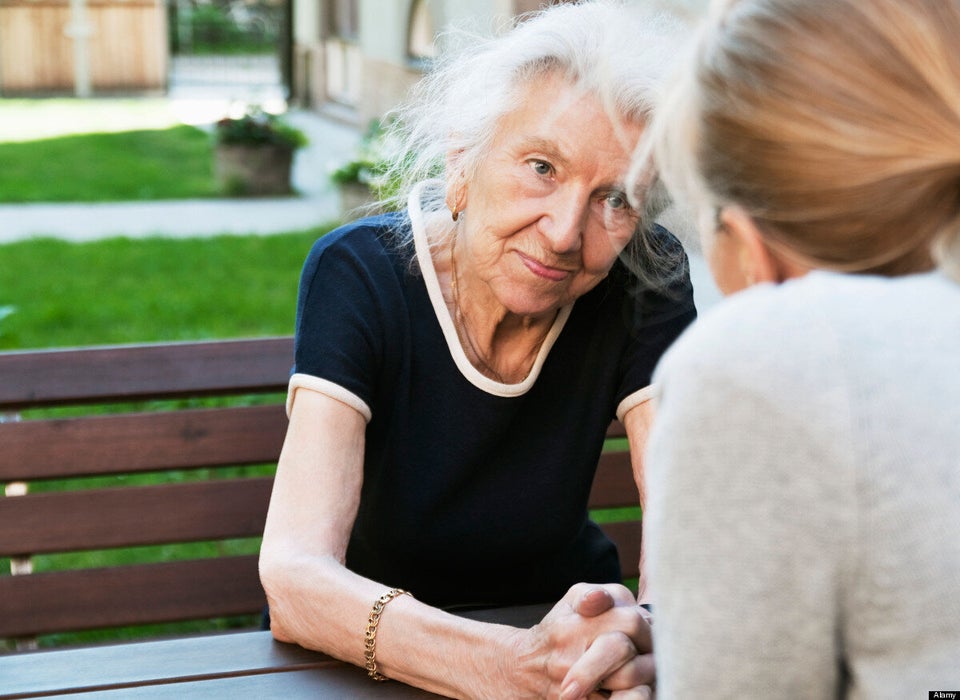 7 Tips For Caregivers
Popular in the Community