Celebrities like Reese Witherspoon and Amy Poehler are promoting a campaign that urges journalists to go beyond the typical fashion questions women are asked on red carpets.
Both Witherspoon and Poehler's Smart Girls, an online community that works to empower women, touted the #AskHerMore initiative ahead of the 2015 Academy Awards on Sunday.
The campaign urges reporters to ask women about their accomplishments, rather than just their fashion choices.
It started at last year's Oscars when The Representation Project suggested questions to red carpet journalists any time they risked "devaluing the accomplishments of women in Hollywood," in an effort to "spark deeper conversations in front of a national television audience."
Poehler's site posted a hilarious video to YouTube last week which showed "Glee" actress Heather Morris facing questions such as, "Are you wearing spanx?" and offering equally ridiculous answers.
Meanwhile, Makers, an AOL initiative that highlights inspirational women and their stories, put together a helpful list of questions on Friday that journalists could ask stars instead.
Of Witherspoon, for example, it recommended people ask whether films such as "Gone Girl" and "Wild," which she produced, could help to "crack" the ceiling of Hollywood's "old boy's club."
And of Julianne Moore, Makers suggested asking what challenges she faced inhabiting her "Still Alice" character, who lives with Alzheimer's disease.
Witherspoon touted the campaign on Sunday, before the Oscar ceremony, where she was nominated for Best Actress for "Wild."
She called on reporters to ask women questions such as, "What accomplishment are you most proud of?" in an Instagram post.
"This is a group of women, 44 nominees this year, that are women, and we are so happy to be here and talk about the work that we've done."
The campaign found some high-profile support on social media as well.
But it didn't stop women from being asked some silly questions at the Academy Awards.
She highlighted instances such as when Ryan Seacrest asked Naomi Watts about her frittata recipe, or when he asked "Fifty Shades of Grey" star Dakota Johnson whether she "kept a prop or two from the set."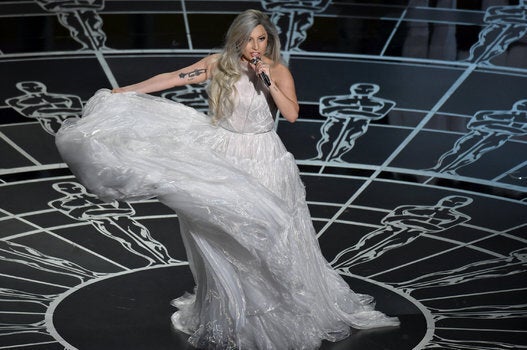 Oscars 2015: 87th Academy Awards
Popular in the Community