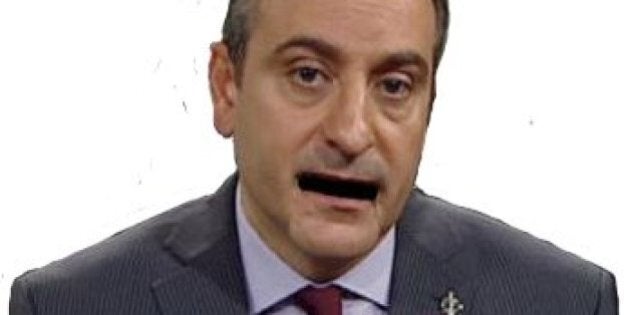 Tory MP Paul Calandra has been the butt of more than a few jokes due to his performance in question period since Parliament returned in October.
The parliamentary secretary to the prime minister has been tasked with fielding tough questions about the Senate expense scandal and Wright-Duffy affair.
But his answers — which often include personal anecdotes about his family life or insults hurled back at Liberals and New Democrats — haven't exactly won him rave reviews.
The criticism from pundits and political observers seems to be that honest questions from the opposition are being shamelessly deflected, sometimes in bizarre ways.
Calandra dodged the question by rhyming off a list of Tory achievements in what National Post columnist Andrew Coyne called the "most complete non-answer" in question period history.
"Thank goodness Canadians elected a strong, stable, national Conservative majority government, led by the best prime minister in the world, flanked by a minister of finance who has won awards, with the strongest cabinet in Canadian history and Conservative members of Parliament working all over the country to hope for hope, jobs and economic prosperity," Calandra said in the House.
"Well, that was bizarre," Angus shot back.
But there's reason to believe Calandra's answers haven't improved much in recent weeks.
Here's a very brief sample:
"I do like flowers and, of course, with lemons I like to make lemonade. My two daughters, this summer, actually had a lemonade stand where they sold lemonade for 5¢ on the street. They did very well. I am very proud of them."
"She is sitting in a caucus where, I do not know, three-quarters of them have been convicted of some type of fraud, whether it is the Elections Canada Act or robocalls. The real fraud squad is sitting in the Liberal Party."
"I have two daughters, a seven-year-old and a five-year-old, two beautiful girls, Natalie and Olivia, and each week I give them an allowance. Part of that allowance might be for cleaning their rooms. Both Natalie and Olivia know that sometimes their mother might clean their rooms. They both know that they should not ask for an allowance because they did not actually do the work. If my five-year-old and seven-year-old can figure this out, how is it that these senators cannot figure it out and how is it that the opposition supports that type of activity from our senators?"
"My father owned a pizza store. He worked 16 to 18 hours a day. I can tell the House what my father would not have done if he saw somebody stealing from his cash register. He would not have said 'You are suspended, but make sure you come back every two weeks and collect a paycheque.' What he would have said, 'You're fired, leave,' and he would have called the police."
"Mr. Speaker, just to conclude that story, we also had a driver, Eugene. He was a Philippine immigrant and he used to deliver pizzas. Part of the agreement was that he would provide receipts for gas. Could Eugene have provided extra receipts? He could have, but he did not. He was honourable."
Well, if you've ever wondered what it must feel like to ask a question and get that kind of response back from Calandra… wonder no more.
A mysterious new website has popped up — askpaulcalandra.com — which allows you to empathize with all those NDP and Liberal MPs trying their best to hold the government to account.
You simply type in your query and — presto! — you receive a "clear and on-topic answer" from Harper's parliamentary secretary.
For example, I typed in a real question Mulcair asked in the House on Monday: "Does the Prime Minister agree that there was a criminal cover-up organized out of his own office?"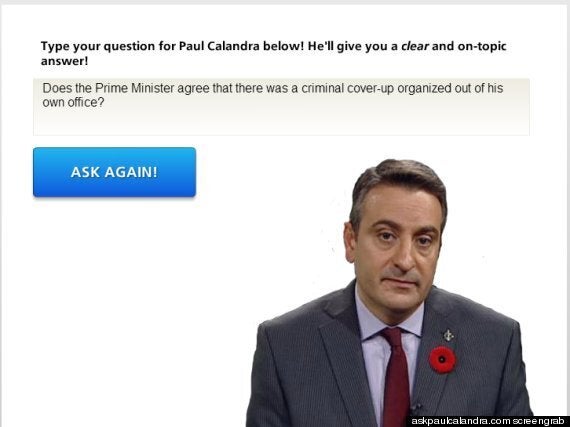 In no time, an audio file played Calandra's response: "The prime minister's already answered that question."
Unsatisfied, I tried the same question again.
"Let me just take an opportunity to congratulate my Saskatchewan Roughriders," Calandra responded.
But here's the kicker: that's exactly how Calandra began his response to that very question this week, before adding that it's "quite clear" the RCMP is only investigating Wright and Duffy.
It's just like REAL question period!
You may even receive a clear response.

Highlights From The Wright-Duffy Police Documents