OTTAWA — The federal government unveiled its legislative response Thursday to last year's Supreme Court decision striking down the existing ban on medically assisted death.
While it is only 16 pages, Bill C-14 — "An Act to amend the Criminal Code and to make related amendments to other Acts (medical assistance in dying)" — makes landmark changes to provide people the ability to ask for medical help ending their lives.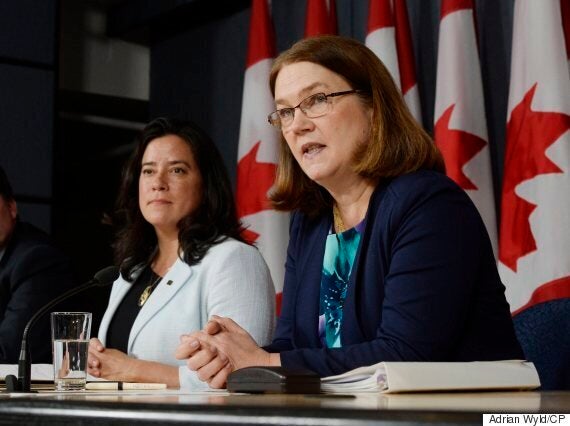 Health Minister Jane Philpott speaks as Justice Minister Jody Wilson-Raybould looks on at a news conference in Ottawa on Thursday, April 14, 2016. (Photo: Adrian Wyld/CP)
Here are five things to know.
1. It sets out numerous conditions on who is eligible to access medical help to end their life. Among them, that a person has an incurable illness or disability, is in an advanced state of irreversible decline, that they are in intolerable suffering and that their natural death has become "reasonably foreseeable."
2. Kay Carter may not have been eligible. It was Carter's desire to end her life that led to the Supreme Court ruling. The British Columbia Civil Liberties Association, which was a plaintiff in the case, said under this bill, she still wouldn't have had legal access to that help. She suffered "excruciating physical and psychological distress" from spinal stenosis but she was not facing imminent death, the BCCLA said.
3. There are some issues the bill does not address. The question of whether people can declare in advance of any illness that they'd like to access medical assistance to die, whether so-called mature minors would be eligible and whether those with only mental illness could be eligible aren't dealt with in the bill. The justice minister says the government will study those issues if the bill is passed, but that there was not enough time to consider them fully enough to include them in the legislation.
4. The provinces still hold a lot of power. The bill is an amendment to the Criminal Code, but implementing its provisions will fall to the provinces as they have control over health care. That means there is no guarantee that the right to access medical support to die will be provided uniformly across the country. The federal government has promised to work closely with them in this regard.
5. The clock is ticking. The Supreme Court gave the government until June 6 to have a new law, meaning it has to pass both the House of Commons and the Senate in less than two months. It is likely the House of Commons will hold extended sittings in order to give MPs a chance to speak to the bill and the committees studying it are also expected to have extended and lengthy meetings in order to meet the deadline. The Senate is expected to study the bill at the same time the House does to help speed up the process.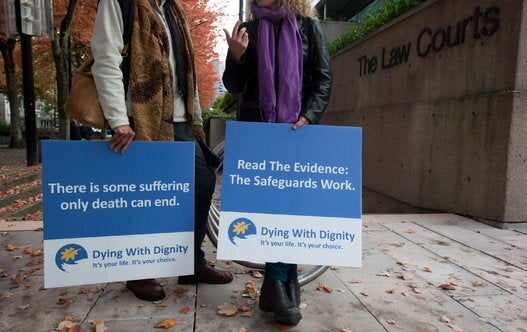 Right-To-Die Laws Around The World
Popular in the Community