Photos of RCMP officers helping asylum-seekers fleeing the U.S. and illegally crossing into Canada Friday have attracted international attention.
The Canadian Press (CP) captured the images in Hemmingford, Que. on the border with Champlain, N,Y. As a U.S. Customs and Border Patrol officer questioned a man, the rest of the group made a dash across the border where RCMP were waiting, according to Reuters.
The man also successfully ran from the agent into Canada, according to CP photos.
Eight people — four adults and four children — were immediately taken into custody by the RCMP. If they make a refugee claim, they will go through an assessment process by Canadian officials.
It's unclear where the group is originally from; CP identified them as Somalian but Reuters reported that they are Sudanese.
Here's how the illegal crossing unfolded in CP photos: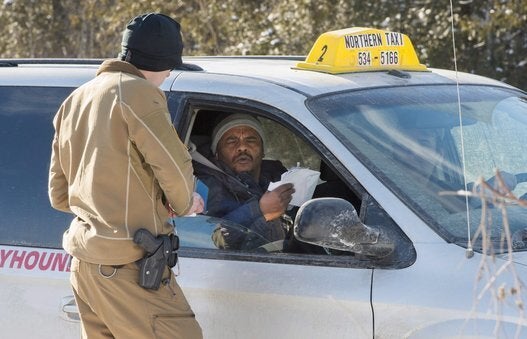 RCMP Officers Help Refugee Claimants Into Canada From U.S. Border
Just a day earlier, four people were arrested near the same town for crossing illegally into Canada. More than 450 people have claimed refugee status at Quebec land border crossings in January alone, said the Canadian Border Services Agency.
Most avoid official border crossings because of the Safe Third Country Agreement between Canada and the U.S. It requires that people apply for refugee status in the first safe country they land in. If they try to enter at a border crossing, they will be turned away unless a blood relative lives there.
However, Canada generally hears asylum claims from people who enter the country via unregulated crossings.
The number of refugees making the frigid trip — sometimes on foot for hours — from the U.S. to Canada has jumped this year, following President Donald Trump's executive order to ban all refugees and travellers from seven countries. Both Somalia and Sudan are on the list.