The front lawn of Queen's Park looked more like a graveyard than a garden on Monday morning as MPPs arrived to work. Harm reduction workers erected 1,265 wooden crosses — one for every Ontarian who died of a drug overdose in 2017 — in front of Ontario's legislature.
The display was "a show of our grief and our anger," said Sarah Ovens, a coordinator with the Toronto Overdose Prevention Society (OPS).
"We've shown up at Queen's Park with doctors in scrubs with stethoscopes. We've shown up at Queen's Park with scientists in lab coats. We've found everybody we can think of to tell them about the evidence and tell them what needs to be done," Ovens told HuffPost Canada.
This time, they brought faith leaders to hold a vigil for the lives lost instead.
PCs put a hold on prevention sites
Ontario's new Progressive Conservative government paused the opening of three overdose prevention sites pending a review of their merit. Another five sites have had their applications stalled, Toronto OPS said.
Overdose prevention sites let people use drugs, without fear of arrest, in the presence of healthcare workers.
Deaths from opioid overdoses have more than tripled since 2003, according to Public Health Ontario. Nearly three-quarters of opioid-related deaths in Canada last year involved fentanyl, a drug 100 times more powerful than morphine.
Health Minister Christine Elliott has been holding consultations and reviewing data on the sites, but says the final decision is up to Premier Doug Ford. After an eight-week review, the government said Monday it needs another month before it rules if these new sites will be allowed to open, and if eight existing sites can continue to operate.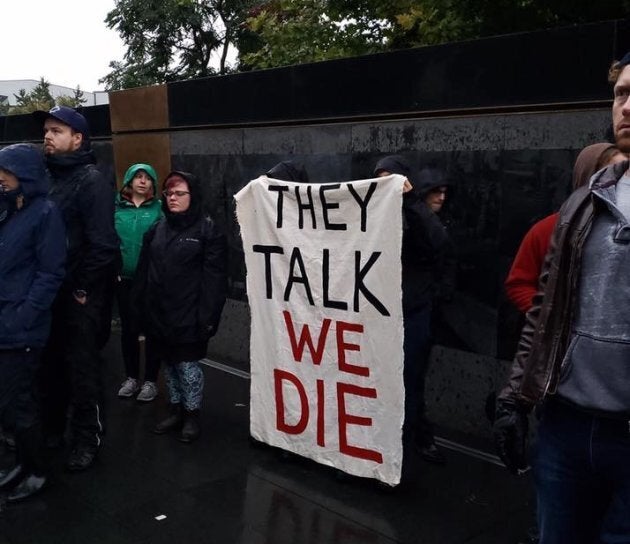 In the eight weeks of review, 168 Ontarians have died of overdoses, Toronto OPS said in a press release.
"While they're sitting and making this decision, this is what we're talking about, it's people's lives," Ovens said.
Opposition leader Andrea Horwath asked the government when the decision will be made during question period on Monday.
"People are dying every single day this decision is delayed," Horwath said.
"The leader of the official opposition is correct: We are losing too many people to the opioid crisis," Elliott answered. She said the government needs to make sure people have access to rehabilitation, housing, and other services, not just overdose prevention.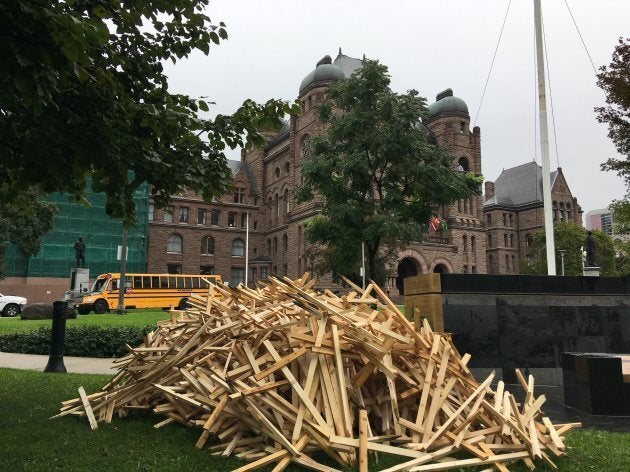 Outside, Queen's Park security guards removed the unsanctioned vigil. Officers told Toronto OPS they'd be sent a bill for any damage to the lawn and irrigation system, Ovens said.
"Talking about the importance of a lawn, when we're talking about the importance of the lives of our friends and family members, is kind of typical in terms of the response we've had," Ovens said. "It was hard to watch it being taken down."