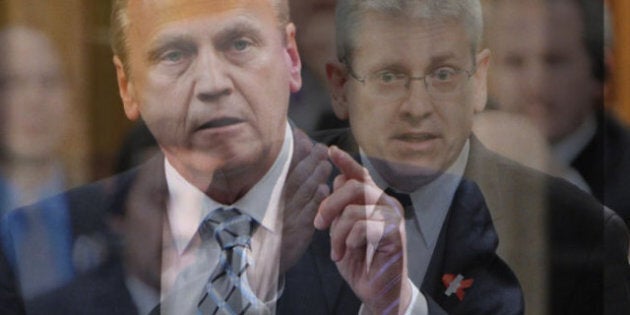 Far from the shambling tents and tarps that the world now knows as Attawapiskat -- a northern Ontario reserve that catapulted to public attention just over a month ago -- a couple of politicians ran into each other in an Ottawa stairwell.
The Thursday encounter between Aboriginal Affairs Minister John Duncan and NDP MP Charlie Angus is worth noting for the fact that these two men may wield the greatest influence over the fate of the beleaguered First Nation community.
On Thursday, the frustration of these two politicians seemed to find a ready target — in each other.
"If the department can be accused of anything, it is extreme patience," Duncan told the CBC's Julie van Dusen, during a one-on-one in the hall.
The minister insisted his department did not have "an awareness of what was in the community until a few days after Oct. 28."
But he went on to tell van Dusen that the feds had "people in the community" since April.
"I don't understand," she interrupted. "You said you didn't know until Oct 28."
Duncan shot back with: "They did not identify there was an issue — and neither did Charlie Angus, the representative of the area, who is not shy about talking about Attawapiskat."
If the latter was a dig at Angus' abundant media availability, then Duncan was repaid in more than equal measure when he attempted to make a break from the interview. Hustled off by handlers —'We gave you the time. We have to go' — Duncan made it down one stairwell before bumping into the man himself.
Angus greeted him with a hearty, "Mr. Duncan! We've got an emergency in Attawapiskat. You'll know now. Just so you don't get caught flat-footed."
If Duncan had a reply, it eluded the camera as the minster charged down the stairs and out of sight.
Having only a few minutes with the MP, van Dusen kept the embers glowing saying Duncan "seems to be blaming you for not telling him sooner."
'I would like to think he was busy with all the problems in other First Nation communities. That would be legitimate. But that doesn't seem to have been happening either."
He went on to say that the Feds are not guilty of casual incompetence regarding Attawapiskat, but "a willful hard-working level of incompentence."
"It's not that they were just ignoring Attawapiskat. It seems to have not been on his radar in any of the communites where we had ongoing crises."
NOTE:An earlier version of this story incorrectly identified the CBC interviewer as Janyce McGregor.